How lucky for travellers that the owners of this guesthouse are willing to share their dream home in the Valpolicella wine region. They purchased two 17th-century stone houses, connected by an underground tunnel, just two days after first viewing them 20 years ago – and it's easy to see why. By artfully marrying ancient and modern, they painstakingly restored one of  the tall, tower-like buildings as their home and converted the other to accommodate two guest suites.
The hilltop setting, surrounded by vineyards, is far from the tourist hordes and yet just 20 minutes north of Verona. When Seta, the resident golden retriever, eagerly flops at your feet, you can't help but feel that you've come home.
The gardens, with lots of seating areas overlooking the vines and the artistic interiors, might tempt you to spend all your time lying around and dreaming of owning a home  like this.
The Bed
The two suites, which are accessed by a steep staircase, are spacious, bright and stylish. Each suite's open-plan design features a four-poster bed, comfy living area and a wooden dining table. Plain, white-washed walls put the eclectic furnishings centre stage. The mix of antiques, flea-market finds and treasures from travel, sits comfortably in the rustic setting. Both suites overlook terraced hillsides, where in summer, plump grapes hold the promise of the velvety red wines of the region. A decanter with local offerings is left out so you can appreciate how good those grapes eventually become.
The first-floor suite is especially light, with a glass door that leads on to an external spiral staircase down to the courtyard in between the two houses. The en-suite is small but modern. The upper room, with its thick timber beams and recessed windows, has a kitchenette. Wine lovers will be pleased to know that this space was once used as a drying room for Amarone grapes. The brilliant-blue bathroom, with a shower designed to mimic a waterfall, is down a steep set of internal stairs.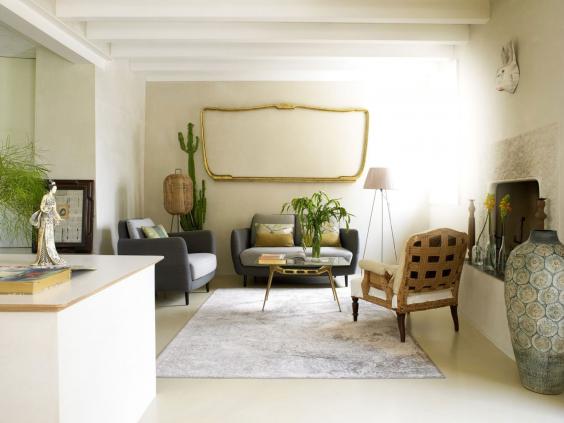 The Breakfast
At the base of the stairs leading to the sleeping areas, a small dining room hosts guests' breakfasts. In summer, doors are open to the gardens; in winter, candlelight introduces the day rather glamorously. The host asks guests when they would like breakfast and at the appointed hour, locally sourced cheese, hams, breads, cakes, jams and fruit are laid out on the counter top. Even the coffee maker is ready to go – just press the button and the room fills with the aroma of rich espresso. It's as if the Breakfast Fairy floated through with her wand. 
The Hosts
Mara Pasqualicchio and her husband, Filippo Turco, run Pianura Suites. Mara finds "joy in sharing the beauty of this place" and she makes visitors feel as if they've come to stay with old friends. Her excellent command of English (she once lived in Cambridge) makes conversation easy and entertaining. She will design a day for you or just suggest restaurants. Mara is a natural hostess who says that meeting people from other places makes her feel as if she "always seems to be travelling".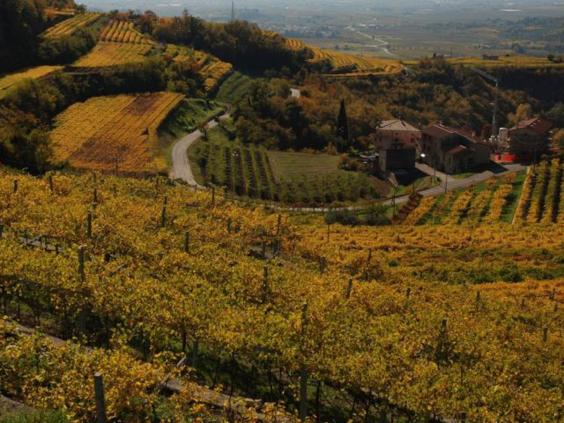 The Weekend
Although Pianaura feels remote, there is a lot to do within an hour's drive, including excursions to Verona and the eastern shore of Lake Garda. Lessinia National Park (00 39 045 679 9211; bit.ly/LessNP) has excellent cross-country skiing in winter and hiking in summer.
The zip wire and swings near the waterfalls of Molina Waterfall Park (00 39 045 7720185; www.parcodellecascate.it) are unusual fun. A different type of water play is at the new Aquardens (00 39 045 675 5565; aquardens.it), a spa complex with indoor and outdoor pools in nearby Santa Lucia di Pescantina. And, of course, there are plenty of vineyards at your door.
The Pit stop
One of the best features of dining out here is enjoying the wine at prices far below what you'd pay at home and also the many dishes cooked in Amarone wine. The village of San Rocco is a short drive away on meandering roads, where Antica Osteria Valpolicella (00 39 045 775 5010; anticaosteriavalpolicella.com) serves sumptuous, well-priced meals.
In the autumn, there is a truffle tasting menu. Just down the hill from Pianaura, is Antica Osteria Paverno (00 39 045 683 7199; anticaosteriapaverno.it) where in warm weather, the vine-shrouded terrace requires a long lunch. From Pianaura, you can walk to Antica Trattoria da Bepi  (00 39 045 7755001; anticatrattoria dabepi.it) in Marano for classic dishes of the area.
The Essentials
Pianaura Suites, Via Pianaura 7, Marano di Valpolicella 37020, Verona, Italy (00 39 329 494 4884; pianaura.it). Doubles from €150 (£123), breakfast included. No children under 14.