My German grandmother rarely cried, but she wept tears of joy in 1989 when the Berlin Wall came down. She'd been born into the Second Reich, lived through the rise and fall of the Third Reich, and fled from East Germany to the West when the Russians arrived. She never went back to Berlin, where she'd lived in the 1930s – but since the Wall came down, 25 years ago, I've come here countless times in search of the city she left behind.
There isn't much here that she'd recognise. Her apartment was one of millions destroyed in the Battle of Berlin in 1945. Bombed by the Allies and ravaged by the Red Army, Berlin was rebuilt in a dreadful hurry, by rival armies of capitalist and communist town planners. Little remains of the metropolis where my grandma spent her youth, but during the last 25 years I've discovered a new and rapidly evolving city. Every time I return, Berlin feels different, and the best way to gauge its evolution is to walk along the Wall.
The Wall was built by the communist government of East Germany, to halt the endless flow of refugees from East to West (such as my grandma). It surrounded the Allied sectors of the city (West Berlin), cutting them off from the Soviet sector (East Berlin, capital of the German Democatic Republic, or GDR) and the surrounding countryside (East Germany). For those within the island that was West Berlin, the only means of getting in and out to the rest of West Germany was via controlled corridors.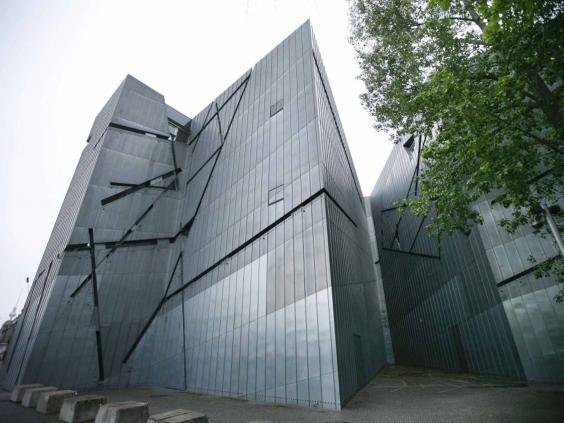 The communists called the Wall an "Anti-Fascist Protection Barrier," but it wasn't built to protect its citizens; it was built to imprison them. Between 1961 and 1989, 136 East Germans died trying to cross it. When it was breached, so suddenly, on 9 November 1989, few Berliners thought to preserve it. By the time they realised it might actually be worth saving, most of it had been demolished (including priceless murals by artists such as Keith Haring). Only a few sections survive, on a route that is clearly signposted.
The Wall was actually two parallel barriers, with a broad, exposed "Death Strip" overlooked by watch towers between them. It's still easy to trace its path a quarter of a century later. The entire Mauerweg (as Berliners call the route of the Wall) is 155km from end to end, but the central section is just 12km.
This isn't just a walking tour – it's a timeline through German history. It's fascinating (and slightly spooky) to pass through neighbourhoods that were split apart for a generation, and inspiring to see how the two halves of this divided city have come back together. The terrain is flat and peppered with cafés along the way; even if you stop at all the sights en route you can walk the central section in a day.
The best place to start is Bernauerstrasse, on the north side of the city. The Wall was built along the old city boundary, and in Bernauerstrasse it ran down the middle of the street, between the houses and the pavement. This was the scene of some daring escapes, and some tragic fatalities, including Ida Siekmann, the Wall's first victim (she died while jumping from the window of her apartment).
Fall of the Berlin Wall: Then and Now
Fall of the Berlin Wall: Then and Now
1/17 Berlin Wall

The Brandenburg Gate landmark in Berlin with people dancing on the Berlin Wall on 10 November 1989 and 25 years after in October 2014

2/17 Berlin Wall

East Berlin citizens crowding the new passage at Bernauer Strasse in Berlin where East German border police tore down segments of the wall on 11 November 1989 (top) and people walking at the crossing Bernauer Strasse and Oderberger Strasse on 26 October 2014

3/17 Berlin Wall

East-German policemen in work dress as they remove barbed wire from a brick wall while other policemen in background are raising the wall to 15 feet at the border between the French and Russian sector at Bernauer Strasse in Berlin on 9 September 1961 (top) and the line the of former Berlin Wall in the pavement at Bernauer Strasse in Berlin on 21 October 2014

4/17 Berlin Wall

US President John F Kennedy looking across the Berlin Wall into East Germany during his visit on 26 June 1963 (top) and the area of former Checkpoint Charlie on 24 September 2014

5/17 Berlin Wall

West Berliners waving to relatives in East Berlin one year after the Berlin Wall was erected at Bernauer Strasse on 13 August 1962 (left) and people crossing the area of the former Berlin Wall in Berlin on 26 October 2014

6/17 Berlin Wall

Children playing at the Berlin Wall at Sebastianstrasse near Heinrich-Heine-Strasse in 1968 (top) and a man walking over the once divided Sebastianstrasse on 3 November 2014

7/17 Berlin Wall

A view of East Berlin, taken from an observation platform in Bernauer Strasse, West Berlin, in 1980 (top) and trams crossing the area of former Berlin Wall at Bernauer Strasse in Berlin on 1 October 2014

8/17 Berlin Wall

A woman looking at the Berlin Wall along the Spree river in central Berlin in 1980 (top) and the construction side of the Charite hospital in background and a bridge crossing the river spree where once stood the Berlin Wall at the Reichstagsufer in Berlin on 16 September 2014

9/17 Berlin Wall

The Berlin Wall along Bernauer Strasse in the north of Berlin with a writing 'The wall must fall' on 8 March 1973 (top) and a part of the Wall Remembrance Monument at the same spot at Bernauer Strasse in Berlin on 21 October 2014

10/17 Berlin Wall

US President Richard Nixon looking across the communist wall into East Germany during his stay in the divided city on 27 February 1969 (top) and the area of the former Berlin Wall at the Checkpoint Heinrich-Heine-Strasse on 24 September 2014

11/17 Berlin Wall

US President John F Kennedy walking past a cordon of saluting servicemen and the sentry post of "Checkpoint Charlie" on 26 June 1963 and actors wearing uniforms at the area of former Checkpoint Charlie, with a rebuilt checkpoint as touristic attraction in Berlin on 24 September 2014

12/17 Berlin Wall

The Berlin Wall checkpoint at Heinrich-Heine-Strasse on 12 March 1971 (top) and people walking and cycling at the area of former checkpoint at district Kreuzberg in Berlin on 1 October 2014

13/17 Berlin Wall

A child playing on a play ground at the Berlin wall in July 1981 (top) and cars parking at the same spot in Berlin's Kreuzberg district on 2 October 2014

14/17 Berlin Wall

East Germans erecting the wall in front of the Reichtags building on 20 November 1961 (top) and cyclists going by on 25 September 2014

15/17 Berlin Wall

Construction work at the Berlin Wall on 13 Augugust 1985 on Friedrichstrasse near checkpoint Charlie (top) and Friedrichstrasse on 2 October 2014

16/17 Berlin Wall

The Berlin Wall at the empty Potsdamer Platz in August 1962 (top) and cars and busses dring there on 25 September 2014

17/17 Berlin Wall

The Berlin Wall around the Brandenburg Gate on 19 November 1961 (top) and cars and busses passing by 25 years after the fall of the wall on 24 October 2014
A section of the Wall has been preserved here as a memorial and there's a small museum across the street.
From here, the Wall snakes west, through Invalidenfriedhof, one of Berlin's oldest cemeteries. Some of Germany's finest soldiers (such as the Red Baron, von Richthofen) and a few of its most infamous war criminals (such as Reinhard Heydrich) are buried here. It is also where Gunter Litfin was shot by border guards as he tried to swim the River Spree. Nearby is an old East German observation tower, run as a museum-cum-memorial by Gunter's brother.
The Mauerweg crosses the Spree in the shadow of the Reichstag, and turns south at the Brandenburg Gate. Beside this triumphal arch is the Holocaust Memorial, an enormous maze of blank, grey obelisks. The symbolism of these adjacent sites could not be starker. One is an icon of German reunification, the other a candid acknowledgement of German genocide. On the East side of the street is Goering's Aviation Ministry – now the Federal Ministry of Finance. On the West side is the old Gestapo HQ – now a museum of Nazi atrocities. As you walk along the Wall you're reminded how Berliners suffered during the Cold War, but these sites don't shirk from documenting the horrors of the Third Reich.
It's not all doom and gloom. The Wall swings east at Potsdamer Platz, the city's entertainment centre. Before the war, this was Berlin's equivalent of Piccadilly Circus. When I first came here, it was still a no man's land. A cluster of new, headline-grabbing buildings by architects including Renzo Piano means that it's booming again. The pavement is adorned with the names of German movie stars, and the film museum houses Marlene Dietrich's vast wardrobe, which she left to her native city when she died.
Probably the most popular site along the Mauerweg is Checkpoint Charlie, but this border crossing has become a tacky tourist trap, where sightseers pose for photos with actors dressed as US and Soviet soldiers. For something more substantial, Berlin's Jewish Museum is just down the road. Even if you don't have time to survey the contents, the building, by Daniel Libeskind, is an artwork in its own right. Around the corner is the high rise HQ of Axel Springer, Germany's most famous media magnate. When he established his newspapers here, beside the Wall, this was a city under siege. Today, the view – in both senses – is rather different.
The last lap of the Mauerweg zigzags through Kreuzberg, a scruffy district populated by Turkish immigrants and grungy refuseniks. There aren't many standout sights but this is the section I like best. As you follow signposts down deserted backstreets, the Mauerweg becomes a garden. The Death Strip is full of silver birches. Nudists come here to sunbathe in the summer.
Journey's end (for me, at least) was the East Side Gallery between Ostbahnhof and Warschauerstrasse, the largest remaining section of the Wall. Painted by graffiti artists from all around the world, in those halcyon days between the Mauerfall and reunification, the heady optimism of these pronouncements makes poignant reading today: "No More Wars, No More Walls, A United World."
I was glad to see my favourite slogan, still there after all these years: "Many small people in many small places do many small things that can alter the face of the world." It's true. The peaceful protesters of East Germany really did change the world, by bringing down a wall which I thought would remain standing throughout my lifetime. Despite all the trouble in the world, it feels like a happy ending. I wonder what my grandma would make of it all?
GETTING THERE
Berlin Tegel is served by British Airways (0844 493 0787; ba.com) from Heathrow, and Germanwings (0330 365 1918; germanwings.com) from Heathrow and Birmingham. Alternately, Berlin Schönefeld is served by Ryanair (0871 246 0000; ryanair.com) from Stansted and East Midlands; and easyJet (0843 104 5000; easyjet.com) from Gatwick, Bristol, Edinburgh, Glasgow, Liverpool, Luton, Manchester and Southend.
STAYING THERE
On a smart sidestreet in fashionable Prenzlauerberg, Ackselhaus (00 49 30 44 33 76 33; ackselhaus.de) is a charming old townhouse with doubles, including breakfast, from €150 (£118) per night. The themed rooms include basic kitchenettes and are stylishly decorated with original works of art.
VISITING THERE
Berlin Wall Memorial, Bernauerstrasse (00 49 30 467 98 66 66; berliner-mauer-dokumentations zentrum.de).
Berlin Wall Museum (00 49 30 253 7250; mauermuseum.de).
Mauerpark (mauerpark.info).
Berlin on Bike (00 49 30 43 73 99 99; berlinonbike.de).
MORE INFORMATION
Five more GDR sights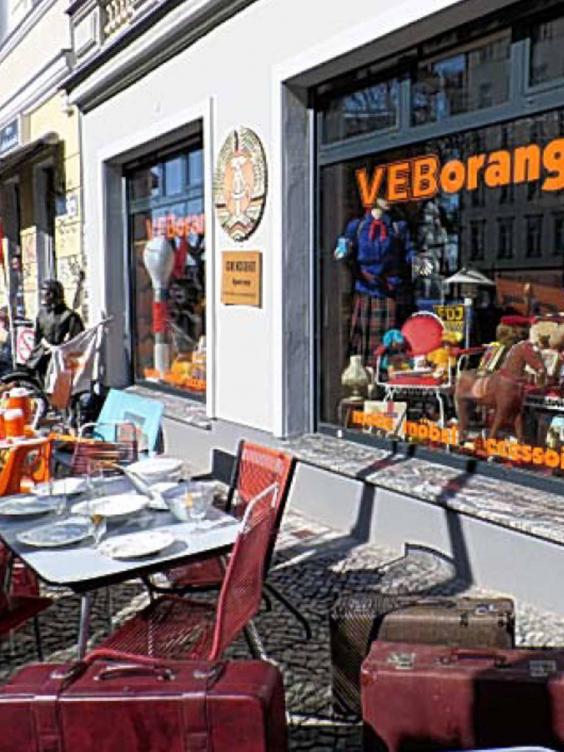 VEB Orange
Located in Prenzlauer Berg, this retro interiors shop sells anything from GDR-era hair dryers to lamp shades, clothes, and wallpaper. There's also a poster museum that includes GDR propaganda.
Oderberger Strasse 29 (00 49 30 97 886 886; veborange.de).
Ostel
This "GDR Design Hostel" is located in a period Platten (prefab) building in Friedrichshain. The rooms recreate the communist era, with original Seventies and Eighties decor, from the patterned wallpaper to the furniture and souvenirs. Doubles start at €39, room only.
Wriezener Karree 5 (00 49 30 25 76 86 60; ostel.eu).
Museumswohnung
If you can't get a room at Ostel, this free museum is a faithful recreation of a 1980s GDR-era three-bedroom apartment in an otherwise modernised Platten block. The furnishings were all donated by former tenants. Open Sundays 2-4pm and by appointment at other times.
HellerStrasse 179 (00 49 151 1611 4447; bit.ly/Museumswohnung).
Museum in der Kulturbrauerei
Opened in November 2013, this museuem in Prenzlauer Berg hosts a permanent exhibition of everyday life in the GDR (Alltag in der DDR), with displays of fashion, newspapers and cultural objects. There's also a Trabant car with a roof tent that was intended for "holidays" when there was no real possibility of travelling beyond the Wall. Open Tuesday-Sunday 10am-7pm, admission free.
Knaackstrasse 97 (00 49 30 46 77 77 90; hdg.de).
Ampelmann shops
Berlin's iconic pedestrian crossing symbol, the Ampelmann, was designed by traffic psychologist Karl Peglau for the GDR Ministry for Transport and has is a symbol of the old East Germany that transcends its decline. Across the city, there are now six shops and a restaurant – dedicated to his cult status (and that of his newer female counterpart, Ampelfrau), where you can buy souvenirs such as keyrings and lampshades.
(00 49 30 440 488 07; ampelmann.de; ampelmann-restaurant.de).
Reuse content