With its blend of natural beauty, rich history and easy navigation, plus a willingness to cater for youngsters, Sweden is an ideal place to explore on a family holiday. Beaches, forests, lakes and mountains are within easy reach of the big cities, and there's no shortage of brilliantly presented museums and well-preserved relics of the country's dramatic past.
Most museums and attractions offer free or reduced admission for under-19s. Even museums that aren't particularly geared towards a younger crowd usually have a room where children can hang out and play, paint, make crafts, try on historical costumes, read or watch videos.
Swedish hostels and campsites usually offer family rooms or large self-catering cabins. The mid-range Scandic (00 46 8 517 517 20; scandichotels.com) chain is a good bet. Nearly all restaurants offer children's menus, high chairs and places to park strollers.
Clean, well-maintained public parks and playgrounds are scattered across Swedish cities, and even rest areas along motorways often have playground equipment where active youngsters can let off steam before getting back in the car .
The summer tourism season is short (mid-June to the end of August) but the days are long and the weather tends to be mild, making outdoor activities an appealing option, particularly along either coastline, near inland lakes such as Lake Siljan, and in the Stockholm archipelago.
Family Sweden
Family Sweden
1/8 Family Sweden

Skansen: An all-purpose family entertainment wonderland in Stockholm (imagebank.sweden.se)

imagebank.sweden.se

2/8 Family Sweden

For a more exotic stay, try the Treehotel (imagebank.sweden.se)

(imagebank.sweden.se)

3/8 Family Sweden

The Vasa Museum (imagebank.sweden.se)

4/8 Family Sweden

Sweden's first established town, Birka (imagebank.sweden.se)

(imagebank.sweden.se)

5/8 Family Sweden

The southern province of Skane (imagebank.sweden.se)

(imagebank.sweden.se)

6/8 Family Sweden

Still waters: serenity in the Stockholm archipelago

imagebank.sweden.se

7/8 Family Sweden

Each county has its own network of train and bus companies (imagebank.sweden.se)

imagebank.sweden.se

8/8 Family Sweden
Many visitors base themselves in Stockholm. The capital city has plenty to keep you occupied. Nicknamed "Beauty on Water", Stockholm is built across 14 islands. A good way to get a feel for the city is to take a boat tour along its canals and waterways. Stromma Kanalbolaget (00 46 8 12 00 41 00; stromma.se) offers an "Under the Bridges of Stockholm" tour that shows the city from one of its loveliest perspectives, with commentary on some of the important sites passed along the way. Boats leave from Stromkajen between 10am and 6pm on the hour; 225 Swedish krona (SEK225/£20), half price for children aged between six and 11.
If Stockholm's many sights and activities aren't enough, there's also the wider 24,000-island archipelago stretching out 80km from the city, full of opportunities for fishing, hiking, camping or just relaxing. Gray Line/Stromma Kanalbolaget offers a wide range of day tours to various islands. The most inclusive is the 11-hour "Thousand Island Cruise", which goes from Stockholm into the outer reaches of the archipelago and includes guided walks on several of the islands along the way; lunch, dinner and coffee are served on board. The tour departs from Nybroplan in Stockholm at 9.30am, Tuesdays to Sundays from mid-June to mid-August. Tickets are SEK1,150/1,295 (£100/112), half price for ages six to 11. Waxholmsbolaget boat routes (00 46 8 679 58 30; waxholmsbolaget.se) serve most of the islands; the company's island-hopping "Boat Hiker's" pass is valid for five days of unlimited travel for SEK420 (£37).
Tour operators offering packages to Sweden include Discover the World (01737 214 250; discover-the-world.co.uk), Simply Sweden (01427 700 115; simplysweden.co.uk), Sunvil Discovery (020 8758 4722; sunvil.co.uk/discovery) and Taber Holidays (01274 875 199; taberhols.co.uk). Discover the World has a seven-day outing to Varmland, with hiking, canoeing, rafting, and cycling, as well as wildlife-spotting. for £956 per adult, £797 per child, including flights from London to Stockholm, full board and activities. For more details, contact Visit Sweden: 020 7108 6168; visitsweden.com
Sweden in miniature
An all-purpose family entertainment wonderland in Stockholm, Skansen (00 46 8 442 80 00; skansen.se; SEK160/ £14; 10am-10pm) has something to please most ages. Occupying the park-like island of Djurgarden, this zoo-meets-open-air-museum is often described as "Sweden in miniature". Exploring it can easily fill a whole day. You'll find native Nordic animals, plus demonstrations of the various arts, crafts and traditions that Sweden has nurtured through the ages, including baking, carpentry, folk music and decorative painting. The glass-blowing hut is popular, with its workers in period costume turning molten glass into colourful art before your very eyes. There are also relocated period houses from regions around the country – many of them wooden – plus playgrounds, amusement-park rides, an aquarium, a theatre, games, shops and cafés aplenty.
Relics and runestones
Sweden has a long, vivid and turbulent history, evocative traces of which remain scattered across the country. Viking-era runestones and ship settings dot the landscape; for accessible examples in historical context, visit the Historiska Museet in Stockholm (00 46 8 519 556 00; historiska.se; 10am-6pm). Admission is SEK190 (£16.50); a family ticket costs SEK300 (£26).
From Stockholm, it's an easy day trip by boat to the Viking-age trade centre of Birka (00 46 8 12 00 40 00; stromma.se) on the island of Bjorko. Considered Sweden's first established town, Birka thrived during the 750s and now forms a Unesco World Heritage Site. Admission, including guided tour and cruise from Stockholm's City Hall, is SEK360 (£32).
The three huge Viking burial mounds at Gamla Uppsala (00 46 18 23 93 00; raa.se/gamlauppsala), 70km north of Stockholm, are another impressive relic of ancient Sweden. A walking and cycling path is a great way to reach the site. Admission to the museum is SEK70 (£6).
Get outdoors
Cycling paths, walking trails, beaches, camping and fishing are all within easy reach just about anywhere in the country. Smedsuddsbadet is a nice sandy beach in Stockholm. The southern province of Skane has coastline on three sides. For the best hiking, head north: Norrland's popular and accessible long-distance walking trail, Kungsleden (King's Trail), covers almost 450km with huts along the way run by the Swedish Tourist Association (STF).
Cyclists will find well-marked routes everywhere, including the 9,500km Sverigeleden trail that spans the country (svenska-cykelsallskapet.se). Or head to the island of Gotland for a scenic, mostly coastal trail, with hostels at regular intervals. Hire bikes from Gotlands Cykeluthyrning (00 46 498 21 41 33; gotlandscykeluthyrning.com); daily from SEK95 (£8) .
Sweden's allemansratt ethos (freedom to road) means you can camp freely anywhere, but well-equipped sites are easy to find; for most you'll need a camping card (SEK150/ £13 per year; camping.se).
For a rainy day ...
Stockholm is home to great museums, many of which are on the island of Djurgarden just east of the centre. Junibacken (00 46 8 587 230 00; junibacken.se; 10am-6pm; SEK145/£12.60) recreates the storybook worlds of Astrid Lindgren, the author of the Pippi Longstocking books. Children can meet the characters, including Pippi, then ride the Story Train or watch a short play.
Stockholm's Medieval Museum (00 46 8 508 317 90; www.medeltidsmuseum.stockholm.se; noon-5pm, closed Mondays; SEK100/£9) is an enveloping experience, taking visitors underground through the earliest levels of civilisation. The museum incorporates parts of the original town wall, from around 1530.
The Technical Museum (00 46 8 450 56 00; www.tekniskamuseet.se; 10am-5pm Monday-Friday, 11am-5pm Saturday and Sunday) will keep curious youngsters busy for hours, especially if they're of the "how stuff works" mentality. Recent temporary installations have included a survey of video games (basically a giant arcade) and a look at inventions by women. Admission is SEK120 (£10), a family ticket SEK300 (£26).
The Vasa Museum (00 46 8 519 548 00; vasamuseet.se; 8.30am-6pm) is a highlight, displaying the evidence of a 17th-century sunken vessel. Admission is SEK130 (£11).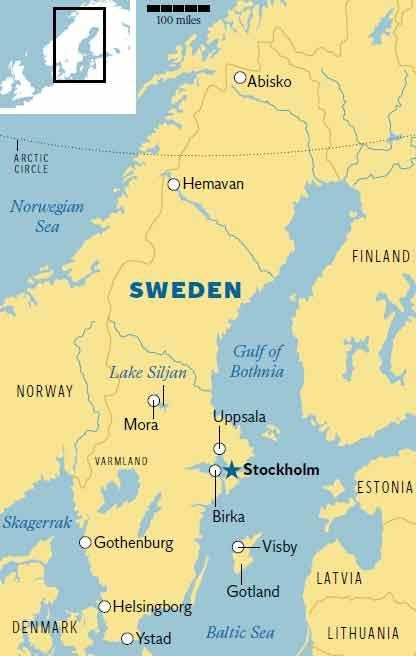 Getting there and getting around
Sweden's main airport is Stockholm-Arlanda, served by SAS (0871 226 7760; flysas.com) from Heathrow, Manchester, Bristol and Edinburgh. BA (0844 493 087; ba.com) flies from Heathrow and London City. Norwegian (0843 3780 888; norwegian.com) flies from Gatwick, Edinburgh and Manchester.
Ryanair (0871 246 0000; ryanair.com) flies from Stansted to other Swedish airports, including Skavsta and Vasteras (both serving the capital), Gothenburg-Save, Malmo and Skelleftea.
Gothenburg's main airport, Landvetter, is served from Heathrow by BA and SAS, from Gatwick by Norwegian and from Birmingham by BMI Regional (0844 4172 600; bmiregional.com).
Public transport within larger cities is excellent. Each county has its own network of train and bus companies, but there's a handy trip planner to co-ordinate services at reseplanerare.resrobot.se
Some petrol stations offer car hire; try Statoil (00 46 8 429 63 00; statoil.se) or OKQ8 (00 46 20 65 65 65; okq8.se).
Where to stay
Campgrounds and youth hostels tend to be very well-appointed and organised with families in mind. They can get busy in summer, so book ahead. With hostels across Sweden, the Svenska Turistforeningen (00 46 8 463 21 00; svenskaturistforeningen.se) operates at a reliably high standard. It is part of the official Hostelling International network. There are many locations in Stockholm, including STF Gardet (00 46 8 463 22 99), near a huge park and several museums. The other major hostel network, SVIF (00 46 31 82 88 00; svif.se), comprises around 150 independent hostels. Family rooms cost around SEK 650-1,150 (£57-100).
The National Swedish Campsite Association (00 46 31 355 60 00; camping.se) has excellent information on campgrounds, as well as self-catering cottages, cabins and huts. Moraparken (00 46 0250 276 00; moraparken.se), in the Lake Siljan village of Mora has top-notch facilities with lakeside tent sites and cottages in a forested grove. Tent sites SEK 195 (£17), cabins from SEK 645 (£55).
For a more exotic stay, try the Treehotel (00 46 928 10300; treehotel.se), about 100km from the northern Swedish town of Lulea, where you can stay in a collection of artful treehouses, including one that looks like a UFO; from SEK 4,400 (£375).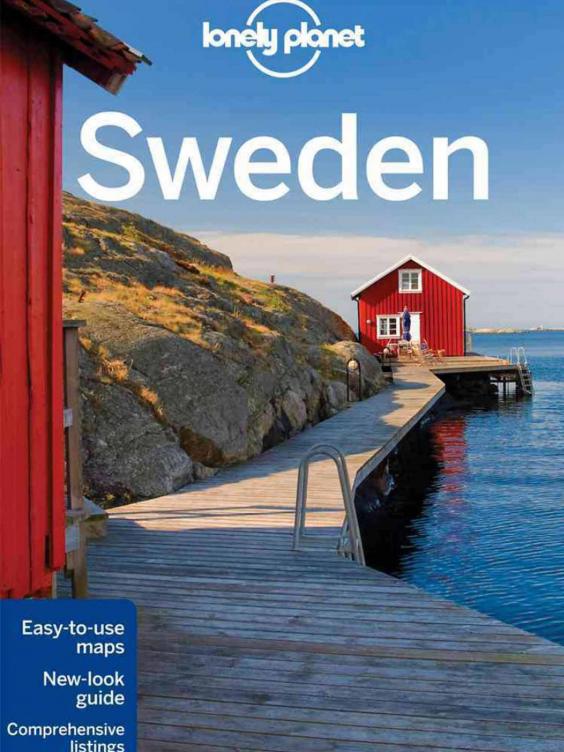 Lonely Planet's guide to Sweden (fifth edition) costs £15.99 from shop.lonelyplanet.com