"Ciao!" said the captain as we boarded the tiny ferry that would take us to the island of Cavallo. Considering we had just arrived at the pier in Piantarella on French-speaking Corsica's extreme southern tip, we were expecting a more Gallic welcome.
The explanation came on the 15-minute journey to the island: although we were in French territory, in summer Cavallo becomes the unofficial seaside domain of Italians, with a soupçon of French holidaymakers – all of them well-heeled.
If this intriguing cultural mélange is one of the attractions of Cavallo, another became more obviously apparent as we approached. The island is a ravishing and somewhat secret part of the Mediterranean, its crinkled coastline and surrounding waters strewn with pink, time-smoothed granite outcrops, in clear, electric blue waters that call to mind the Seychelles.
Cavallo is part of the French Lavezzi archipelago, a cluster of small granite islands in the Strait of Bonifacio between Corsica and Sardinia. But while the other islands are part of a protected marine reserve, Cavallo is something of an anomaly. It is one of the few privately owned islands in this part of the Mediterranean run by a co-operative of its property owners, under the name the Association Syndicale Ile de Cavallo.
It was once used by the Romans to mine granite for their villas, but Cavallo's more recent devotees – and there are many – have been coming here for more than half a century. In the 1960s, it was developed by a well-connected French nightclub owner, Jean Castel, and swiftly became a more low-key choice for (then) A-listers such as  the singer Petula Clark and the actress Catherine Deneuve, who cherished the island's rustic charm. It's still endowed with a sprinkling of stardust and we spent considerable time debating which of the 60 or so villas might be the one rumoured to be owned by Princess Caroline of Monaco.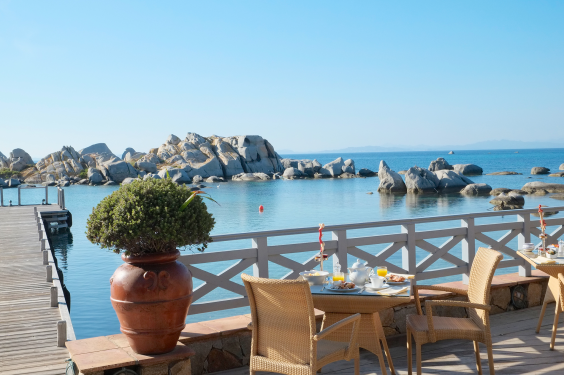 The 15km-long coast, as its name suggests, is vaguely horse-shaped and fringed with idyllic, small beaches and coves lapped by lucent waters of glass-like clarity. The interior is a tangle of maquis shrubs with just one hill. There is a marina with berths for 200 yachts, a grocery shop, a café, a scattering of apartments and a hotel, but the atmosphere and look is more déshabillé and laid-back than a primped and preened five-star resort. Cars are banned so people get around on foot, by bike or by electric golf cart.
This year, the UK tour operator, Simpson Travel, is eager to put Cavallo on the map, for British visitors at least. With an already extensive programme on Corsica, it has now premiered two villas, the hotel and several apartments on the island.
Our destination was the Italian-owned villa Maison Bleu. Teetering on the north coast, it had an expansive, two-tier deck, replete with Jacuzzi, giving on to dreamy views back towards the Corsican coast. The small bay in front, a startling shock of azure water, bobbed with the occasional expensive-looking yacht. A flight of steps led from the terrace to a tiny pebble beach.
There were four bedrooms, a small kitchen and ample space for lounging for our party of three, but don't come expecting Acqua di Parma in the bathrooms – it's not that kind of place. The interior is classic, Italian beachside – the luxury here is the location, rather than the interior.
You can also stay at the Hôtel & Spa des Pêcheurs, the island's only hotel. Also Italian-owned, it started life as a boarding house for fishermen in the 1950s before becoming a hotel just over 20 years ago. Its 50 rooms are scattered through a collection of haphazard stone buildings that hug the shoreline. Décor is classic Mediterranean with glazed white tiles, terracotta and simple furniture. There's a small beach with a bar, a pretty pier, a spa and an outdoor swimming pool. Again, the flavour here is of Italy, rather than France – you can tuck into spaghetti alle vongole in the smart restaurant that looks down on the sea.
Days tend to be spent beachside or walking through the wild maquis, but Bonifacio, one of Corsica's most photogenic pin-ups, is within easy reach via the ferry. The old town clings at a precarious 70 metres atop limestone cliffs wizened by wind and sea. It's a captivating, if tourist-clogged spot. A strenuous walk transports you from the port to the Haute Ville, established in the ninth century and fortified by the Genoese in the 12th century. It is small but charming, with a honeycomb of streets lined by restaurants, shops and landmarks such as the Gothic Eglise Saint-Dominique. You can also step gingerly down the 187 steps of L'Escalier du Roy d'Aragon for vertigo-inducing views of the sea, or stop off at the Comptoir Bonifacien to stock up on local wine.
In Bonifacio, we also learnt that Cavallo's sun-drenched image has not been without dark shadows. Vittorio Emanuele, a member of Italy's exiled royal family, accidentally shot and killed an 18-year-old German tourist on the island in 1978 but was later acquitted in a French court. In the 1980s, rumours of the Mafia also surfaced, while in the 1990s Corsican nationalists angry at a lack of local involvement are believed to have been behind the bombing of several houses near the marina; the charred remains can still be seen.
After our trip to Bonifacio, any lingering pressure to leave Cavallo dissolved. Our days took on a comforting inevitability: breakfast, mid-morning coffee at the island's only café, Era Ora, then lunch followed by the beach and dinner.
Depending on your idea of a holiday, the beauty or limitation of Cavallo is this relative isolation. The €30 ferry round-trip means getting off the island is a costly exercise and the last ferry back from Corsica leaves at 6pm. But the luxury of Cavallo is lying on a quiet stretch of sand and plunging your feet into the Mediterranean as fish dart around your ankles. French? Italian? English? Whatever you speak, that translates as a rare and beautiful thing.
Getting there
Aoife O'Riordain travelled as a  guest of Simpson Travel (0845 322 8767; simpsontravel.com), which features Cavallo exclusively in the UK  market. She stayed at Maison Bleu, which sleeps eight and starts at £1,127pp for a week's rental,  including flights from Gatwick to Figari, car hire on the mainland, golf buggy hire on Cavallo and boat transfers to and from the island.
Accommodation is also available on the island at Hôtel & Spa des Pêcheurs from £2,225pp per week half board, and from £1,082pp in a Marina Apartment.
Visiting there
Comptoir Bonifacien, 9 Rue Saint Jean Baptiste, Bonifacio (00 33 4 95 73 58 54; comptoir-bonifacien.com).
More information
Bonifacio Tourisme, 2 Fred Scamaroni, Bonifacio (00 33 4 95 73 11 88;  bonifacio.fr).
Reuse content