When people talk about Florence, they often mention Stendhal Syndrome. The dizzying disorder - which was said to induce palpitations, fainting and even hallucinations in its victims - was coined by the 19th-century French author to describe the feeling of being overwhelmed by the sheer beauty of Florence's art. But arriving in the Tuscan capital at sunset, I couldn't help feel the idea was outdated.
True, the city still brims with Renaissance riches. You only have to step inside the Uffizi (00 39 055 294 883; polomuseale.firenze.it; €6.50) or stare up Michelangelo's five-metre statue of David inside the Galleria dell'Accademia (00 39 055 294 883; polomuseale.firenze.it; €6.50) to be convinced of its cultural credentials. But as I walked around streets lined with upmarket boutiques and watched young couples doing the early-evening passeggiata - it struck me that this is a city that bubbles with energy, not one that languishes in the past.
For a start, there's a trove of exciting new restaurant and hotel openings, proving that Florence is very much at the forefront of things. There's also a jubilant mood in the air, following the recent ascension of the city's 39-year-old mayor, Matteo Renzi, to the Palazzo Chigi in Rome - becoming Italy's youngest prime minister with his fresh-faced brand of politics. And, there's good news for travellers too, as British Airways has just launched direct flights from London City. Dizzying it may be, but you don't have to spend all your time in a museum, to set your heart fluttering in Florence.
UNPACK
The Portrait Firenze (00 39 055 2726 4000; portraitfirenze.com) opens on 1 May in an enviable position overlooking the River Arno and the city's partly covered, medieval bridge, the Ponte Vecchio. Part of the luxurious Lungarno Collection, it will offer 34 sumptuous rooms, designed by the Florentine architect Michele Bönan, with B&B doubles from €495.
If you can't wait until then, consider The St Regis (00 39 055 27161; stregisflorence.com) at Piazza Ognissanti 1, which has recently undergone a grand transformation. Encased within a 15th-century palazzo, designed by Filippo Brunelleschi - the architect behind Florence's Duomo (cathedral) - it offers room-only doubles from €350.
THINK LOCAL
The Oltrarno is often overlooked by tourists, but this southern section on the other side of the Arno is home to centuries-old arts and crafts workshops. After peering into hole-in-the-wall ateliers, such as bespoke shoemaker Roberto Ugolini (00 39 055 216246; roberto-ugolini.com; Via Michelozzi 17r), I made my way to the Boboli Gardens (00 39 055 294 883; polomuseale.firenze.it; €7), where I walked amid a meandering patch of 16th-century parkland, dotted with Renaissance statues and fountains.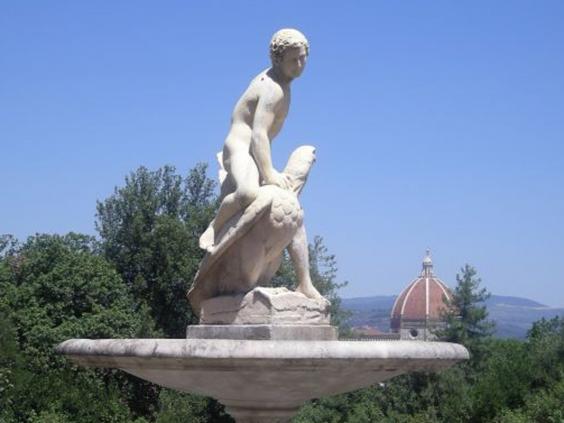 EAT
In 1995, the Ferragamo family opened Il Borro, a Tuscan hamlet hotel near San Giustino. They planted grape vines and olive groves to make their own wine and oil, and started to produce honey and cheese as well. Today, all these products are on the menu at Il Borro in Florence (00 39 055 290 423; ilborrotuscanbistro.it). The fashion dynasty's first foray into the restaurant sector opened in August, just behind designer Salvatore's first ever boutique at Lungarno Acciaiuoli 80r. I settled on a delicious starter of buffalo mozzarella with olive pesto (€10) followed by beef tartare with capers in a red-wine sauce (€10).
Alternatively, try Cucina Torcicoda (00 39 055 265 4329; cucinatorcicoda.com) which opened at Via Torta 5 in December. Sequestered away in the russet-red dining room, I ate cod with cannellini beans (€16) washed down with a Monsanto chardonnay - a delicious Tuscan tipple.
DRINK
Surrounded by a stylish crowd, I sipped a lemongrass and gin-based Fusion 75, topped off with a splash of champagne (€13) at Fusion Bar (00 39 055 2726 6987; lungarnocollection.com). Located within the Gallery Art Hotel, this sleek addition to Florence's nightlife scene mixes Japanese sushi and cocktails with Italian antipasto and deserts. What makes it even more fun at present is its collection of super-fast, streamlined road bikes scattered around the lobby. The special installation looks at some of the most memorable moments from the Giro d'Italia and World Cycling Championship, which took place in Florence last year. It will remain in situ until December.
SPEND
On a whirl along Via Tornabuoni it was easy to see why Florence is considered one of Italy's top fashion cities. All the big names are here, from Dolce & Gabbana to Armani and Gucci - whose founder, Guccio, was born in Florence and even has a museum dedicated to his life's work (00 39 055 759 23 303; guccimuseo.com; €6).
If your look is more retro than red carpet, rummage through the vintage wares at Boutique Nadine (00 39 055 247 8274; boutiquenadine.com) where I picked up some fetching Seventies-style shades for €59.
DON'T MISS
The Duomo dazzles from all angles: its huge terracotta dome reaches towards the heavens; its white-marble façade reveals flecks of red and green the closer you get. To take in its full might, climb the cupola or the campanile (bell tower), both of which are included in the €10 ticket (00 39 055 230 2885; museumflorence.com). From this elevated position, I spied the city spread out like an elaborate tapestry beneath my feet with landmarks such as the Basilica de Santa Croce, rising above the rooftops.
TRAVEL ESSENTIALS
Getting there
British Airways (0844 493 0787; ba.com) has just launched flights between London City and Florence, in competition with CityJet (0871 405 2020; cityjet.com). Vueling (0906 754 7541; vueling.com) also flies from Heathrow, while nearby Pisa is served by easyJet (0843 104 5000; easyJet.com) from Bristol and Gatwick, by Ryanair (0871 246 0000; ryanair.com) from Stansted and by BA from Heathrow.
Staying there
Laura Holt travelled to Florence with Citalia (0843 770 4443; citalia.com) which offers a three-night city break in April for £555pp, including flights and B&B accommodation at the Hotel L'Orologio.
More information