Waterbabies have plenty of aquatic options in Germany.
Bracing breezes and big waves draw sailors, windsurfers and kiteboarders to the North Sea coast and its tiara of offshore islands, including the jet-set favourite of Sylt. Gentle by comparison, the Baltic beckons with dazzlingly clean, white sands and glittering water, especially around the islands of Hiddensee and Rügen. A long-time favourite with German holidaymakers, the region is still a well-kept secret among international travellers.
The same is true of the pristine Mecklenburg Lake District, a short drive south of the coast. Nicknamed the "land of a thousand lakes", it's an unspoilt, serene region where ospreys and white-tailed eagles circle in the sky above protected beech forests, meadows and moors. Canoeing and kayaking are popular here, as is fishing for pike, perch, and other fresh-water species. All you need is a tourist fishing license, available from local tourist offices.
Another way to absorb the natural rhythm of the Mecklenburg lakes is by piloting your own house boat. Boating Holidays (01756 701 200; boatingholidays.com) offers one- and two-week rentals from its bases at Fürstenberg and Untergöhren, starting at £1,092 for two people and £1,857 for four in peak season (July and August). Prior experience and boating licences are not required.
Germany on water
Germany on water
1/6 Germany on water

About an hour southeast of Berlin, the Spreewald is a unique lacework of gentle streams and canals threading through thick forest and wetlands (Peter Becker)

Peter Becker

2/6 Germany on water

Wadden Sea National Park (AFP/Getty)

AFP/Getty

3/6 Germany on water

Germany's largest island, Rügen, packs in as much nature, history and architecture as a small country

4/6 Germany on water

Marksburg castle

5/6 Germany on water

Lake Constance: Meersburg on the northern lake shore, is a terraced town cradled by vineyards and crowned by the eponymous turreted castle

6/6 Germany on water

The city of Friedrichshafen on Lake Constance

Tourist-Information Friedrichshafen
If you prefer letting someone else do the steering, lake ferries offer great possibilities for a multi-centre holiday. On Lake Constance, BSB (00 49 7531 364 00; bsb-online.com) connects the university city of Konstanz with vineyard- cradled Meersburg, as well as Friedrichshafen and Lindau. Ferries operated by Chiemsee Schiffahrt (00 49 08051 6090; chiemsee-schifffahrt.de) on Chiemsee, near Munich, dock at lakeside villages as well as the islands of Herreninsel – home to a huge palace dreamed up by "Mad" King Ludwig II – and Fraueninsel, with its 8th-century abbey.
Short, one-hour sightseeing spins are available year-round in riverside cities such as Cologne, Berlin, Heidelberg, Hamburg, and Dresden. And from April to October passenger ships ply the most scenic stretches of the Rhine and the Elbe. Stop in scenic villages and sample local wines on the Cologne-Mainz line run by KD (00 49 221 208 8318; k-d.com) as it cuts through the castle-studded Rhine Gorge. Sächsische Dampfschiffahrt (00 49 351 866 090; saechsische-dampfschiffahrt.de), meanwhile, links destinations on the Elbe, including Meissen (the birthplace of European porcelain), Dresden, and Saxon Switzerland National Park.
For a more in-depth experience of Germany's rivers and canals, there are countless multi-day cruises available. One option is Avalon Waterways' 13-day Highlights of Germany itinerary (0800 668 1843; avaloncruises.co.uk). Starting with three days in Munich, it includes a nine-night, full-board cruise along the Danube, Main-Danube Canal, the Main and the Rhine. Prices start at £2,057pp for a 29 May departure, including flights from Heathrow. Other companies operating in Germany include Viking River Cruises (0800 319 6660; vikingrivercruises.co.uk) and A-Rosa (00 49 381 202 6020; a-rosa.de).
Germany also has a full schedule of aquatic festivals. Every June, some three million people flock to Kiel on the Baltic Sea for Kieler Woche (00 49 431 901 905; kieler-woche.de), the world's biggest boat party with hundreds of regattas, ship parades and historic vessels.
This August marks the return of Sail Bremerhaven (00 49 471 414 141; sail-bremerhaven.de), an event that sees majestic windjammers and other tall ships convene every five years, while in late September, Sylt hosts the world's top pro windsurfers during the 10-day Windsurf World Cup (00 49 40 414 6410; worldcupsylt.de). For more aquatic events, see maritime-feste-deutschland.de.
Spreewald
About an hour south-east of Berlin, the Spreewald (00 49 35433 722 99; spreewald.de) is a unique lacework of gentle streams and canals threading through thick forest and wetlands. This area is home to the Sorbs, a Slavic people who still cling to their age-old customs, costumes and language.
The best way to explore this sprawling Unesco biosphere is by traditional kahn (a shallow punt boat) steered by ferrymen dressed in traditional garb. Trips lasting from one hour to a full day depart from the main towns of Lübben and Lübbenau (00 49 3542 403 710; spreewaldtourismus.de). An especially rewarding tour travels from Kleiner Hafen (small harbour) in Lübbenau to Lehde, a protected Sorb village with traditional reed-covered farmhouses (three hours; €12).
Alternatively, visitors can rent a canoe or kayak. Bootsverleih Richter (00 49 3542 3764; bootsverleih-richter) in Lübbenau has single boats for €15 a day, or €9 for two hours, double boats €20/€12.
Lake Constance
Hemmed in by three countries – Germany, Austria and Switzerland – Lake Constance is less a lake and more a huge, glacier-gouged bulge in the Rhine, backed by the stunning panorama of the Swiss Alps.
The region is especially lovely in spring, when its many orchards erupt in a riot of colourful blooms. The garden island of Mainau (00 49 7531 3030; mainau.de; €19) is a fragrant kaleidoscope of over a million tulips, narcissi and rhododendrons along with rare and tropical plants. Meersburg, on the northern (i.e. German) lake shore, is a terraced town cradled by vineyards and crowned by the eponymous turreted castle. Meanwhile, Friedrichshafen is the birthplace of the Zeppelin airship, and home to the Zeppelin Museum (00 49 7541 380 10; zeppelin-museum.de; €8).
Inghams (01483 791 114; inghams.co.uk) offers a four-night break based in Konstanz from £669pp in May, including flights from Heathrow to Zurich, transfers and half board at the Hotel Barbarossa.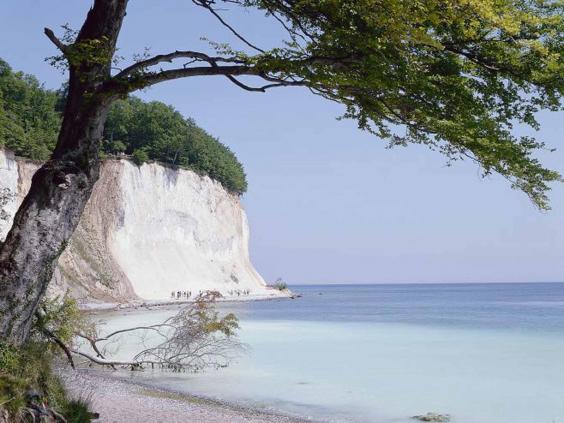 Rhine Gorge
Few rivers have captured the imagination of artists and travellers as much as the Rhine, especially the Unesco-protected Upper Middle Rhine, also known as the "Romantic Rhine", between Bingen and Koblenz. Either side of the river, historic castles and traditional villages are embraced by steep, terraced vineyards that yield some of Germany's most acclaimed rieslings.
Highlights of the region include the village of Braubach, with Marksburg castle (00 49 2627 536; marksburg.de; €6; pictured above); the wine village of Bacharach, and Burg Pfalzgrafenstein (00 49 172 262 2800; dieburgpfalzgrafenstein.de; €3), a former "toll castle", where medieval rulers collected tolls from passing ships, on an island in the river. The island is reached by ferry from the village of Kaub.
The River Cruise Line offers an eight-day Bavaria and the Romantic Rhine cruise between Nuremburg and Cologne. From £1,149pp including full board and flights from Heathrow.
Rügen Island
Germany's largest island, Rügen, packs in as much nature, history and architecture as a small country. Blessed with 60km of sandy beaches, this Baltic isle has attracted some famous visitors in its time, from Otto von Bismarck to writer Thomas Mann and painter Caspar David Friedrich, whose moody landscapes perfectly capture the island's enigmatic beauty.
Among Friedrich's favourite motifs were the rugged white-chalk cliffs (left) that are now protected as part of Jasmund National Park (00 49 38392 350 11; nationalpark-jasmund .de). The white of the cliffs is echoed in the colour of the quaint seaside villas that have lined the beach promenade in Binz, Rügen's main resort, since the 19th century.
For something a little more modern, sophisticated design hotel Cerès (00 49 38393 666 70; ceres-hotel.de) is a fine place to hang your hat. Doubles from €218 in peak season (July and August).
For a stark contrast check out Prora, north of Binz. This partly ruined holiday resort, built in the late-1930s, now houses a youth hostel along with a fascinating museum, the Documentation Centre (00 49 38393 139 91; dokumentationszentrum-prora.de; €6), which gives an insight into the Nazi-built resort's construction and political background.
Wadden Sea National Park
Germany's North Sea coast is ideal for those hoping to get up-close with nature. This is big-sky country, with a pristine mosaic of salt marshes, beaches and dunes punctuated by the tiny islands of Wadden Sea National Park (00 49 4421 9110; nationalpark-wattenmeer.de).
During low tide the sea recedes completely, exposing the muddy bed and allowing you to "walk on water" along the shore or between the islands. Because of the risks involved in getting the route and timing right, it's safest to go with a licensed guide. Local tourist offices can set you up, or contact the national park's central tour office (00 49 421 911 294; nationalpark-fuehrungen.de).
There are seabirds, seals, crabs, mussels and much more to see along the way. The mudflats also provide a feeding ground for 10 to 12 million migratory birds, including geese, ducks, waders, gulls and terns, which refuel here en route to and from their wintering quarters in southern Europe and Africa – so twitchers will be kept entertained. The best time to see them is in spring and autumn.
Getting there
The closest airport to the Spreewald and Rügen Island is Berlin, served from the UK by airlines including British Airways (0344 209 7777; ba.com), Lufthansa (0371 945 9747; lufthansa.com), easyJet (0330 365 5454; easyjet.com), Ryanair (0871 246 0000; ryanair.com), Flybe (0371 700 2000; flybe.com) and Germanwings (0330 365 1918; germanwings.com). From there, Deutsche Bahn (00 44 8718 808 066; bahn.de) trains travel to Binz on Rügen in four hours and to Lübben in the Spreewald in one hour.
For Lake Constance, the main gateway is Munich, served by BA, Lufthansa and easyJet. Trains take about two hours to the main lake town of Konstanz. Ryanair's flights to Memmingen are another option.
Frankfurt is the main access point for the Rhine Gorge, served by BA and Lufthansa. Trains go to Bingen in about an hour. Another option is Ryanair to Frankfurt Hahn regional airport; from here buses head to Koblenz in about an hour.
For Wadden Sea National Park, fly to Hamburg or Bremen. The former is served by BA, Lufthansa, easyJet, Ryanair, Flybe and Germanwings. Ryanair also flies to Bremen. Trains to the gateway town of Cuxhaven take about two hours from Hamburg or 90 minutes from Bremen.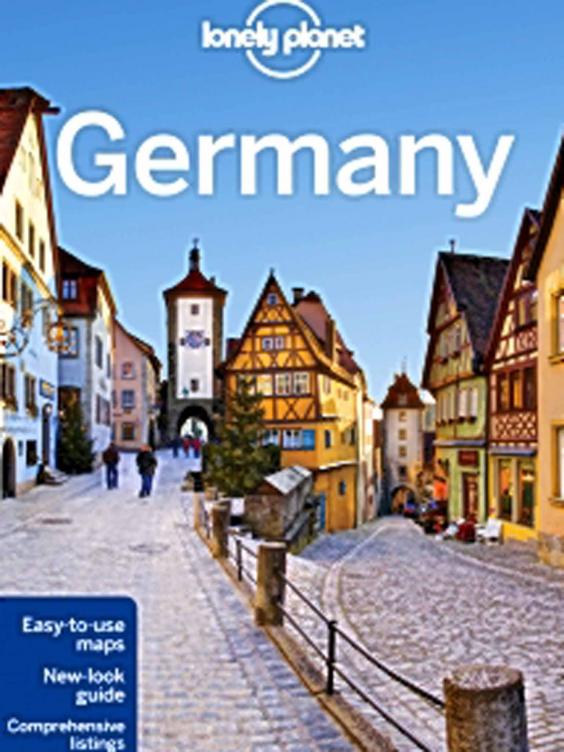 Lonely Planet's Germany guide is priced £16.99 shop.lonelyplanet.com.
Reuse content