Three hundred years ago, an obscure German Duke called Georg Ludwig became King of Great Britain and Ireland and this summer his Teutonic hometown is celebrating his unlikely accession to the British throne. From 1714 to 1837, George I and his descendants ruled Britain and Hanover in tandem. From 17 May to 5 October, five local exhibitions illuminate the lives and times of these eccentric Georgian kings.
Hanover's Historical Museum (00 49 511 168 42352; bit.ly/Historisches) has built an exhibition around George IV's state coach (which, given his hefty bulk, must have been pretty sturdy). The Wilhelm Busch Museum (00 49 511 1699 9911; karikatur-museum.de), which houses a large collection of antique cartoons, is mounting a more irreverent display. With their many faults and foibles, the Hanoverian kings inspired a golden age of caricature. Gillray's wicked portrait of George IV is one of the highlights of this cheeky survey. The Landesmuseum (00 49 511 980 7686; landesmuseum-hannover.de) takes a broader view, assessing the achievements of the composer Handel and the philosopher Leibniz, alongside the monarchs they served.
Ironically, given its close ties with Britain, Hanover was particularly badly bombed by the RAF during the Second World War. Rebuilt in a hurry, the city still bears the scars. Prosperous and businesslike, the city centre is a pleasant place to wander, but much of its post-war architecture is bland and uninspiring. Many of its most historic sites are on the leafy outskirts.
A 10-minute tram ride out of town, Herrenhausen (00 49 511 1684 4543; hannover.de/Herrenhausen) was the rural retreat of our Georges, a sort of Hanoverian Versailles. Destroyed by British bombers in 1943, it's been beautifully rebuilt. There's an exhibition here too, but the biggest draw is its splendid baroque gardens. George I is buried here, the only English king since William the Conqueror buried outside England.
Remarkably, nearby Celle (about half an hour away by train) survived the Second World War almost unscathed. Its Residenz Museum (00 49 5141 12372; residenzmuseum.de), in the ornate castle, is also staging an exhibition about the Hanoverians. Even if you don't see the show, the town's half-timbered Altstadt (old town) is well worth an outing in its own right.
For British visitors to Hanover and its surrounding countryside, these shows are an ideal way to learn about the cultural links that Britons and Germans share.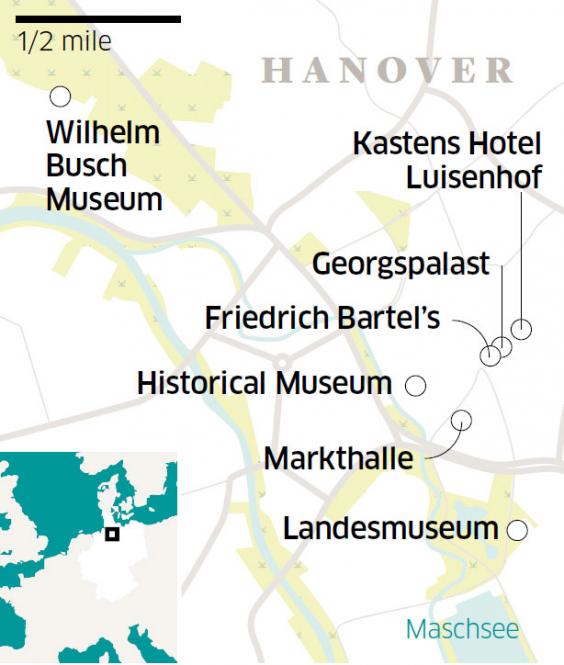 UNPACK
Kastens Hotel Luisenhof (00 49 511 30 440; kastens-luisenhof.de) is a five star, but even if you're on a budget, there are bargains at weekends, with doubles from around €100, room only. With its penthouse gym and prime location – just a few minutes' walk from the main station – that's not bad at all for such a posh hotel. Founded back in 1856, it was bombed in the war and rebuilt thereafter. It's well worth the €15 supplement to upgrade to a smarter superior room.
THINK LOCAL
One of Germany's oldest and most famous variety theatres, the Georgspalast (00 49 511 3018 6710; variete.de) has been staging cabaret in Hanover ever since the 1920s. Its house style still recalls the decadent nightlife of the Weimar Republic. However, this thrilling show's biggest selling points are artistry and athleticism. The choreography is sensual, but there's no nudity. Superb dancing is supplemented by mesmeric juggling, tumbling and conjuring, accompanied by a brilliant three-piece band. Most of the punters are couples but families are welcome, with reduced rates for under 15s. From €15.
EAT
A huge lake in the middle of Hanover, the Maschsee is a great escape from the workaday bustle of the city centre. You'd never guess it was entirely artificial, dug out in the 1930s to create work for the unemployed. The best place to drink in the view is at Pier 51 (00 49 511 807 1800; pier51.de), a stylish modern restaurant built on a jetty over the water. For lunch, soup, a big salad and a dessert costs €20. For dinner, try the trout with potatoes and mustard sauce, followed by a selection of local cheeses, from €29.50.
DRINK
Like most other German cities, Hanover is awash with bierkellers, but for more distinctive (albeit non-alcoholic) refreshment, head for Friedrich Bartel's Hollandische Kakao Stube (00 49 511 304 100; hollaendische-kakao-stube.de; closed Sundays). This "Dutch Cocoa House" has been an institution since 1895. The best time to visit is around 4pm for Kaffee und Kuchen ("cake and coffee" – the equivalent of high tea in Germany). A cup of coffee and a slice of the local Baumkuchen costs €4.90.
SPEND
Hanover's bustling Markthalle (markthalle-in-hannover.de) is the heart of the city, a place where locals meet for a quick drink and a bite to eat and then grab a few provisions. This is the best place to buy German sausages or chocolates. If the weather's too fine to sit indoors, it's the perfect place to buy food for a lakeside picnic – the peaceful Maschpark is a short walk away.
DON'T MISS
The privately owned Schloss Marienburg (00 49 506 934 8000; schloss-marienburg.com; 10am-6pm daily, €6) is mounting its own tercentenary display. "The Way To The Crown" (until 9 November) charts the emergence of the House of Hanover, but it's the romantic setting – perched on a steep wooded hill – which makes it so special. A train to Nordstemmen takes 20 minutes from Hanover's central station.
Getting there
William Cook flew from Heathrow to Hanover with British Airways (0844 493 0787; ba.com) and back to Stansted with German Wings (0906 294 1918; germanwings.com). Flights are also offered from Birmingham or Manchester with Flybe (01392 683 152; flybe.com).
More information
Hanover Tourist Office: 00 49 511 12345 111; hannover.de
German National Tourist Office: 020 7317 0910; germany.travel
Reuse content