There is nothing quite like standing at the heart of a glacier to make you feel insignificant. Compared to a 953sqkm stretch of ice that extends up to 580m thick, a puny human doesn't stand a chance. So it is with some hesitation that, guided by torchlight, crampons on my boots trudging through snow, I creep deep into the biggest man-made ice cave in Europe.
Insignificance notwithstanding, I can't help but feel lucky. I am in what is arguably Iceland's most ambitious tourist attraction to date, Into the Glacier, which opened to the public on Monday. The brainchild of two adventure tour operators, this 500m-long tunnel is the result of five years of planning by engineers – and plenty of elbow grease from construction workers and local farmers – set deep inside Langjokull, Iceland's second-largest glacier (and one of the biggest in Europe), in the country's western highlands.
As daylight is left behind at the tunnel's mouth, the walls and ceilings begin to emit an ethereal blue shimmer, the result of LED lighting injected deep into the ice. It is not a uniform, Frozen-style blue – different layers of ice have different hues, depending on how compacted they are.
Seams running along the walls can be counted like rings in a tree to study the age of the glacier. A long streak of black cuts through the azure – ash from the 2010 Eyjafjallajokull eruption. Halfway down the tunnel, I stop short, suddenly coming to a crevasse. This giant chasm in the ceiling, thick with glowing icicles, initially took construction workers by surprise too, but it is now a highlight of the attraction, alongside the spectacular chapel.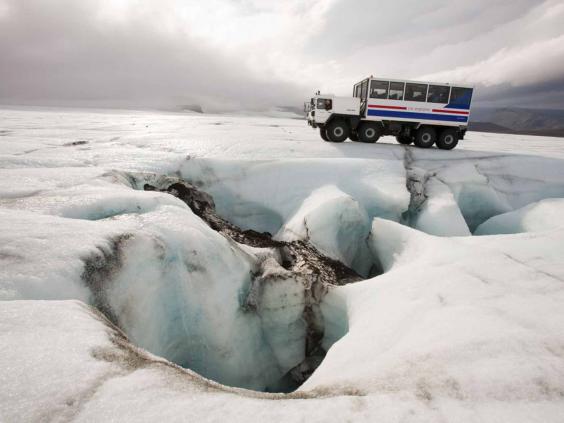 Once inside the glacier, I can't help feeling that I am within something living and breathing, like Jonah in the belly of the whale. And in a way, I am. Under the weight of hundreds of metres of ice overhead, the ceiling is constantly moving downwards, albeit at a rate of just a couple of centimetres a year. In 20 years' time, I am told, it will be as if it were never here.
A reassuring reminder of the might of nature, but one thing niggled. With the world's glaciers receding, here we are, gouging a massive hole in one – 5,500 cubic metres worth of ice was extracted to make this tourist sight. But Sigurdur Skarphedinsson, CEO of the project, reassures me that every care was taken to conserve the environment. "It's like having a bathtub filled with water," he says. "We are only taking out a drop." And there won't be a constant stream of tour buses – only around 40 visitors can travel into the cave at a time."
This is as much for practical reasons as it is environmental – the top of a glacier is not the most accessible of places. Our transport is the Ice Explorer, an eight-wheeled, 30-tonne repurposed Nato missile carrier. Our driver, Addi, explains how this beast works, beaming with fatherly pride even as he navigates the tougher sections of the 5km journey. The tyres' air pressure can be changed at the touch of a button, allowing the vehicle to traverse the snow with less weight than that of a man walking.
Despite the brilliant sunshine bouncing off the snow, I am longing to warm my bones. An hour's drive inland, Fludir's Secret Lagoon is a little volcanic oasis, with steam rising languorously from the 40C natural geothermal pool. Kitted out in a far-from-fetching buoyant hat and leg floats, I relax into the heat of the water, blinking away the snow that is catching on my eyelashes. It is almost as other-worldly as the glacial tunnel – and here, Sigur Ros plays on underwater speakers as prone bodies drift through the mist.
Eventually, dreamily, I emerge to a hearty welcome from my host, who hands me a fishing rod: I must boil my own egg for supper in a bubbling pool, while he digs up a loaf of rye bread, baking for the last 24 hours in the nearby hot ground. My hard-boiled "catch" is served with slivers of smoked trout, fresh tomatoes and a shot of gasp-inducing, but most certainly warming, Brennevin schnapps.
After such an active day, I had suspected rising for more of the same the next morning would be a struggle. But throwing back the curtains to see the sun already high over the lunar landscape works better than caffeine. I've spent the night at ION Luxury Adventure Hotel, a boutique oddity set on stilts, almost blending into the steam-punctuated landscape against the backdrop of a dormant volcano. Its location, about an hour from Reykjavik and on the cusp of the Golden Circle tourist trail, makes it the perfect base for exploring the area, which is linked by surprisingly decent paths. Today, though, I am going off-road.
My Superjeep driver, Svavar, grins impishly as we bounce over snow drifts. "Do you know what to do if you get lost in an Icelandic forest?" he quizzes me. "Stand up." True enough, the "trees" only reach about waist-height, and I have a 360-degree view of snow-capped mountains and green valleys, giving way to Thingvallavatn lake. Today, the lake is like a mirror, a calm surface in Iceland's often turbulent landscape. A reminder of this tumult comes next as I stand at Thingvellir national park, the rift between the North American and Eurasian tectonic plates.
Given all this wild natural beauty, it is no surprise that the likes of Game of Thrones and Interstellar have shot scenes in Iceland. The dramatic landscape has inspired musicians, artists and storytellers for generations, and a few of the legends still hold firm. I ask Svavar if he believes in elves (apparently half of Icelanders do). He hesitates before launching into tales of experiences his friends have had. The moral of most of them? Don't mess with the elves. So I watch my step as I pick my way through the rich red paths of Thingvellir, peering through clear water to coins glimmering on the beds of the deep rock pools.
It's a mesmerising spot but I couldn't leave Iceland without seeing a geyser. And Geysir is the volcanic area that has lent its name to all its brothers around the world. Not for nothing, too – its biggest plume, Strokkur, prompts squeals of delight as it swells and erupts to some 30m high. But the double waterfall at Gullfoss ends up the highlight. Frozen in winter, the falls still have some stubborn icicles clinging to their undercarriage. Standing in the roar and rainbow-misted spray, the sheer scale, beauty and, yes, icy cold, take my breath away. µ
Travel essentials
Discover the World (01737 214 250; discover-the-world.co.uk) offers the Journey to the Centre of the Earth self-drive holiday, visiting waterfalls, geysers, mountains and glaciers from £794pp (based on two sharing). The price includes seven nights' B&B (two nights at ION Luxury Adventure Hotel), return flights with Icelandair from Heathrow, Glasgow, Birmingham or Manchester, and car rental for the duration. Tours of the ice cave start at an additional £87pp.
Reuse content