The title of the Italian province of Le Marche literally means "the borderlands", a neutral region neighbouring more important places. This makes a lot of sense when you consider that Tuscany lies to the north and Umbria to the south. Next to these titans of the tourist trade so beloved of the inglese, and hemmed in by the mountains and the sea on either side, you might call Le Marche something of a poor relation, rarely visited.
There is not much tourism, it's more like Italy in the raw. Take the hilltop village of Mogliano: gorgeous views for miles and miles, the slopes around covered in sunflowers; narrow cobbled lanes in the old quarter, tiny piazzas and a street market with traditional specialities such as thick slabs of porchetta, a rolled and spitted roast pork, and ascolana, fried olives stuffed with various meats; and an outstanding vineyard at the bottom of the hill. "Poor" may be too strong a word, but it beggars belief that more people don't come here.
Yet 30 years ago there wasn't even a restaurant worthy of a name. Everyone thought the best food was what mamma was making at home. There are trattorie these days, of course, but they are still fairly old-school. The workers congregate with their luncheon vouchers and dine in a style quite unfathomable to those who resignedly open Tupperware at their desks.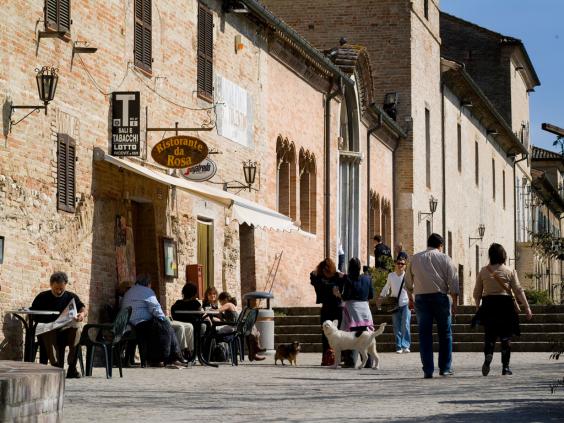 But Le Marche and its sleepy citadels are waking up now and realising what delights they have been storing away in their cupboards and larders. It's time to share the sheer variety of experiences, the authenticity, the spirit of adventure in the shadow of the Appenine range and the bargains. 
If you base yourself in Mogliano, a quarter of an hour away you will find the hilltop villages of Loro Piceno, renowned for its sausages cooked in vino cotto, a hot wine – you can buy them from Heston Blumenthal's crazy "master sausage-maker" Peppe Cotto, who will serenade you with his trumpet made of pork crackling – and Urbisaglia with its splendid medieval ramparts and the exquisite Locanda le Logge, where they create wonders such as steamed pork carpaccio with soy sauce and ravioli with courgette, pine nuts and saffron – along with a wine list to die for, though not in a pauper's grave.
On the way to Urbisaglia is the Abbey of Fiastra, which dates from 1142 and provides a haven of Cistercian tranquillity. There is a park with a nature reserve where you can hire bicycles, while the neighbouring Osteria La Selva hits the mark with the rustic simplicity of its dishes, such as mushrooms with pasta paccheri and chunks of barbecued beef. It has a farriers and a packed farmyard at the back to keep children amused, too.
The caves of Frasassi are absorbing for all the family and well worth a couple of hours' driving through the mountains and a succession of small, elegant towns such as San Severino and Matelica. You can cut back by a quicker route, across to Ancona and then down the autostrada which follows the coastline.
Then there is Lake Fiastra, an opal blue stretch of water high in the mountains among the winter ski resorts, with two different, breathtaking hairpin drives there and back. You can picnic on the banks of the lake at San Lorenzo al Lago, or if you want another sumptuous feast – and why not, when in Italy? – keep going up to the agriturismo Le Cassette for its cappellacci with mushrooms, spinach and cream, and salmi di cinghiale or rich wild boar stewed in wine and butter. After the ascent, you feel like you've arrived in heaven.
For a bit more bustle, the A14 motorway provides access to a succession of seaside resorts with white sands, swimmable water and a profusion of restaurants laying on the latest catches. The beaches are not the cleanest – there's not much unspoilt about them – but if you want to be in the thick of it, Le Marche can provide that, too.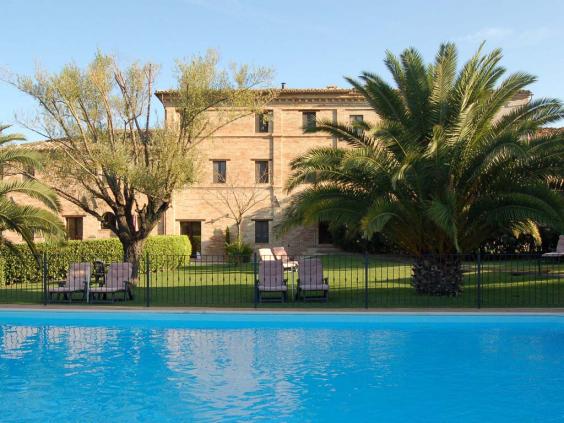 Back in Mogliano, La Caserma Carina is a top pick for accommodation. The four self-catering apartments are run by an English couple, Dean and Lesley McMorran, who are very personable hosts, hands-on and happy to chat and provide information. The views of sunflowers all around and distant hills are inspiring as you relax by the pool – there is a fine supply of very reasonably priced wines and beers available at all hours on an honesty basis. Meanwhile, fresh mountain water pours straight from the tap. From La Caserma, it is a five-minute drive to the village centre, where pizza is served in the park next to a good playground and Zanzibar dishes out terrific ice cream. Dean also offers a chauffeur service to La Murola vineyard down the road, and the convenience of having transport laid on becomes obvious as you taste your way through its range of whites and reds, from the local classic Verdicchio to the velvety Montepulciano d'Abruzzo. Some parts of the winery are positively space age, and it's well worth a good nosey around.
Le Marche is a destination off the beaten track, where you can sample all the delights of la dolce vita – often at bargain prices – without rubbing shoulders with too many other holidaymakers. You can almost taste the pioneering spirit among the mountains. You may feel you have crossed a new frontier.
Travel Essentials
Getting there
The region can be accessed from Ancona or Perugia, both served by Ryanair (0871 246 0000; ryanair.com) from Stansted; alternatively from Rome or Florence, served
by a range of airlines from around the UK.
Staying there
Caserma Carina, Mogliano (00 39 0733 557990; caserma-carina. co.uk). Rental starts at £475 per week for a one-bedroom apartment.
More information
Reuse content