A quarter of a century ago, the east German city of Leipzig did something pretty special: it helped dismantle the Iron Curtain. The Warsaw Pact had started to crumble in the summer of 1989, and peaceful protests in Leipzig helped to speed the end of the German not-so-Democratic Republic. Since then, Leipzig has moved on, scrubbing its glorious ensemble of 18th- and 19th-century buildings free of Soviet-era coal dust.
Now you can admire gables, classical courtyards with 16th-century bay windows and purr to your heart's content at Leipzig's classical-music connotations: Mendelssohn, Grieg, Schumann, Bach and Wagner all hung their capes here. The city's Gewandhaus (gewandhaus.de), the oldest orchestra in the world, was formed in 1743 and is still going.
Yet Leipzig also has some jarring notes to discover. The Communist era is unpicked at the Runde Ecke museum (00 49 341 961 2443; runde-ecke-leipzig.de; free entry) at Dittrichring 24. The museum is housed in the former regional Stasi HQ, East Germany's secret police.
The darker material focuses on the hidden cameras, the steam presses that opened letters and the accounts of those who were incarcerated, or worse. Thankfully, there's some light relief in the form of the false noses, wigs and avocado-coloured telephones that would not look out of place in the office of Inspector Clouseau.
Leipzig has long attracted travellers, thanks to its handy position at the crossing point of Europe's two historical north-south and east-west trading routes. Trade fairs have been staged here for more than 500 years. The city has a network of covered passageways – medieval trading vaults – that pop up all over the centre. The most striking is the opulent Mädler Passage, while the Speck's Hof, with its copper ceiling, is arguably the more tasteful.
Among these nooks and crannies, the city's coffeehouses provide another echo of distant trading days. I ducked into the eye-catching Coffe Baum at Kleine Fleischergasse 4 (00 49 341 961 00 60; coffe-baum.de). The building dates from 1711 and, reflecting its exotic links, is designed like an Arabian coffee house.
The city has another attraction that is impossible to overlook: the world's largest railway station (by floor area), with six huge arches spanning 24 platforms and 293 metres. Whether or not you are a railway enthusiast, it's a jaw-dropping space.
UNPACK
There's something soothing about the Arcona Living Bach14 hotel (00 49 341 496 140; bach14.arcona.de), which opened last year. This is mainly due to its setting, overlooking the Thomaskirche, where Johann Sebastian Bach conducted the boys choir for 27 years.
The hotel's 52 rooms meander over five floors across a modern wing and a 17th-century townhouse. The most atmospheric have exposed beams and stone walls. Doubles start at €75, room only.
If you happen to be staying there later this month, enhance your Bach experience at the huge Bachfest, with more than 100 events taking place across the city (13-22 June; www.bachfestleipzig.de).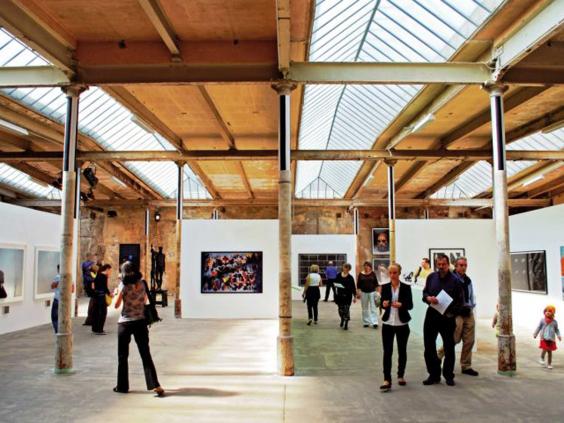 THINK LOCAL
A 30-minute journey from town, via a sleepy canal, lies the Spinnerei (00 49 341 498 0200; spinnerei.de; Tues-Sat, 11am-6pm; free), a former cotton mill converted into a vibrant artists' quarter. The giant chimney suggests you've stepped into 19th-century Lancashire, but more than 100 artists have studios here. Even with a map from the visitor centre, there's a delicious sense of pushing open doors and not quite knowing what you'll find.
The figurehead of Leipzig's School of Art, Neo Rauch, has a base here as does the porcelain specialist Claudia Biehne (biehne-porzellan.de) who produces quirky, translucent candle-lit lamps.
EAT
A curiosity here: it's said that no two foods are incompatible, so perhaps it's also the case that a designer can get away with two contrasting restaurant decors. A ceiling cluttered with antlers leads to a streamlined colour scheme of grey-blues and creams, with Damien Hirst-style meat cleavers hanging off the walls. The food at this new restaurant, Max Enk, is just as daring: octopus in tomato broth, deer tongue, cod and roasted black pudding. Wash it down with a crisp Müller Thurgau from the local Saale-Unstrut region. The restaurant bar stays open until 1am. Reckon on €50 per person plus drinks (Stadtisches Kaufhaus, Neumarkt 9-19; 00 49 341 99 997 638; max-enk.de).
DRINK
A modern art museum deserves a modern bar-café, which is what opened in January at Leipzig's Museum for Contemporary Art (gfzk.de) at 11 Karl-Tauchnitz Strasse. Café Bau Bau (00 49 341 140 8120; 10am-midnight Mon-Sat; 10am-7pm Sun) is dominated by a 10-metre frieze that runs the length of the seating area. Designed by London-based artist, Celine Condorelli, it features surreal camels and spaceships.
SPEND
The local hooch is Allasch, a liqueur scented with caraway seeds. You can take some home for €18 a bottle from Gourmetage (00 49 341 961 1090; gourmetage.com), a mouth-watering delicatessen positioned in the Madler Passage. Another favoured local delicacy is a small pastry known as the Leipziger Lerche, which is named after the larks that were a mainstay of the medieval diet. Thankfully, they're bird-free today, and come stuffed with marzipan and jam. You can munch them or take them away from the atmospheric Café Kandler, 11 Thomas Kirchhof (00 49 341 21 32 181; cafekandler.de).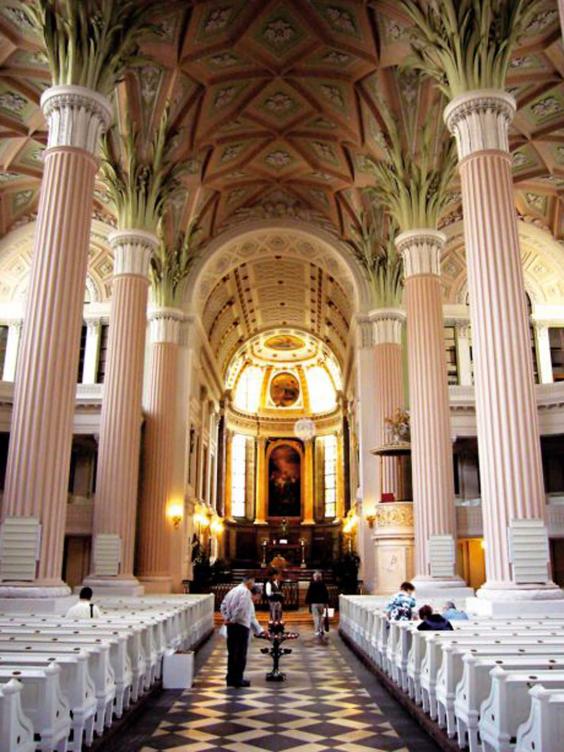 DON'T MISS
Tucked away on Nikolaistrasse, St Nicholas Church (nikolaikirche-leipzig.de) is where the Iron Curtain was yanked off its rails. Low-key demonstrations had evolved into mass protests by autumn 1989, with 40,000 candle-holding Leipzigers gathering in and around the church. Visually, the church is a comforting hotchpotch: columns are topped with green palm fronds, there's a Romanesque entrance dating to 1170 and a classical interior with white pews.
Travel essentials
Getting there
Mark Rowe travelled to Leipzig by train with Loco2.com. Returns start from £175. This includes Eurostar from London to Paris and a night sleeper train to Berlin that connects to a one-hour inter-city journey to Leipzig. Day journeys are also available. Ryanair (0871 246 0000; ryanair.com) flies from Stansted to Leipzig-Halle. An alternative gateway is Berlin, with frequent fast trains to Leipzig.
More information
Leipzig Tourist Information, Katharinenstrasse 8 (00 49 341 710 4260; leipzig.travel).