I'd only just arrived in Lyon when I thought I heard a bomb go off. When I turned the corner, to my relief – and slight confusion – I spotted a crowd of revellers in 16th-century costume. Among them was a man standing by an antique cannon.
It transpired I had inadvertently timed my visit to coincide with the city's annual Renaissance festival. Colourful and lively, the event is reflective of Lyon's big personality. And with a new rail connect- ion from the UK, the city is ripe for exploration.
Eurostar's direct service, launched at the beginning of this month, means you can now get from London St Pancras or Ashford International to Lyon's Part-Dieu station in less than five hours. And, shortly after arrival, you can be dining in one of the city's 14 Michelin-starred restaurants.
Lyon is rightly renowned as the culinary capital of France, although there's more to this stylish city than fine food. As well as some splendid museums, you'll find a wealth of architecture from every period of history. The medieval old town, Vieux Lyon, attracts plenty of sightseers, but visitors should venture beyond the cobbled streets to see the Belle Epoque and Art Nouveau beauties, or buildings designed by modern "starchitects" like Renzo Piano and Santiago Calatrava.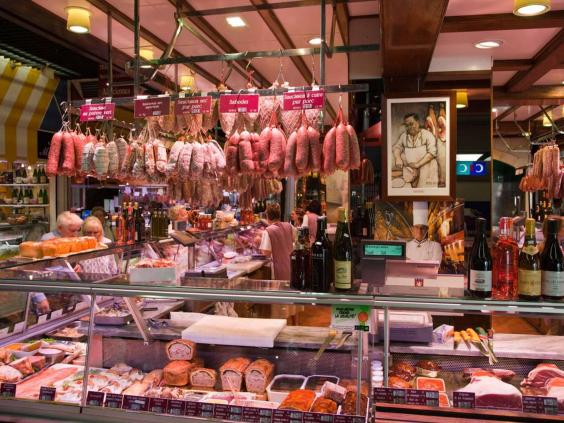 Lyon's city centre is the Presqu'ile, a picturesque peninsula bordered by the Saône and Rhône. The Confluence, where these rivers converge, used to be an industrial wasteland, but now it's Lyon's answer to London's Docklands, and has become the hippest part of town. Its focal point is the stunning Musée des Confluences (00 33 428 38 11 90; museedesconfluences.fr), a futuristic ziggurat of glass and steel, which opened late last year. It's a meeting place as much as a museum; don't miss the rooftop terrace view.
You see an even better cityscape from the Basilique de Fourvière (00 33 478 25 13 01; fourviere.org), high above the old town. It was built to venerate the Virgin Mary, who is credited with saving Lyon from both the Black Death and the Prussian Army. This ornate chapel is divinely beautiful or ridiculously kitsch – depending on your religious (and architectural) point of view.
For 400 years, Lyon was the capital of Roman Gaul. Two enormous Roman amphitheatres still stand on this hillside, side by side. Their vast size gives you some sense of what an important place this was in Roman times. Beside them is the Musées Gallo-Romains (00 33 4 72 38 49 30; musees-gallo-romains.com), full of graceful statues and mosaics.
Today Lyon is an unpretentious place, busy but not bombastic, and its lack of big-city grandeur is a big part of its Gallic charm.
UNPACK
Hidden down a narrow alley in the heart of Vieux Lyon, the five-star Cour des Loges (00 33 472 77 44 44; courdesloges.com) is a spectacular Renaissance building, spread across four floors. Housed in an old monastery that dates back to the 14th century, it's built around an ancient courtyard that doubles as a restaurant. Some of the smaller bedrooms are a bit old-fashioned, but the compact spa has had a chic refurb, and there's a rooftop garden.
Resident chef Anthony Bonnet got his first Michelin star when he was 29 – he's still only 32. His delicious five-course dinner (Breton cod with cinnamon bark, then dark chocolate with citrus marmalade) costs €85 (£62) without wine. The adjoining Café Epicerie does a tasty two course plat du jour for €17.50 (£13). Doubles from €220, room only.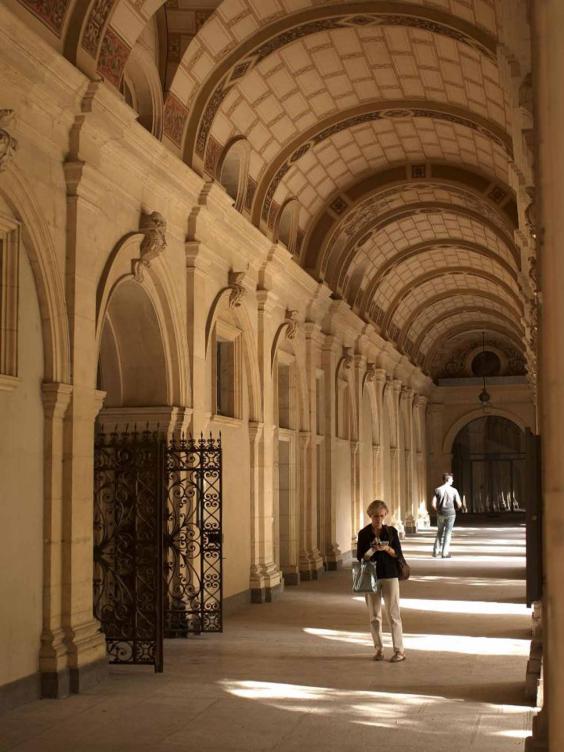 THINK LOCAL
The Lumière Brothers made some of the world's first films in Lyon, and their home and studio have been preserved as an atmospheric museum. The Institut Lumière (00 33 4 78 78 18 95; institut-lumiere.org) is an Art Nouveau villa decorated with exquisite stained glass and tiles. It's tucked away in a nondescript suburb, but it's well worth the trek. The museum isn't overrun with visitors, and the adjoining art house cinema is a local rendezvous.
The permanent exhibition features some fascinating early documentary footage of Lyon, and on Sundays there's a flea market that sells second-hand records and comic books in the square outside. The Lumière Festival (00 33 4 78 76 77 78; festival-lumiere.org), held here every October, is one of the highlights of the city's cultural calendar.
EAT
Bouchons are a Lyonnaise institution – homely restaurants serving traditional dishes in a cosy, informal setting. There are dozens in town, but one of the oldest is Aux Trois Maries (00 33 4 78 37 67 28; aux-3-maries.fr) in Vieux Lyon. It's been going strong since the 19th century and has been run by several local families in its time. The two course Menu de Lyon costs €25 (£18.35) without wine; I ate herring and potato salad, followed by Lyonnaise sausage in a rich gravy.
DRINK
Hipper-than-thou hotel chain Mama Shelter (00 33 4 78 02 58 00; mamashelter.com) also has branches in Paris, Bordeaux and Marseille, and its Island Bar here in Lyon has quickly become a fun, fashionable hang-out. Designed by Philippe Starck, the décor is full of playful touches, such as graffiti, table football, and rubber rings above the bar. Wine by the glass from €5 (£3.60), cocktails from €11 (£8).
SPEND
Recently renamed in honour of the legendary local chef who put Lyonnaise cuisine on the map (and earned his third Michelin star 50 years ago) Les Halles de Lyon Paul Bocuse is a covered market where you can buy the best food Lyon has to offer – to eat in, take away, or wrap up and take home. The rich tangy cheeses from Etienne Boissy at Fromagerie Mons (00 33 4 78 62 36 77; mons-fromages.com) are not to be missed, but the best thing to do is simply stroll around and watch these great gastronomes at work.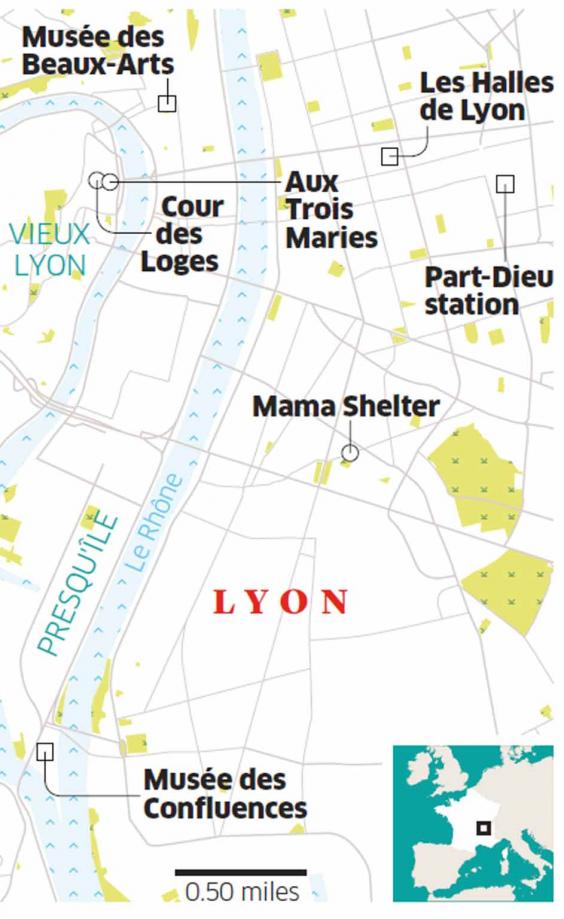 DON'T MISS
Located in an old Benedictine Abbey beside the Hotel de Ville, the Musée des Beaux-Arts (00 33 4 72 10 17 40; mba-lyon.fr) is a wonderful place to while away a few peaceful hours. You'll find most of the Old Masters in here, plus a superb array of French Impressionists and Post-Impressionists: Renoir and Pissarro; Bonnard, Vuillard, Matisse, Cézanne …. Look out for Monet's misty painting of the Thames at twilight. The café has a beautiful panorama by Raoul Dufy, while the leafy courtyard is a lovely spot for a picnic lunch.
GETTING THERE
William Cook travelled with Eurostar (08432 186 186; eurostar.com), which operates direct trains from both London St Pancras and Ashford to Lyon, three times a week (five times a week from July). Passengers get two-for-one entry to various museums in Lyon with their Eurostar ticket.
He also travelled with Voyages-SNCF (0844 848 5848; uk.voyages-sncf.com), which offers rail tickets to various destinations in France and beyond.
STAYING THERE
Cour des Loges (00 33 472 77 44 44; courdesloges.com). Double rooms start at €260 (£193), excluding breakfast.
MORE INFORMATION
Click here to view French tours and breaks, with Independent Holidays.
Reuse content