Did megalithic man appreciate wild flowers? You might be forgiven for thinking so on Gozo. In front of me, bathed in sunlight, stood the two oldest free-standing temples in the world, their 5,600-year-old walls laced with spring blooms.
The striking shades of yellow and purple were offset by a cobalt blue sky. I felt I was seeing prehistoric man's remarkable arrangement of enormous grey boulders through a natural kaleidoscope. The colours and the sheer exuberance of growth gave the astonishingly ancient site a zing of new life.
Archaeologists reckon that the Ggantija (pronounced gi-gant-iya) temples were built about 1,000 years before the lintelled stone circle at Stonehenge. Complete with stalwart outer walls and inner doorways, altars and decorative slabs, they stand near the centre of Malta's second island.
I'd made my way there in about 10 minutes from the ferry terminal on the south-eastern side of Gozo, driving from deep-azure seascape into lush, undulating terrain topped with olive and palm trees.
Malta's eponymous main island is a rocky, densely populated patch of land twice the size of the isle of Jersey, yet Gozo, one-quarter the size, is a rural haven. And at this time of year it looks spectacularly green - and yellow and purple. The temples are set on a small plateau, and you get terrific, 360-degree views from the site. These are especially striking as you face south or east, taking in the temple walls and looking out to a horizon that's punctuated by the domed silhouettes of enormous Baroque-style churches.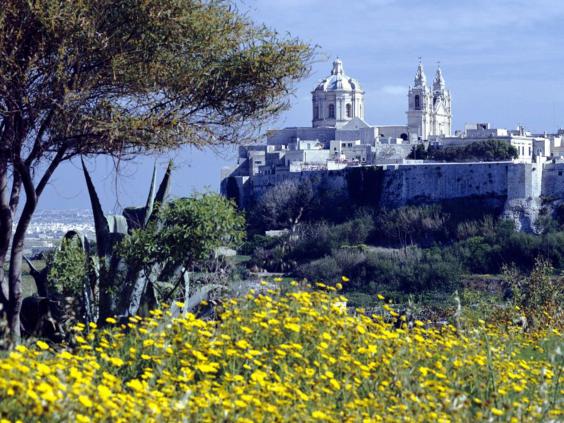 Earlier this year, a new exhibition area opened at the Ggantija temples, an absorbing space that you wander through before you reach the ancient walls. Here, you learn how the site was constructed: tough outer walls of coralline limestone and interiors of softer stone that was easier to carve.
Better still, you also see a collection of finds from the two temples and the adjacent megalithic cemetery, which is not yet open to the public. I was transfixed by a series of clay figurines, just 10cm or so tall, with expressive human faces and voluptuous bodies. One gazed upwards in a wistful manner, another looked determinedly straight ahead, arms akimbo. Were they representative of the dead; were they fertility symbols; were they mysterious gods? Who knows? They had a curious similarity to modernist sculpture and in another setting you might almost think them miniature pieces by Henry Moore.
The poignantly delicate figures make a striking contrast to the sheer size of the temples' megaliths, which measure up to six metres high. You see this monumental stonework at amazingly close range, for you don't just walk around the walls here, you enter the two sacred sites.
At this time of year there are, as yet, relatively few visitors so you have time and scope to gaze unhindered at the interior chambers, with their fragments of red-ochre decoration, and to take in the immensely tranquil atmosphere in gentle sunshine.
Malta's climate had been my spur for a visit to these Mediterranean islands a little more than 90km south of Sicily. By mid-March, it's very acceptable T-shirt weather here, often rather warmer. Perfect conditions, I had anticipated, for pottering around waterfront cafés and seeing some of the wonderfully rich heritage of these specks of southern Europe.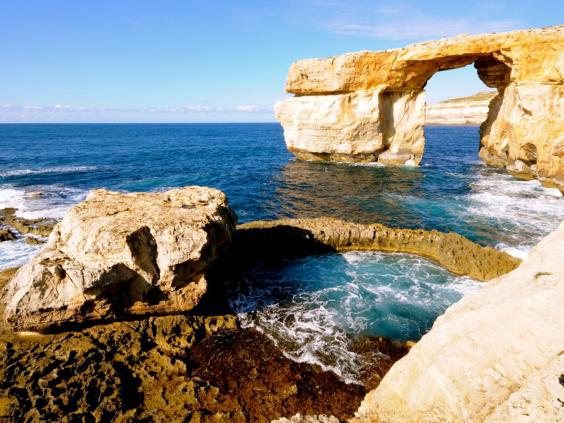 After all, who hasn't had a hand in ruling Malta? Phoenicians, Greeks, Romans, Normans, Arabs, French and British variously battled over the islands and subsequently governed here, leaving many traces of their time - from Roman catacombs to British red pillar boxes (there are even blue lights still hanging outside police stations). Then there's the stupendous legacy of the Knights of St John, the aristocratic military order to which Malta was ceded in 1530, and which presided over the islands for the next 250 years.
I spent an absorbing day sauntering about the honey-coloured capital, Valletta, amazed at the glamour and gilt of the knights' Cathedral of St John, charmed by a walk beside the old Quay Wall lined with Baroque warehouses and spellbound by the views from Upper Barrakka Gardens as I stretched my eyes across the Grand Harbour to the fortifications of medieval Vittoriosa.
I took a trip to the elegant, northern town of Mellieha, calling in at the Sanctuary of our Lady of Mellieha, an ancient pilgrimage site said to have developed from caves where saints Paul and Luke sheltered after being shipwrecked off the islands. Then I took a stroll along the great sweep of Malta's best beach below it.
Inland, I marvelled at Mdina, capital in both Roman and Arab eras and exquisitely rebuilt in Baroque style after a major earthquake in the early 1690s. With its great walls and moat, its lacy network of lanes and its glorious golden-stone architecture, it seemed a fairy-tale of a little city.
However, all these places paled beside Malta's amazing prehistoric sites. There are a staggering 23 megalithic temples (and counting) on Malta and Gozo, many of them wonderfully well preserved thanks to the climate and the very resilient nature of the stone here.
The Ggantija temples on Gozo form the largest complex. But perhaps even more impressive is the Hal-Saflieni Hypogeum, set in an unlikely suburb of Valletta. It is an ethereal gem of a place: a series of burial chambers which date from about 3000BC, and a slightly later extension - a subterranean temple of mind-blowing sophistication, complete with vaulted ceiling and pilasters. I happily relinquished the sunshine to head underground for an hour or so here. Entry is limited to just 10 people per tour, so you see the site in uncrowded glory, guided by an audiophone and walking through three levels of chambers.
It is estimated that 2,000 tonnes of rock were removed to create the underground site, this at a time when metal implements were unknown and the only tools would have been made of bone and possibly flint. One chamber holds an especially intriguing feature: a niche carved in a corner is an extraordinary feat of prehistoric engineering for it acts as an eerie loudspeaker - sounds made near it are amplified and carried around the entire complex.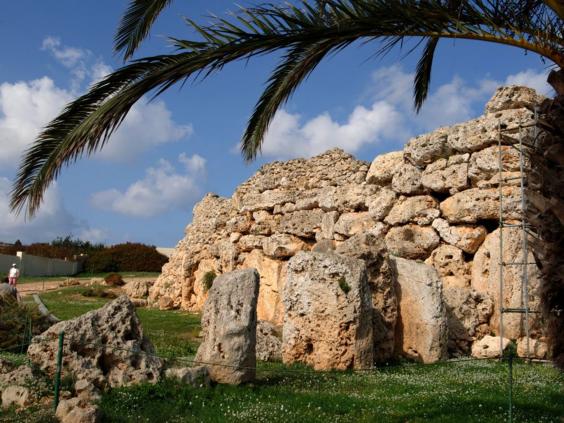 It was the talk of my hotel. I was staying at the Corinthia Palace in the heart of the main island. The great advantage of travel in Malta is that distances aren't great, so by choosing a central location, I was within very easy reach of many major sites as well as the ferry to Gozo. Set in leafy grandeur, adjacent to the residence of the president, the Corinthia Palace is one of the oldest and most established hotels in Malta. Yet for all that, it has a particularly go-ahead ethos (and indeed over in the UK, its Maltese owners have been gaining an increasing reputation for their dynamism since the opening of the Corinthia London near Trafalgar Square in May 2011).
There was a palpable buzz to the hotel during my stay, for the world's first conference in acoustic archaeology was taking place here and the building was bustling with academics and acoustic engineers who had come to explore the nature of sound in ancient properties.
Sounds esoteric? Well yes. Eccentric too. Yet learning about aspects of the gathering turned out to be entertaining and intriguing in equal measure. Some of the delegates told me how theories have been developed that several megalithic sites in Europe were constructed so as to resonate a particular frequency, 111Hz, which is thought to have a soothing and positive effect on the right side of the brain. And there were, they added, a series of sound trials being conducted at the Hypogeum. So, megalithic man may have engineered feelgood sounds in Malta? That seemed entirely apposite. After all, a sunny spring break in the islands today undoubtedly has a similarly therapeutic effect.
TRAVEL ESSENTIALS
GETTING THERE
Air Malta (0906 103 0012; airmalta.com); Ryanair (0871 246 0000; ryanair.com); easyJet (0871 244 2366; easyjet.com); and Monarch (0871 940 5040; monarch.co.uk) fly to Malta from a wide range of UK airports. Luqa airport is in the south-east of Malta island.
Ferries to Gozo are operated by Gozo Channel Company (00 356 21556114; gozochannel.com) and leave from Cirkewwa in the northwest of Malta. The crossing takes about 25 minutes and costs €4.65 (£3.90) return.
STAYING THERE
Harriet O'Brien was the guest of Corinthia Palace Hotel & Spa (00 356 21 440301; corinthia.com) at De Paule Avenue, San Anton, where doubles cost from €175 (£147) including breakfast.
WHAT TO SEE
Ggantija Temples (00 356 2153 3194; heritagemalta.org), Xaghra, Gozo, open daily 9am to 5pm, adults €8 (£6.70).
St John's Co-Cathedral (00 356 2122 0536; stjohnscocathedral.com) St John's Street, Valletta, open weekdays 9.30am-4.30pm; Saturday 9.30am-12.30pm, adults €6 (£5). Hal-Saflieni Hypogeum (00 356 2180 5019; heritagemalta.org), Burial Street, Paola, open daily 9am-5pm (last tour 4pm) adults €35 (£29). Tickets need to be booked well in advance.
MORE INFORMATION
Visit Malta 020 8877 6990; visitmalta.com