It's the longest day of the year and I'm 20 metres underground. The air is damp and the jagged walls are clammy. Tunnels veer off into the darkness and shadows flicker. This is the Wellington Quarry, just outside the town of Arras in Pas de Calais. In 1917, it was home to 24,000 British First World War soldiers in the week leading up to the Battle of Arras. The quarry is now an excellent museum and an hour-long guided tour tells the military history and personal stories of life underground. Discarded tins of Turnwright's Toffee Delight and Oxo cubes juxtapose with drawings and poems on the walls by young soldiers writing their goodbyes: 4,000 men were lost in the battle.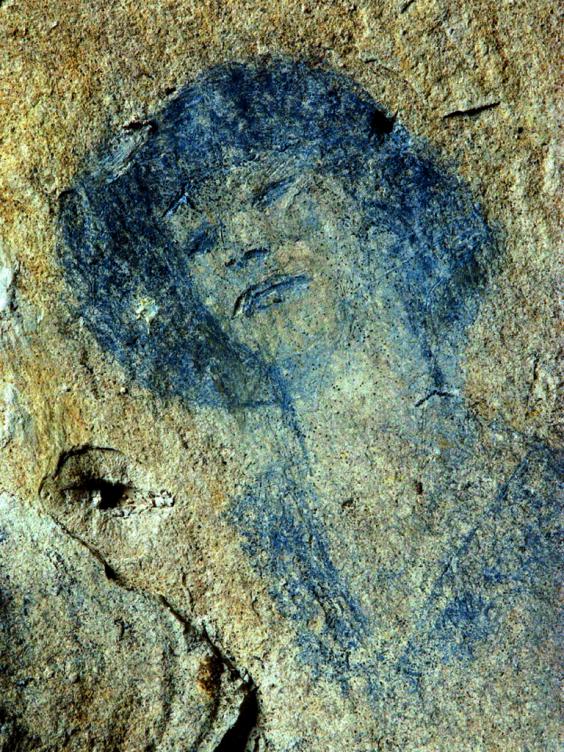 I emerge, blinking in the summer sunshine. It's day two of my trip around Pas de Calais, a region that has been in the headlines for desperate reasons recently.
Pas de Calais gets a bad press in France, and not just for the recent refugee crisis and train attack: bad weather, bad food, booze-cruises and a population of unsophisticated, rednecks, known as les ch'tis, that were subject of hit 2008 French comedy Bienvenue chez les Ch'tis. In the film, a postal worker is relocated from Provence to Pas de Calais. On his way to his new home, he is stopped by traffic police for driving too slowly along the motorway. When he tells them his story, he is immediately waved on by the pitying Provençal police officers who don't want to compound his misery with a fine.
But as I tuck into the deliciously pungent maroilles cheese, served in wafer thin filo pastry with poached pear, the flamboyant medieval town of St Omer laid before me in the evening sunshine, I can't help feeling Pas de Calais has been misrepresented.
Other than Paris and the Ile de France, this region has more museums than any other in France. And while many pay homage to the two world wars fought on this soil, others offer insight into the cultural and industrial history of a region that has undergone many reinventions.
Take the town of Lens, laid to ruin in the First World War. This is mining country, a landscape of red brick terraces, friteries (chip shops) and slag heaps. Following the closure of the last mines in the 1990s, unemployment soared. So the decision to site an outpost of the Louvre museum in Lens was a political act designed to reinvigorate a town down on its luck. The single-storey glass structure is flooded with light and offers views to the region's past: the giant Loos-en-Gohelle slag heap, Europe's largest. The Galerie du Temps is a vast room with a timeline running down one 120m-long wall. Over 200 works from different civilisations are arranged chronologically, from the birth of writing in 3500 BC through to 19th-century paintings, creating the effect of a journey through time – the minimalist, Japanese-designed building itself bringing you right up to the modern day.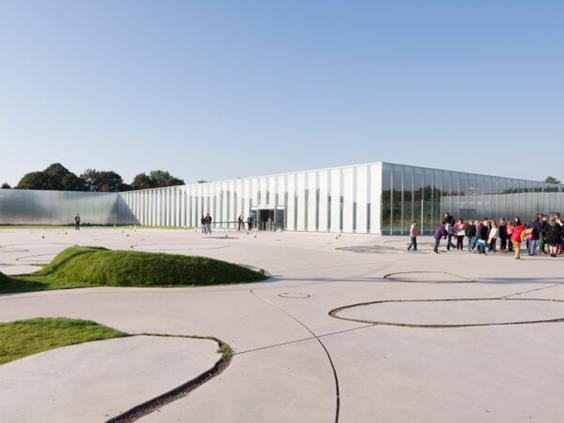 In picturesque Arras, I find myself underground again, this time in the cellars beneath the magnificent Gothic-style town hall. These 12th-century chalk quarries later became warehouses for medieval traders in the grand squares above, and then shelters during Second World War. Arras was flattened in the First World War; its twin squares, Grand Place and Place des Héros, first laid out in the 14th century, were reduced to rubble. Thanks to a 1919 restoration law, they were re-built, brick by brick, to be an exact replica of the Flemish gabled buildings the war had destroyed. A mooch around the market in Place des Héroes, admiring the splendid architecture while shopping for strawberries, peaches and warm pains au chocolat, was the Saturday morning.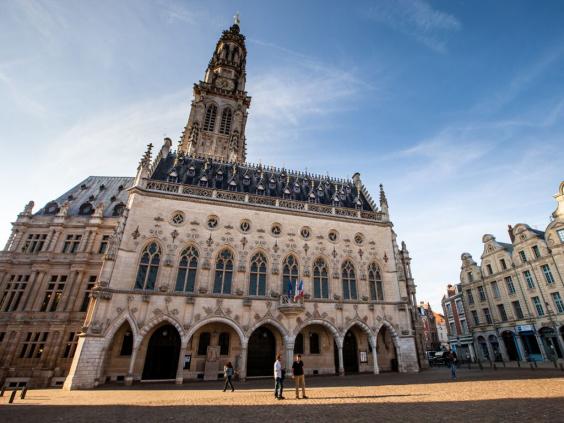 My last night was spent in the shabbily genteel seaside town of Wimereux. Multi-coloured Belle Epoque holiday homes lined up like ice cream flavours, each more tempting than the last. The wind whipped around blue-and-white beach huts with names like Cassandra and Joie de Vivre. The beach, complete with rock pools and steely grey water was reminiscent of childhood holidays spent huddled behind windbreaks in Britain – but was none the worse it. Despite feeling so close to home, not a word of English was spoken in Hotel Speranza's restaurant, where I feasted on garlicky escargots and a skate wing served with delicately prepared vegetables and a white wine sauce. I don't remember them serving that in Skegness.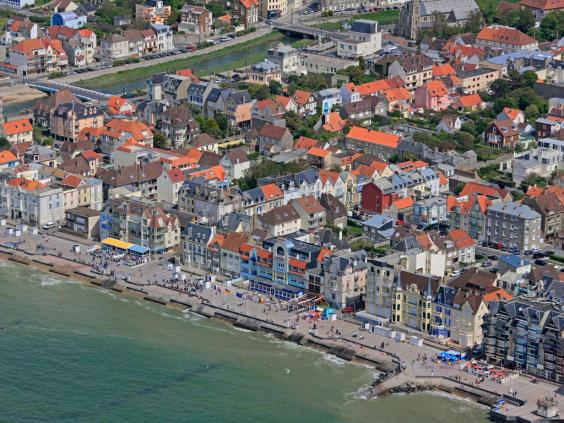 My final stop was Calais itself, where I got lost looking for the War Museum and, on asking for directions, was ushered into the back seat of Madame Fautre's Renault (her King Charles spaniel sat in front) and driven to pretty Parc St-Pierre. The museum is housed within a former German Navy bunker less than two miles from the Channel, an uncomfortable reminder of just how close German soldiers were to the British coast. Photographs, posters, weapons and uniforms from Calais' occupation are testimony to a grim chapter of history.
Calais is also the home of lace and again here, the shared histories of the UK and France are woven into this most intricate of fabrics. The excellent lace museum tells the story of three Nottingham workers, who, frustrated with luddite opposition to their new invention, smuggled in machine looms to Calais. Renewed demand for lace meant that the machines were soon put to work and by 1830, 113 mostly British lace workshops flourished.
On my trip nearly 200 years later, the few British visitors I met were all on their way to or from Paris, the Dordogne, the Côte d'Azur. For most, it was a pit stop, a beer and moules-frites, or a quick visit to the hypermarché before the ferry left. But it's worth lingering before rushing home with bargain wine and little bottles of beer. Stay a while. Scratch the surface. Nord Pas-de-Calais has a fascinating history, world class museums, medieval architecture, wide sandy beaches – and you're never far from a chip van.  As one of the stars of Bienvenue chez les Ch'tis says, "When a stranger comes to live in the North, he cries twice: once when he arrives and once when he leaves."
The winners of 2015 IoS/Bradt Travel Writing Competition will be revealed in 'The Independent on Sunday' on 13 September.
Travel Essentials
Getting there
The writer travelled from Dover to Calais with P&O Ferries (0800 130 0030; poferries.com)
Staying there
Hotel la Sapinière, Wisques (sapiniere.net). Doubles from €70 room only.
Grand Place Hotel, Arras (grandplacehotel.fr). Doubles from €90 room only.
Hotel Speranza, Wimereaux (hotel-speranza-wimereux.com). Doubles from €79 room only.
Visiting there
The Wellington Quarry, Arras (explorearras.com)
Hôtel de Ville, Arras (explorearras.com)
La Coupole and 3D Planetarium, Helfaut (lacoupole-france.com)
Louvre-Lens, Lens (louvrelens.fr).
Versailles in 100 masterpieces, Arras (versaillesarras.com).
39/45 Museum, Ambleteuse (musee3945.com).
Atlantic Wall Museum, Todt battery, Audinghen (batterietodt.com).
V3 base, Mimoyecques (mimoyecques.com).
Calais Lace and Fashion Museum, Calais (cite-dentelle.fr).
Musée de Mémoire 39-45, Calais (musee-memoire-calais.com).
More information
Pas de Calais Tourist Office (pas-de-calais-tourisme.com).
Reuse content