Painter, artist, sculptor, ceramicist, photographer and writer – Picasso never ceases to fascinate. He is widely regarded as one of art's modern masters, and from his prolific artistic achievements to his flamboyant romantic life, Picasso never stopped inspiring, intriguing and innovating.
Pablo Diego José Francisco de Paula Juan Nepomuceno María de los Remedios Cipriano de la Santísima Trinidad Martyr Patricio Clito Ruíz y Picasso, to give him his full name, was born in Malaga on 25 October 1881. His family later moved to Barcelona, where he attended art school and later entered the Madrid Academy. He became known by his mother's surname, Picasso.
Moving to Paris in 1904 was the beginning of a long love affair with France and although he moved back and forth to Spain he finally settled in the South of France until his death in 1973.
On 25 October the Musée Picasso Paris (00 33 1 85 56 00 36; museepicassoparis.fr) in the heart of the Marais reopens after a five-year renovation, 133 years to the day after Picasso was born . It is a fitting tribute to Picasso's far-reaching appeal and influence.
Inside, the museum displays a 5,000-strong collection of artworks as well as more than 200,000 items from Picasso's personal archives. It chronicles his key stylistic periods and delves into a diverse collection of sculptures, prints, photography, engravings, sketches, notebooks and writings. As well as several hundred Picasso paintings, there are also 150 works by masters such as Renoir, Matisse and Cézanne.
The Hôtel Salé, the site of the museum, is worth a visit in its own right as one of Paris's finest and most extravagant examples of a 17th-century hôtel particulier (grand townhouse). The architectural highpoint is the central staircase based on a plan by Michelangelo for the Laurentian Library in Florence. The museum opens 11.30am to 6pm from Tuesday to Friday and 9.30am to 6pm at weekends. On 25 and 26 October (as well as the first Sunday of each month) admission is free, and €11 at other times.
In pictures: Picasso's world
In pictures: Picasso's world
1/4 Picasso's world

Tate Modern has several important works such as 'Three Dancers'

AFP/Getty

2/4 Picasso's world

La Colombe d'Or : Picasso could often be seen lunching here

3/4 Picasso's world

4/4 Picasso's world

Artistic inspiration: Hôtel du Cap Eden Roc, Côte d'Azur, where Picasso was often spotted painting
From now until 31 January 2015, the Christian Lacroix-designed Hotel du Petit Moulin (00 33 1 42 74 10 10; hotelpetitmoulinparis.com) is offering a "Picasso's Paris" themed stay. It is one of the closest hotels to the Musée Picasso and has devised a self-guided walking tour to discover the artist's Parisian haunts. The walk begins in Montmartre and "Le Bateau Lavoir", where, in 1907, Picasso painted Les Demoiselles d'Avignon and founded the Cubist movement. It traces a path to the Left Bank and his home and studio on Rue des Grand Augustins in the Hôtel Savoie where he created Guernica. The €600 price tag includes two nights' B&B in a double room, two tickets to the museum and walking tour notes.
Les Demoiselles d'Avignon now hangs in New York's Metropolitan Museum of Modern Art (001 212 708 9400; moma.org). It depicts five nude women whose faces were inspired by Iberian sculpture and African masks.
For many, the pinnacle of Picasso's artistic brilliance is Guernica, his response to the German aerial bombing of the Basque town of the same name. Depicting the horror of the Spanish Civil War, Picasso completed it for the Spanish Pavilion of the International Expo in Paris in 1937. It was entrusted to MoMA until the end of the war and later returned to Spain, where it is on display at Madrid's Museo Reina Sofia (00 34 91 774 1000; museoreinasofia.es).
The same war is the subject for "Conscience & Conflict: British Artists and the Spanish Civil War", at Pallant House Gallery (01243 774 557; pallant.org.uk) in Chichester from 8 November until 15 February 2015. The star of the show will be Picasso's Weeping Woman, on loan from the Tate, but it also features works by British artists such as Henry Moore and Roland Penrose.
Southern comforts
The South of France is synonymous with Picasso as well as many of his contemporaries such as Cocteau and Cézanne. Picasso's love affair with the Côte d'Azur spanned more than 50 years, from his first visit to Cap d'Antibes in the 1920s until his death in Mougins.
In 1946 Picasso visited the Poterie Madoura in Vallauris, marking a new avenue in his creativity. The following year, he began making ceramics, and later moved to the area, which is now forever associated with the artist. In the central square stands a bronze statue of a man with a sheep, created and presented to the town by Picasso in the 1940s.
Vallauris is also where you can see one of the artist's most important works, War and Peace. These two monumental works follow the curvature of the vaulted ceiling of the National Picasso Museum War and Peace. Visits to the Madoura and the chapel can be arranged through the Vallauris Tourist Office (00 33 4 93 63 82 58; vallauris-golfe-juan.fr).
For 12 years Picasso and his wife, Jacqueline, lived in Mougins, opposite the Chapel of Notre-Dame de Vie. It was here that the artist died in 1973, aged 91. There's a signposted Picasso route that winds through the medieval streets and ends outside the museum.
Another must-see is the Chateau Grimaldi in Antibes Juans-les-Pins where the artist had a studio. It is now the Musée Picasso (00 33 4 92 90 54 20; antibes-juanlespins.com) and houses a collection of paintings, drawings and ceramics.
Closer to home
You don't even have to cross the Channel to hit the Picasso trail. Tate Modern (020 7887 8888; tate.org.uk) has several important works such as Three Dancers and Bust of a Woman – the latter painted during Picasso's Cubist period.
Also in London, the V&A Museum (020-7942 2000; vam.ac.uk) has an extensive Picasso collection including prints, drawings and ceramics made at the Poterie Madoura.
In Leicester, the New Walk Museum & Art Gallery (0116 225 4900; leicester.gov.uk) displays "Picasso: The Attenborough Collection", key pieces from the private collection of Lord and Lady Attenborough, who acquired more than 150 of Picasso's ceramics after a trip to the Madoura.
Farley Farmhouse (01825 872 856; farleyfarmhouse.co.uk) just outside Lewes in East Sussex was visited by Picasso in 1950. The former home of photographer Lee Miller and artist Roland Penrose, who also welcomed such leading lights of the Modernist movement as Joan Miró and Man Ray, has guided tours on Sundays (10.30am-3.30pm; entry £9pp).
Back to the source
You can visit Picasso's birthplace at Plaza de Merced 15 in the Andalucian city of Malaga, which is now home of the Fundacion Picasso Museo Casa Natal (00 34 951 92 6060; fundacionpicasso.malaga.eu).
Inside, there's a recreation of the Ruíz Picasso family's reception hall and you can see family mementos and learn about the artist's childhood. Picasso had a strong desire for his work to be exhibited in his birthplace and another obligatory stop is the Museo Picasso (00 34 902 443 377; museopicassomalaga.org), housed in the grand 16th-century Palacio de Buenavista (right) in the heart of the old town.
You can admire many of his works as well as the palace's fine fusion of Mudéjar and Renaissance architecture. It also sits atop archaeological ruins from Phoenician, Moorish and Renaissance periods.
Where to stay
During summer in the south of France, Picasso could regularly be seen sketching at the Hôtel du Cap-Eden-Roc (00 33 4 93 61 39 01; hdcer.com). One of his paintings even adorns the hotel's so-called "Golden Book", alongside the signatures of other guests, which reads like a Who's Who of celebrities. It is currently closed for winter, but from mid-April the Hôtel du Cap's doors will reopen, with doubles starting at €850 per night, including breakfast.
Further afield, you can sleep under the same roof as a rare Picasso ceramic and admire the clifftop views from the luxurious Tsitouras Collection (00 30 22826 02 3747; tsitouras.com) on the Greek island of Santorini. With just five Cycladic-chic suites and a villa carved out of a former schoolhouse, it's home to the extensive collection of its owner, Dimitris Tsitouras. Doubles from €279, including breakfast.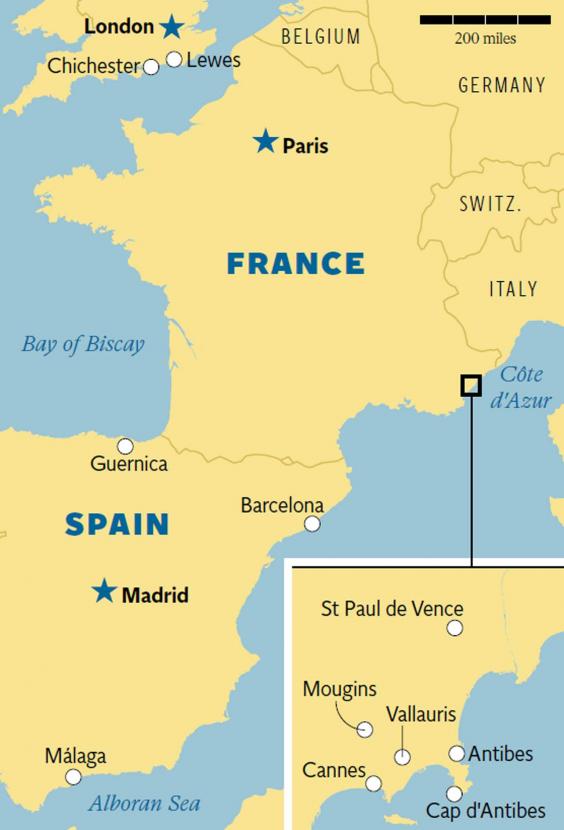 Where to eat
At the age of 17, Picasso started frequenting the Els Quatre Gats (00 34 933 024 140; 4gats.com) on Calle Montsio in central Barcelona. Part financed by the artist, Ramon Casas, and designed by Josep Puig I Cadafalch, it opened in 1897 and was modelled on the celebrated Le Chat Noir in Paris.
Picasso staged one of his first exhibitions here and it became a hang-out for the city's intelligentsia until it closed six years later. Subsequently, it rose from the ashes.
In Paris, Picasso used to spend many hours in conversation with friends such as Hemingway, Proust and Joyce at the favoured haunts of the literary and artistic elite of the day, the Café de Flore (00 33 1 45 48 55 26; cafedeflore.fr) and Les Deux Magots (00 33 1 45 48 55 25; lesdeuxmagots.fr) on the Boulevard Saint Germain- des-Prés.
Several artists used to frequent La Colombe d'Or (00 33 4 93 32 80 02; la-colombe-dor.com) in the hilltop village of Saint-Paul-de-Vence on the French Riviera; Picasso could often be seen lunching here. As many painters paid their bills with works of art, the collection is worth a detour. Also a hotel, the restaurant has a simple, rustic menu and a pretty terrace overlooking the valley below.
During his time in Antibes, Picasso also regularly ate at the César Restaurant of the private beach club, Plage Keller (00 33 4 93 61 28 23; plagekeller.com).
Getting there
Paris is accessible from many UK airports. You can also reach the French capital by Eurostar (08705 186 186; eurostar.com) from London St Pancras, Ebbsfleet and Ashford.
Voyages-SNCF (0844 848 5848; voyages-sncf.com) sells rail tickets via Lille and Paris to Nice and the Côte d'Azur. Alternatively, fly to Nice on BA (0844 493 0787; ba.com) from Heathrow, Gatwick and London City; Norwegian (0843 3780 888; norwegian.com) from Edinburgh, and Gatwick; Monarch (0333 003 0700; monarch.co.uk) from Gatwick and Birmingham; easyJet (0843 104 5000; easyjet.com) from Stansted, Luton, Gatwick, Bristol, Edinburgh, Liverpool and Belfast; Flybe (0871 700 2000; flybe.com) from Southampton; and Jet2 (0871 226 1737; jet2.com) from Manchester.
Airlines flying from the UK to Malaga include easyJet, BA, Monarch, Jet2, Ryanair (0871 246 0000; ryanair.com) and Flybe.