I had taken my family to the mountains, but perhaps the mountains had not yet taken to my family. We four had risen to the middle station of the Kohlmalskopf lift, 380m above the neat little Alpine town of Saalbach. Our goal: to attempt the Milka Line, a child-friendly single-track cycle route sponsored by the brand of Swiss chocolate. With some difficulty, we'd unloaded our rental bikes. We'd adjusted our helmets and located the signpost to the starting point. It had seemed – briefly – peculiar that we were the only ones to get out of the gondola. We'd mounted our bicycles, pushed off downhill for 10 metres or so. And then the storm hit.
Back to the Kohlmalskopf. Could we take it down again please? No, said the operator, turning up the collar of his coat as raindrops the size of fists heaved down on us. The lift was now closed, due to the weather. Gosh, yes, I agreed. It really was quite inclement. But how, then, were we to get back to Saalbach? The lift operator simply pointed to our bikes and shrugged. The younger of my two sons promptly burst into tears, which added only slightly to the general wetness.
It's at times like that when a proper dad steps up a gear. We were dressed for summer – it had been a wonderful, bright morning thus far – and our entirely non-waterproof clothing was already sodden. The Milka Line was out of the question. We would have to cycle down the hiking track, already more of a stream. "Come on," I cried. "It will be an adventure!"
Austria's Valley of Games
It took about an hour, through dripping wood and soaked meadow, past sullen-looking Pinzgauer cows, while thunder rolled in the distance and extraordinary quantities of water were decanted from the sky above. It was a steep path, too, strewn with gravel and rocks. We often had to dismount, squelching, lest we were washed away.
Our mud-plastered posse finally reached the outskirts of Saalbach, careered down a drenched field of cut grass that presumably served as a lovely stretch of piste during winter, then ground our way to our hotel, the Saalbacher Hof. Here we puddled our clothing on the floor, grabbed towels and ran, shivering, to the indoor swimming pool. Ten minutes later, warm and pink, the two boys were agreeing with each other that they had just experienced the most exciting day of their lives.
I'd been unwise, of course. There are real dangers in the Alps during bad weather, and I hadn't paid enough attention to the forecast delivered to our breakfast table that morning. Nevertheless, our failed attempt at the Milka Line was part of a broader – and far more successful – narrative in this self-styled Tal der Spiele, a "Valley of Games" which presents the great outdoors as a playground for all ages.
Part of Austria's Salzburgerland region, the Glemm Valley stretches for roughly 30km, guarded in the east by the clear perfection of Zell am See's great lake and blocked at its western extent by the peaks that mark the border with the Austrian Tyrol. Beyond the sloping meadows, everything is framed by the encircling cordon of the Kitzbühler Alps, which rise at fierce angles up to the clouds. The road that links Zell with Saalbach and Hinterglemm, the two mid-valley hubs, gets gradually less decisive as it makes its way west; beyond the hamlet of Lengau it peters out altogether. Should you wish to go further, the "Noddy Train" (a tractor pulling a couple of carts) will take you to the valley's limit.
The mechanics of all this were explained during a morning briefing from our Inghams rep, a man called Attila who came, amusingly, from Hungary. Attila the Hungarian told us about the free half-hourly bus that links the hiking stops (there's a small charge if you want to go all the way to Zell am See) and about the Joker card that participating hotels offer, which confers complimentary access to various activities and to the four ski lifts that remain open during the summer (two each in Hinterglemm and Saalbach). He suggested day-long walking routes; he offered hints on mountain-biking etiquette (in essence: try not to hit anyone); he told us which mountain huts were open for lunch. He also emphasised very strongly that we should pay attention to the weather forecast. A wise man, was Attila.
Other than the day of our storm, though, sunshine poured down on the valley throughout our week-long stay. The question was simply how best to take advantage of it. Day-long hikes and the extreme form of downhill biking (face-guards, body armour, front-and-back suspension) that many other visitors seemed keen on, were not part of our plans. Instead, we started to tick-off the family-friendly activities that Saalbach-Hinterglemm also excels at. Because everywhere – left, right, up or down – there was something new to do.
Themed walks are big in the Alps. The simple joy of walking amid spectacular scenery may do the trick for grown-ups, but children occasionally need that little extra incentive. The trail at the top of the Kohlmalskopf offers slides and climbing frames at various intervals, guided by a cartoon clown called Montelino. At the ripe old ages of 11 and eight, the boys felt this slightly beneath them, which – oddly – didn't stop them enjoying it a great deal. We also ventured up to the Kodok adventure trail, at the top of the Reiterkogel cable car in Hinterglemm. Here, a complicated back-story involving an evil goblin, a clown's hat and some magic crystals translates into a genuinely diverting route, with rope bridges, code-breaking and a strange water-cannon game. It's a family adventure that really works, and two hours of hiking later, the boys were still raring to go.
Our bikes had been collected from the Bike-n-Soul shop at the bottom of the Schattberg Xpress lift, which spools up Saalbach's southern slopes. We used them every day to get around the flat valley floor, eventually circumventing the Noddy train to experience the extraordinary high-ropes course at the end of the valley. For hours we zip-wired and clambered through the pine-tree canopy, hooked carabiners to harnesses, and were generally rather too high up for comfort. The boys loved it, but my wife and I found lunch more satisfying: plates of smoked cheese and meat close by at the rustic Limlingalm, with beautiful views eastwards down the valley and hens scratching in the yard.
Just above the high-ropes course lies the so-called "Devil's Water", an entirely unsatanic playground of wooden bridges and channels set within a churning stream that forms a natural waterpark and picnic area. Alternatively, in Saalbach, "Cap'n'Hook" has man-made flumes and wave machines, all accessed free with your Joker Card.
Water is everywhere, in fact: rushing in torrents through the village culvert after our storm, running from bright green to sludgy brown in the Saalach river, or warm and clear in the Zeller See, where we spent a gentle day walking the shore, stopping here and there to swim. And despite the sunshine, it's even available as snow, if you're prepared to break free of the Glemm Valley and travel just that little bit higher.
At 3,029m the air feels thin at the Gipfelwelt 3000 summit station, but the views from the panoramic platform over the Kitzsteinhorn Glacier are dramatic. Here you can eat at Salzburgerland's highest restaurant, take in a nature documentary at the cinema, or – as we did – spend an hour or so bumboarding in the "ice arena", with the mountains spread out before us. The Kitzsteinhorn is part of the Hohe Tauern range and we spent an afternoon pottering around the edges of the Hohe Tauern National Park (the largest in Austria) at nearby Mittersill, which lies south of the Glemm Valley. Here, the nature is all a bit more grown-up: 1,800 sq km of nature reserve with strict regulations on human encroachment. On our marmot-spotting walk around Hintersee – a tiny, magical lake surrounded by sheer cliffs – we failed to spot any marmots, but we also failed to encounter any other hikers. Instead we made our way through mountain-sized silence, marvelling at the still Alpine air.
There was always plenty of action back at the Saalbacher Hof, though. On one of her regular guided tours of the property, Isabella Dschulnigg-Geissler talked me through 300 years of her family history in Saalbach and latterly at the hotel, culminating in a recent refurbishment that she'd personally overseen. The hotel's Alpine combination of the very modern (there's a wellness centre to go alongside the indoor and outdoor pools) and the very hospitable (welcome drinks, an honesty bar, five-course meals served by smiling people in Austrian national costume) was exactly what we needed after days of exhausting exploration.
Our room was simple but luxurious, its balcony overlooking the main square. Here, for around half of our stay, something called the "Saalbach Classic" took place below us. Its compère yelled excitably about the vintage cars on show, his rapid-fire German punctuated by shouts of "Austin HEALEAH!" or "Aston Martin DEE BEE PHWOAR!" or Porsche NEUNHUNDERTZWOLF!" Every morning, the boys watched, as the procession set off once more along the valley.
So, yes, the Valley of Games lived up to its name. There's a theory that we're often victims of a "rosy view" effect when it comes to holidays. That we anticipate and remember them with greater pleasure than we actually experience while we're away. Here, though, the thrill of the new is before you at all times, whether you're hiking along a mountain ridge, climbing trees, sliding down a glacier, or pedalling downhill through a rainstorm. You live in the moment – and, really, that's what family holidays should always be about.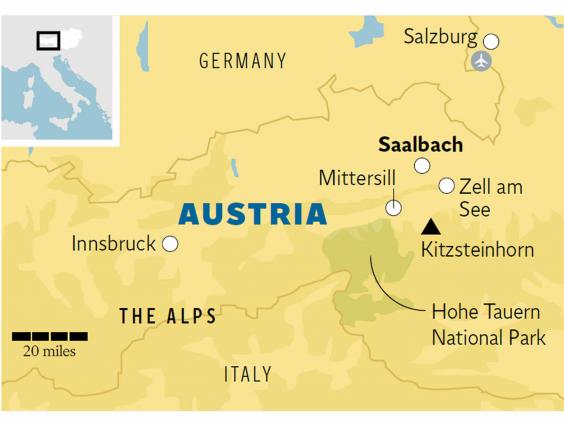 Travel essentials
Getting there
Ben Ross travelled as a guest of Inghams (01483 79111; inghams.co.uk), which offers a week at the Hotel Saalbacher Hof in Saalbach on a half-board basis from £644 per person including flights from Gatwick to Salzburg, resort transfers and the Joker card. Regional flights are also available at a supplement from Birmingham, Manchester, Newcastle and Glasgow.
Visiting there
Bike 'n Soul, Schattberg X-press, Saalbach (00 43 676 843 645304; shop.bike-n-soul.at) offers bike hire from €29 per day (€17 for children).
Hochseilpark, Talschlussweg 367, Hinterglemm (00 43 6217 29029; hochseilpark.at) offers high-ropes activity for €25 for adults (€12 for children).
Return tickets for the Gipfelwelt 3000 (00 43 6547 8621; kitzsteinhorn.at) cost €35 (€17.50 for children).
More information
saalbach.com; salzburgerland.com; www.hohetauern.at
Reuse content