I have just been to Ravello for a personal Dolce Vita retrospective. La Dolce Vita has been a preoccupation of mine since I could pronounce "Gina Lollobrigida". I guess I was five. Simultaneously, I acquired another sort of lust for a Riva Aquarama boat. I suppose gorgeous curves and glorious finish, not to mention an Italian accent, are what the vessel and the woman have in common. Plus a commitment to pleasure.
Anyway, the sweet life. Most of the images which capture the essence of this glorious, mad moment when all Italian culture was focused on the slick packaging of sex and celebrity and machinery, were taken in Rome – after all, this is where "paparazzi" first appeared – but a lot of the film's action actually happened in the south where the Cinecitta studio mob decamped in summer.
Positano and Sorrento? Of course. These are the postcard images. When the world had Sunday painters, they would paint Positano's tumbling ochre townscape. Its reputation stretched into the Seventies when Positano Yellow, the sort of colour a bilious dog might leave behind, was popular on Minis and MGs. At the time, it seemed sophisticated. Face it, Franco Zeffirelli chose to live here.
But always more interesting was Ravello, a large village set back high above the Amalfi Coast, with its astonishing and frankly terrifying road cut into the mountains by Benito Mussolini. It is a ledge ... with all that that implies. If you ever wanted a practical demonstration of the philosophical propinquity of the beautiful and the sublime, go for a drive here. Better still, get someone you trust to drive you. Glimpse the blue sea and think of squealing tyres and watery oblivion. Terror is the best sauce.
But the charm of Ravello conquers fear, or mostly does. The Grand Tourists came here. Turner drew the mountainous journey from Naples; the sketchbooks are in Tate Britain. And it was in the era when the 18th-century Grand Tour was ready to be translated into the gran turismo motoring concept that Pantalone Caruso established a locanda with the very best views in Ravello. And this in a place where Oh-My-God views are commonplace.
Today, the often photographed infinity pool of the Caruso is, for amateurs of La Dolce Vita, a global reference point. The timid may be comforted to know that beyond the apparent abyss is a wire net to catch you and, if you miss the mesh, you will only fall about 50ft on to a grassy terrace. This nicely abbreviates the further 950 or so feet where gravity then threatens to lead you.
The lovely thing about the Caruso's pool is the view across the bay to Salerno and the mistily invisible, but nonetheless tangible, site of the great Greek temples on the coastal plain at Paestum. These were one of the most southerly objectives of the old Grand Tourists. In the middleground, the spectacular coast where – with a glass of Marisa Cuomo's fine local Furore on the go – you can sadistically gloat in twilight at the red brake lights queueing and lurching fretfully far below.
The less lovely things are the other surroundings. Detach yourself from distant prospects, range left from the infinity vista and you see a lot of ugly modern Italian townscape clustered around a hill. And on anything other than a hot day, it can be uncomfortably chill and windy up here. But this is like complaining that they don't have a recycling collection in paradise.
The Caruso is one of the monumental Italian hotels acquired by Orient-Express. The group is now rebranded Belmond, but essentials familar from the Splendido in Portofino or the Cipriani in Venice, the Villa San Michele in Fiesole, or the Grand Timeo in Taormina, remain, at least for the moment, unchanged. One: a superlative property on a unique site. Two: diligent, polite and helpful staff. Three: a very high level of amenity in the rooms. Terrific beds, for example, although, being a fetishist, I find the muddle of Penhaligon's and Bulgari unguents causes a bit of cognitive dissonance. Four: nice touches such as a jug of fresh lemon juice in the lobby. Five: amid the hushed comfort and efficiency, a certain sterility in style and decor. (The Caruso's cocktail terrace looks as if Donald Trump had decorated a retirement home while tranquilised). Six: an inclination in the signature ristorante – the Belvedere – to a certain fussiness, perhaps designed to flatter target customers with exciting illusions of sophistication.
Personally, I'd prefer a grilled fish with one of the lemons that grow here like weeds. While admiring the quality and execution of the Belvedere's food, I preferred eating in the poolside bar which does honest Gragnano spaghetti with clams and good pizza from a wood-burning oven.
The Caruso is a quiet and delightful five-minute stroll from the Piazza del Duomo, Ravello's modest mid-town. To remind you that it was in Ravello that he discovered Klingsor's Garden in Parsifal, the route takes you down the cobbled steps of a street resonantly named "via Richard Wagner". They don't, I think, yet have a "via Truman Capote" or a "via Gore Vidal", but the two of them were also drawn here. It's that sort of place. Here and there plaques record the passing trade of M C Escher, E M Forster, Humphrey Bogart and John Huston. Boccaccio mentions Ravello in The Decameron.
Yet, artistically speaking, Ravello is undemanding. The fine Romanesque church is nicely plain and there is no art to make the journey worthwhile. Things to see are the Saracenic Villa Rufolo where, staring into the gloomy pozzo, Wagner found his inspiration and, a little further out, the magnificent Villa Cimbrone.
At the time it was acquired by Lord Grimthorpe in 1904, the old Cimbrone was abandoned. His Lordship brought in Edwin Lutyens, Gertrude Jekyll and Vita Sackville-West to make what he intended as "the finest place in the world" as well as to attend a continuing socialite after-party which set The Dolce Vita agenda. Let it be noted that, in this interpretation, the finest place in the world includes a Temple of Bacchus, a Tea Room and the stupendous Terrace of Infinity. Here, weather-beaten, sun-bleached, time-eroded busts of emperors, set imperiously above a heart-pumping drop, excite speculation about vanity of desire, the passing of time and, in my case, how soon is lunch.
Carlo Petrini's inspirational Slow Food Movement – with its trinity of locality, seasonality and authenticity – was established in Bra, Piedmont, in the industrial north. Here, in the wilder south, there is less sophistication. The rich northerners can afford to be picky about the provenance of their provolone and the pedigree of their pasta, but in Ravello, even in the smarter restaurants, you are closer to notions of subsistence.
It's not easy to eat well when away from the good hotels. People make fun of the designer imperative which dominates restaurant culture in London and New York, but I found myself wishing for just a little more of it in Ravello. Trattoria Vittoria is a featureless box with brown furniture that squeaks on funereal marble floors and, in one of the most picturesque places imaginable, no windows to speak of. Salvatore ("da 1958") has a fine terrace, food that combines tradition with cleverness and a view worth paying for. Decoration is, however, dire: ultra-hideous modernismo mixed with restaurant-trade-shop-fitting, mismatched table cloths, hospital lighting, swirling drapes designed to catch flies and grease ... all of this and a cross African grey parrot. Cumpa Cosimo is the established landmark trattoria and has a framed photo of a very bronzato Michael Winner embracing the "character" proprietress to prove it. I'll not eat there again. And nor, of course, but for different reasons, will Michael Winner.
I kept on reverting to pizza. Here, the Hotel Caruso was more than usually helpful since a pizza-making course is offered to guests. One showery afternoon I decided to try my hand with the forno, paddle and toppings. Of course, once you have established the primary need for ferocious heat (ideally provided by burning fragrant wood) the essence of a good pizza is the dough. You need to understand the mysterious alchemy of flour, water, oil, salt and starter. Instead, I was simply invited to bash balls of dough into discs, apply tomato sauce in a spiral pattern and decorate the composition with pre-diced mozzarella cubes. Amusing, but not very authentic.
In that pizza anecdote there's a truth about Ravello trying to escape. Or so I thought while ambling along the via San Giovanni del Toro the next morning. A young man was lounging against a wall in the Italian style. I gave him a subtle, but courteous nod, and he surprised me by saying in elegant estuary English: "I like your shoes!" Turns out he had been a City Boy in London and New York, but 2008 had driven him home to Campania. My shoes were Dolce Vita-period Gucci horsebit loafers. He was in Prada trainers. Who's to say which costume is more appropriate for Ravello today?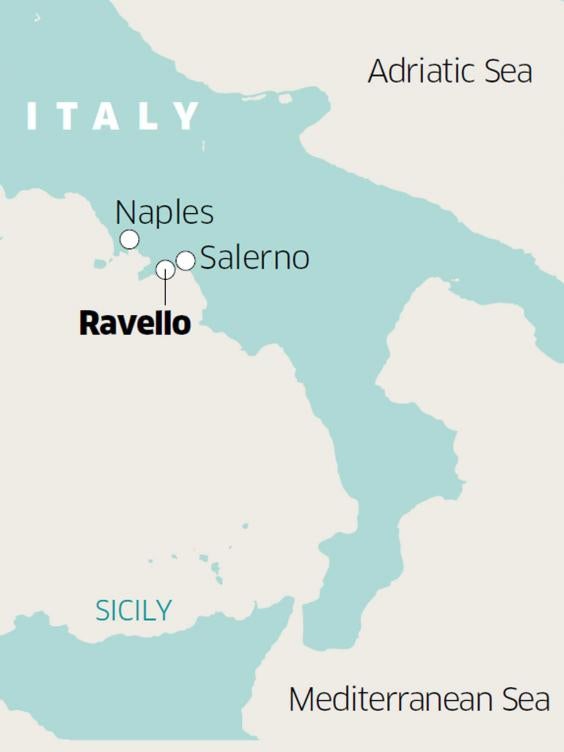 Getting there
Stephen Bayley travelled with Italian specialist Citalia (0843 770 4443; citalia.com), which offers five nights in Ravello at the five-star Belmond Hotel Caruso (hotelcaruso.com) from £1,425pp. The price includes five nights' B&B, transfers and BA flights from Gatwick. The closest airport is Naples, served by British Airways, Meridiana and easyJet from Gatwick; easyJet also flies from Stansted, Bristol and Liverpool. Monarch flies from Luton and Manchester.
Eating & drinking there
Vittoria (00 39 089 857 947; ristorantepizzeriavittoria.it).
Salvatore (00 39 089 857227; salvatoreravello.com).
Cumpa Cosimo (00 39 089 857 156).
More information
Italian Tourist Board: italia.it/en