Traffic rumbles unhurriedly past Bulentin Yeri, a traditional roadside pancake house in southwest Turkey's Kaya Valley. The wall bordering the road is topped with a jaunty parade of rusting corn-oil tubs stuffed with traffic-light chilli peppers and pink trumpets of hibiscus. Bulent's family has run this small restaurant for 18 years, and the head-scarfed lady sitting cross-legged in front of the open fire, pouring ladlefuls of batter on to an iron griddle, is his mother. Locals are socialising around low tables, and snacking on katmer pancakes – a speciality of the house, spread with a concoction of sugar and sesame paste.
So far, so customary. But what is remarkable is what lies across the road – a steep mountainside, terraced with layer upon layer of deserted stone buildings. Derelict churches, roofless houses and broken cisterns shimmer like a mirage as the sun beats down on the ruins and slants through the myriad windowless gaps. This is the ghost village of Kayakoy, deserted since the Greco-Turkish population exchange of 1923, when its Greek Orthodox occupants were "returned" to Greece. Empty now, it stands sentry-like on the hillside, separated by a century from the rhythms of modern daily life – a silent witness to a lost past. The people eating pancakes below and the passing tractors with their trailers of pomegranates are part of another world.
Since 1988, when it was designated a protected archaeological site, Kayakoy has increasingly attracted attention. Its haunting sadness was the inspiration for Louis de Bernières' 2004 novel Birds Without Wings, in which it became the model for the fictional village of Eskibahce. Since then, it has become a regular coach-trip destination for tourists. But it's now about to take a bigger step into the international spotlight, with the release of Russell Crowe's new film, The Water Diviner, on Friday. Set in 1919, the film tells the story of an Australian farmer (Crowe) visiting Turkey in search of his three sons, all missing-presumed-dead following the Battle of Gallipoli, which started 100 years ago this month. The period time capsule of Kayakoy offered the ideal location, and the scenes that make up some of the closing sections of the movie were filmed there.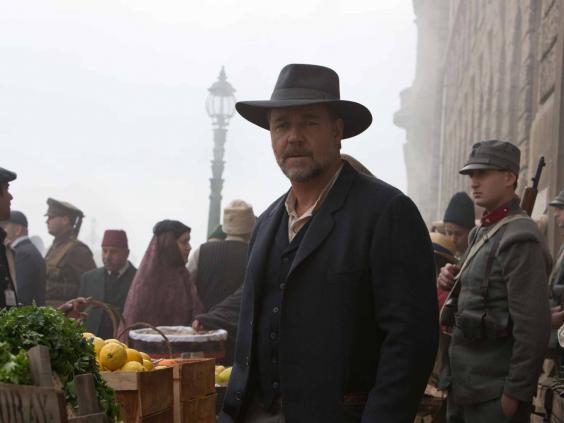 Shooting took place in spring last year, and locals were still buzzing with gossip when I visited later that summer. There was disappointment that, for his directorial debut, Crowe (perhaps not a pancake-lover) had brought his own catering vans, but delight that two well-known Turkish actors, Yilmaz Erdogan and Cem Yilmaz, had key roles. There was fascination – especially among older residents – in having been able to watch the ghost village rise from the dead, and see life being breathed back into its long-neglected streets. Local craftspeople had helped make wooden stalls for a bustling market scene, for instance. But, above all, there was hope that the film would encourage people visiting this part of Turkey's exquisite Turquoise Coast to venture inland and discover the charms of the Kaya Valley for themselves.
A sleepy hotchpotch of rural communities and farmsteads snuggling into the backdrop of the Taurus Mountains, the valley is just 9km from the sea – equidistant from the bustling harbour town of Fethiye to the north and (to the south) the much-photographed blue-lagoon resort of Olu Deniz, where I was staying. Although breathtakingly beautiful, Olu Deniz's seafront is very commercialised these days – there are full-English-breakfast joints galore and the skies are jostling with paragliders scattered like DayGlo Smarties across the blue. But my hotel, the elegant Beyaz Yunus (White Dolphin), was a gorgeous hillside retreat, its gardens brimming with butterflies and birdsong. As far from the madding crowd as I could have hoped, it proved the perfect jumping-off spot for a magical drive into the silent heart of Turkey's recent past and the peacefulness of its rural present.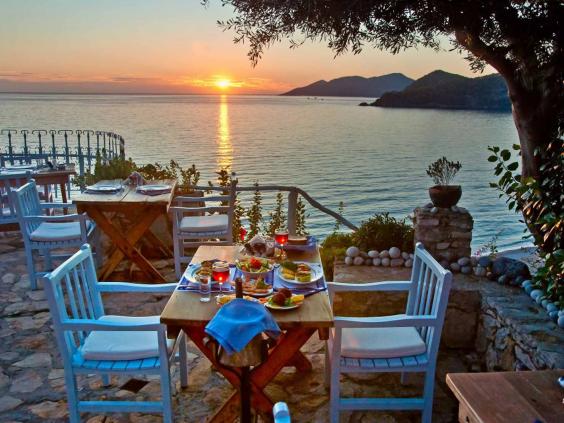 The countryside of the Kaya Valley is given over to agriculture, and the pace of life is slow. Pomegranate and fig trees line the roadsides. Crumbling stone walls enclose silvery olive groves, vineyards and smallholdings of courgettes and peppers. (Later, the peppers are laid out to dry on flat roofs, alongside the pine cones that will be burned each winter in traditional wood-burning stoves.) Driving feels wonderfully timeless as you pass rustic stables and cowsheds, where small groups of cows or oxen stand around sleepily in dry straw. As I motored past a criss-cross of tobacco fields, an old shepherd sat smoking his pipe under a carob tree.
Kayakoy, the "new" village that sprawls below its ghost counterpart, is equally atmospheric, with its stone drinking fountain, traditional tea garden and narrow alleyways fluttering with washing lines and patrolled by ambling chickens. What especially intrigued me was to see the clusters of galleries and arts and crafts studios that have begun to appear, many in recently renovated old buildings close to the ruins. "It's a circle," said Bulent philosophically, as I tucked into one of his special pancakes. "The Greeks in the ghost village were craftspeople – that's why their houses stayed empty when they left. Stuck on a steep hillside, without gardens or stables, they were of no use to the Turkish farmers who were offered them." He smiled happily. "Now the artists are returning at last."
I looked up at the ruins and thought about the days when their narrow streets hummed with life, church bells rang and the school playground swarmed with children. Then I pictured them a few months ago, revitalised by actors and crew as the village's broken shell was briefly reanimated. Those streets are all empty again. But how lovely to think that the incoming artists and craftspeople, the spiritual heirs of Kayakoy's ghosts, are now bringing their own form of renewed life to the village. µ
Linda Cookson travelled with Turkey specialist Exclusive Escapes (020 8605 3500; exclusiveescapes.co.uk), which offers seven nights' half board at Beyaz Yunus Olu Deniz from £1,050pp, including return flights from Stansted, Heathrow or Manchester, plus transfers and a day's gulet cruise. The company also offers luxury self-catering villas in the Kaya Valley.
More information
British passport-holders require an e-visa to visit Turkey, available from evisa.gov.tr/en for US$20 (£13.30).
Reuse content