"The granita in Bar Roma is the best in Sicily," declared Fulvio Pierangelini, the chef who oversees Sir Rocco Forte's hotel kitchens globally. Bar Roma is found in the port of Sciacca – pronounced shakka – on the little-visited southern coast of Sicily, just up from Agrigento. During the summer, Fulvio is based at the Verdura Golf & Spa Resort, 20 minutes away, and he was taking the opportunity to give me a cookery lesson that included a visit to Sciacca to choose fish.
We entered Bar Roma through a curtain of plastic beads, passing crates of discarded squeezed lemons, a line of scooters and the smell of fish. Inside Aurelio ("Il maestro della granite", according to yellowing Italian newspaper cuttings) has been making tubs of snowy, slushy granita di limone for 40 years.
His bar was simple, with plastic tables and a refrigerator that contained nothing but tubs of the stuff. The granita was served in a glass tumbler with brioche – eggy rolls which the men who had just returned from a night's fishing were stuffing with the citrusy crystals. "They take it instead of coffee in the morning," said Fulvio. He kissed Aurelio – a 70-plus man with rock-thick glasses – and gave him two pots of his homemade jam. "Authors, politicians, singers, journalists, they all come here," translated Fulvio, as the granita maestro spoke at breakneck speed. "He says he uses a 70-year-old ice-making machine."
There are few better to teach the foodie arts than Fulvio, an angel in the kitchen. Known in Italy as "The Food Whisperer" and Il grande solista della cucina Italiana (the great soloist of Italian cuisine), he's often described as the country's best chef. For 28 years, he had a two-Michelin-starred restaurant, Il Gambero Rosso, in San Vincenzo, Tuscany. Now, he runs masterclasses with titles like "Ravioli and the Art of Mystery" and the one I'd joined: "Let's Play Cook".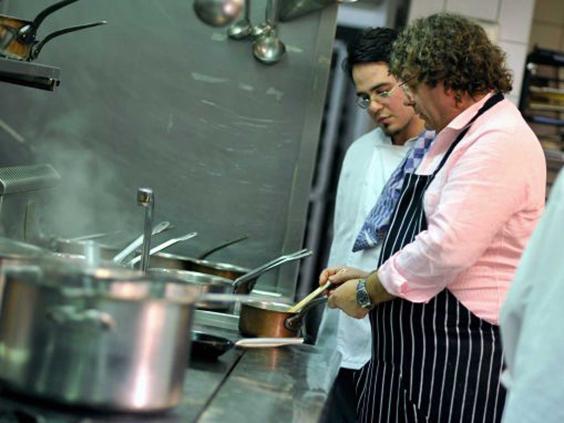 Sciacca was founded by the Greeks in 5BC as a thermal spa and, later, was the scene of bloody medieval feuds between the Aragonese and Perollo families (animosity that started over a jilted bride). Now, the burnt ochre and bleached apricot houses cling to the hillside, fanned by furnace winds from Libya, across a narrow stretch of sea.
Beside the marine supply shops and buckets of anchovies, there were second-hand cars, many with Milanese and Torino number plates: cast-offs from the Italian mainland. "It's desperately poor in Sicily and any wealth is hidden," said Fulvio. "There's no Borghese [middle] class. But behind closed doors near Palermo, I've seen Breughels and Goyas."
Stout fishermen in orange plastic dungarees shook their nets and sorted through their catch – the fishing fleet of Sciacca is one of the biggest of the Mediterranean – and a barefoot man in a baseball cap washed down piles of flapping fish. "This is beautiful, like a dancer at the Mariinsky Theatre," Fulvio enthused, as he picked up a red mullet from a tray of piscine ballerinas. "From the sand, not rock. It tastes better." He pulled a stripy fish from the mouth of another. "Bad! This is a tropical fish. It shows the waters are warming."
He pointed out a John Dory and showed how to recognise line-caught fish. ("After fighting with the line they're not fat or soft.") Then we motored 30 seconds to another boat. "Sardines!" he cried. "I marinate these with olive oil and wild herbs."
As we returned to the resort, we passed splendid chalky cliffs and Fulvio pointed out the prickly pears and wild mulberries at the roadside. "I love to pick mulberries to make my jam but these are sunburnt," he mourned. "So, instead, I drive an hour to the mountains to collect them."
Later, we stopped at Fulvio's supermarket, an allotment close to the azure sea and orange groves of Verdura. We stood among almond trees, vegetables and basil intoxicating enough to be a classified drug. Lovingly, he picked the beefiest of big tomatoes ("So big, they're called Corleone, like The Godfather") for us to make pasta sauce. He said he has been known to lie on the ground to ensure that he picks every last fagiolini bean. He pointed happily to the tenerumi, the tendrils of the cucuzza plant, itself a long serpent-like courgette. "A very important vegetable. Sicilian zucchini is different from any other kind."
And so to our lesson in an open-walled kitchen in an upmarket beach shack beside the sea at Verdura. Sir Rocco Forte's slick resort is arguably the finest on the island, with low-slung buildings, sleekly spartan Olga Polizzi-designed suites and a long beach of imported white sand. There's also an 18-hole Kyle Phillips golf course, swimming pools, tennis courts and a serious spa.
I had already tried Fulvio's cooking: a sublime dish of prawn ceviche, Sicilian courgette and flower, topped with grilled John Dory. So I was keen to learn more.
He rarely uses scales, recipes or machinery. His approach is all about simplicity. "That's the point of arrival. I've worked for 35 years to get here." He explained that he likes to make food with soul. "If someone comes for dinner unexpectedly and you have only mozzarella and tomato in the fridge?" he asked. "Caprese?" I replied helpfully. "No: mozzarella soup and tomato sorbet." Ah, of course.
He then gave a two-hour Sicilian cookery lesson. "The food reflects the cross-fertilisation of the cultures of its Greek, Roman, Arab and French invaders," he said. We started by making a typical local dish – a salad of orange, red shrimp and fennel. Fulvio plunged his thumb through the centre of the orange, tearing it apart: "That way, when you eat it, it smells of essential oil from the skin." He counselled chopping the fennel with a ceramic knife, "so the vegetables don't oxidise". We reduced the orange juice, making a mayonnaise of it. And I learnt to take the intestines out of prawns, without breaking the body. He sipped prosecco as he talked.
We tore the tomatoes, "a smoother texture than if you cut them" and created our sauce for spaghetti a la Norma (tomato, aubergine and ricotta). "This," he proclaimed, "was the dish they served [Vincenzo] Bellini after the first performance of Norma." Meanwhile, his conversation ran seamlessly from the history of navel oranges to the story of salt and sugar cane in the 1700s, via architecture, Dostoevsky and Murakami.
It wasn't simply a cookery lesson, nor something just about culinary art and culture – it was a magical feast for the senses, seasoned with charm and humour.
Sicily? The sulphurous springs of Mount Cronio, the tufa caves, the nearby Greek temple complexes of Agrigento, preserved almost exactly as they were 2,500 years ago: yes, go for them. But travel also for Fulvio's signature dish: the much-copied passatina di ceci con gamberi (chickpea purée with shrimps.) With Fulvio, the witty angel in the kitchen, anything's possible. "I don't cook Italian," he concluded. "I cook dreams."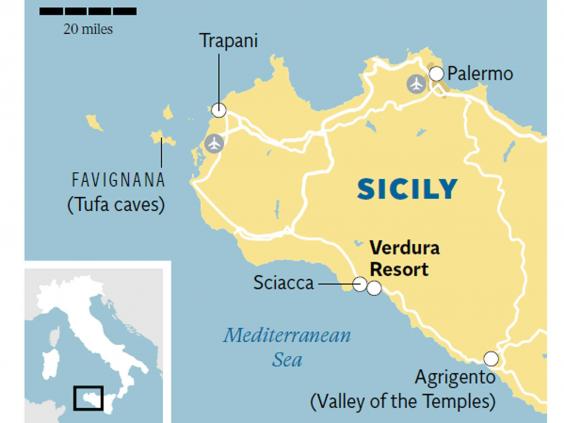 Getting there
The nearest airport is Trapani, served by Ryanair (0871 246 0000; ryanair.com) from Manchester. Sicily's three other airports, Catania, Palermo and Comiso, are served from across the UK by airlines including easyJet (0843 104 5000; easyJet.com), BA (0844 493 0787; ba.com), Norwegian (0843 3780 888; norwegian.no), Air One (00 39 091 255 1047; flyairone.com) and Ryanair.
Staying there
Verdura Golf & Spa Resort, a Rocco Forte Hotel (00 800 7666 6667; roccofortehotels.com) offers doubles from €206, including breakfast. Cooking classes with Fulvio Pierangelini are €150pp. The resort also offers pasta and pastry making classes at €75pp.
Getting around
Caroline Phillips's car hire was courtesy of Auto Europa (00 39 0916390303; autoeuropa.it).
More information
Reuse content