Like Old Towns the world over, Split's historical heart is a fine place to get lost. Along its meandering marble streets, you'll find smart boutiques and restaurants jostling for space, as music plays, starlings swoop and washing lines cut through the sky above.
With so many riches to recommend it, Croatia's second city deserves greater recognition, and, thanks to the many new flights from the UK, it's sure to get it. Among the new links is a BA service from Heathrow, which took off this month, and easyJet routes from Luton, Belfast, Newcastle and Manchester, launching during May and June.
At the heart of the Old Town is Peristil, the main square, dominated by the remnants of Diocletian's Palace (00 385 21 348 600; diocletianspalace.org). Built by the Roman emperor as a retirement home in the fourth century, this faded former mansion runs along the southern face of the city's fortified walls, staring out across a string of Dalmatian islands that streak across the Adriatic in front. Peer down to the modern waterfront – known as the Riva – to watch straggles of people stroll idly by, against the backdrop of bobbing boats.
The elegant Cathedral of Saint Domnius (entry from 25 kunas/ £2.40) also looms large over the square. Part of it dates back to the seventh century, giving it claim to being the oldest working Catholic cathedral in the world. Don't miss the chance to scale the 57-metre Romanesque bell tower, too, for a dizzying view of Split in all its glory.
Beyond the city walls is the much-loved Green Market, where older ladies in pinafores and headscarfs sell everything from fruit and veg to flowers, cheese and honey.
Further still, the peaceful neighbourhood of Varos peels off to the western edge of the Riva, topping out in the leafy Marjan district, which sits at the end of the fine finger of land that makes up the Split peninsula. From Marjan's hilly heights, you'll spot a fleet of sturdy ferries in the harbour, ready to whisk you off to the beautiful islands of Brac and Hvar.
Split has long been a jumping-off point for island-hoppers. This summer's new flights provide yet more reason to linger and get lost in the city before the crowds descend.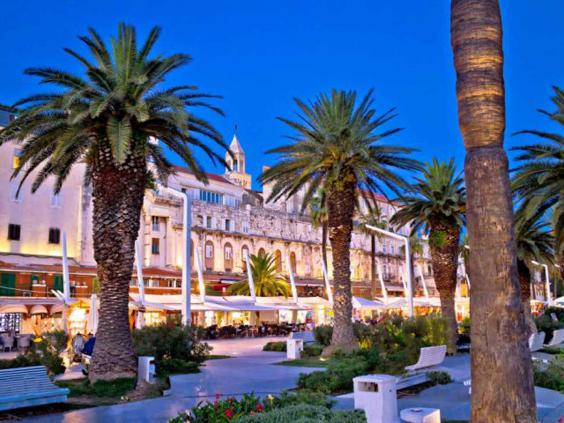 Unpack
A recent addition to Split's accommodation scene is the Dioklecijan Hotel & Residence (00 385 21 585 100; hotel-dioklecijan.com) – a 15-minute stroll from the Old Town. Its elevated position on the sloped streets above gives fine views over Split and its Adriatic islands – especially from the rooftop pool. Doubles from €155, including breakfast.
Think local
As summer heats up, locals head to the nearby beaches. Shingle may preside over sand along the Dalmatian coast, but the lively atmosphere and translucent waters more than make up for it. The closest is Bacvice, where you'll find Zbirac café, a welcome place to seek shade beneath the pines, with soft drinks and beers from 14 kunas (£1.30).
Further afield, take a stroll along Marjan's waterfront, past a parade of unassuming swimming spots to reach Kasjuni – the best of the bunch – with a serene bay at the end of the peninsula.
Eat
In the Old Town, one of the finest places to eat is Uje (00 385 21 490 990; uje.hr). Meaning "oil" in Croatian, it's part of a small chain that also includes a wine bar and shop close by, selling everything from Brachia extra virgin to sweets and jams. The restaurant though is a real treat, with candle-lit tables spilling out into an atmospheric street and dishes such as lamb skewers with crushed pistachio (97 kuna/£9.20).
Alternatively, soak up local life in the steep residential enclave of Varos, where streetside restaurants such as Konoba Varos (00 385 21 396 138; konobavaros.com) and nearby Restoran Sperun (00 385 21 346 999), specialise in traditional Dalmatian fare.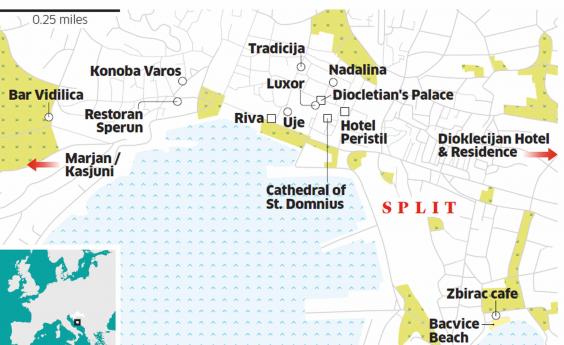 Drink
Survey Split by visiting the open-air terrace of Bar Vidilica (00 385 21 394 925), poised atop some steep steps leading to Marjan. With a cocktail in hand (from 35 kuna/£3.30) you can watch the sun set over the harbour and the streets below.
Alternatively, swing by Luxor (00 385 21 341 082; lvxor.hr) in Peristil Square, which despite the expensive drinks is a good place to head after 8pm, when there's nightly live music in the walls of the Diocletian Palace. Wine from 35 kuna (£3.30).
Spend
Interesting boutiques abound in the Old Town. Seek out handmade, costume-style jewellery at Michal Negrin (michalnegrin.com) on Ulica Mihovilova Sirina, or indulge with chocolates from Nadalina (nadalina.hr) on Dioklecijanova Ulica. During summer, there's also a daily antiques market at the north end of the Old Town.
Don't miss
It's worth factoring in an extra day or two to explore Split's islands. Popular trips include Brac, with its much-photographed Zlatni Rat beach, and Hvar, where the jetset go to play in summer. Tiny Vis and larger Korcula are also accessible. For timetables and prices consult the Jadrolinija (00 385 51 666 111; jadrolinija.hr) ticket office at Riva 16, beside the ferry port, a day before your planned departure.
Getting there
Laura Holt travelled with Prestige Holidays (01425 480400; prestigeholidays.co.uk), which offers a four-night stay at the Hotel Peristil from £799pp with British Airways flights from Heathrow, transfers and breakfast. BA (0344 493 0787; ba.com) flies from Heathrow; easyJet (0330 365 5000; easyjet.com) from Gatwick, Luton, Stansted, Bristol, Glasgow, Belfast, Manchester and Newcastle; Jet2 (0800 408 1350; jet2.com) from Edinburgh, Glasgow, Leeds-Bradford and Manchester; Wizz Air from Luton (0330 977 0444; wizzair.com); Croatia Airlines (0844 371 0310; croatiaairlines.hr) from Heathrow and Gatwick; and Norwegian (0330 828 0854; norwegian.com) from Gatwick.
More information
Click here to view Croatian tours and holidays, with Independent Holidays.
Reuse content