It was nearly midnight but not yet properly dark. I was standing by a campfire on a tiny island in the middle of a lake in the middle of a forest in the middle of Värmland, which is more or less in the middle of Sweden. My wife and seven-year-old daughter were sitting beside the campfire, reading a book in the gloom. And next to me my 10-year-old son was prodding the embers. Sparks swarmed pleasingly into the inky sky.
Erik Daleweij, our guide, wasn't there. Earlier in the evening he and his wife Vanessa had returned to the mainland, so now it was just us, a tepee and a crackling fire, on our own island. There was nobody on the lake and no lights shone on the distant shore. I have never felt us so together, or so alone.
The words "family" and "holiday" sit together glibly, but in truth parents and children often holiday in parallel. The adults read their books while the kids play in the sand. Or the parents kip on loungers and the children go off to do something organised in a club. I've done that. It can be nice. But Erik's "Värmland Summer Adventure" holidays are rewarding in a different way. The emphasis is on families adventuring together, with – as far as possible – the kids taking the lead.
So, on our first day he addressed his pre-hike briefing to them, issued them each with a GPS device, taught them how to use it, and waved them off with us in their wake.
Sweden for families
Sweden for families
1/6 Sweden for families

Great outdoors: the Wakling family gets stuck in to... horse-riding (christopher wakling)

2/6 Sweden for families

Great outdoors: the Wakling family gets stuck in to... cycling (christopher wakling)

christopher wakling

3/6 Sweden for families

Great outdoors: the Wakling family gets stuck in to... cooking (christopher wakling)

christopher wakling

4/6 Sweden for families

Great outdoors: the Wakling family gets stuck in to camping (Christophger Wakling)

Christopher Wakling

5/6 Sweden for families

Great outdoors: the Wakling family gets stuck in to... husky-petting (christopher wakling)

christopher wakling

6/6 Sweden for families
The idea was that we would hike seven miles through the forested, lake-dotted hills north of Uddeholm, following a series of GPS coordinates – loosely along a section of the Bear Hunter Trail – which Eric had laid out in advance for us to find. And it worked. We managed, with some creative GPS reading, to turn the seven miles into nine, but that didn't matter: though it took some tongue-biting at times, the kids were in charge of navigating and that seemed to ease their sore feet.
The forest smelt of warm pine needles. In July and August the bushes we walked among are full of blueberries, raspberries and cranberries. We ate sandwiches on a deserted beach beside a mirrored lake. And we saw no other walkers all day. That's part of the attraction: visitors are staggered so that they don't overlap on any one day. It's just you, your family and whatever Erik has lined up for you to do.
Next, rafting. Ordinarily this takes place down a section of the Klarälven, but we were there early in the season and a recent rush of meltwater meant that the swollen river was full of uprooted trees. So we set off across lake Råda on Erik's two-story Waterworld raft instead.
He immediately taught the kids how to pilot the raft. Nominally, we were searching for beavers. We didn't see any, but we did find a raggedy dam. This, combined with driving an actual double-decker raft at 10pm, was enough. We ate pasta salad and barbecued hot dogs. The sun refused to go down. The kids steered in accordance with a secret law that forebade all straight lines. It being a big lake, this didn't matter much. But the next morning, as Erik waved us off on a multi-person-bike contraption which he also suggested the children pilot, I was nervous.
Think of a four-man, cycleable go-kart made of chunky iron bars. I sat in the back with my wife. We had pedals and a handbrake, but the all-important steering wheel was up front and out of reach. Although the Klarälvsbanan cycle track – built along a 55-mile stretch of disused railway line between Uddeholm and Karlstad – is fairly flat, the drop either side is, from time to time, precipitous. A lapse of concentration by the child-drivers could pitch us over the edge.
That didn't happen, but fear of it may explain how we overshot our turning for the bakery at Hoje by some six miles. Secretly proud – we'd pushed that metal contraption further than most along the lupin-fringed path – the kids were nevertheless disappointed to miss the cinnamon buns that Erik had promised. Sensing this, he drove us back to the bakery where Lars Gustafsson, the baker, not only served up buns fresh from the wood-fired oven, but showed the kids how to mix, plait and bake them. He even dictated the recipe.
That afternoon we set off across Lake Vörten in a four-man canoe to find our island campsite. This felt properly intrepid. A stiff headwind ruffled the surface of the water. We had to work together for an hour and a half. If, as happened, we got in a muddle and stopped paddling, we immediately drifted backwards. But Erik had taught the kids well and they helped. When the tiny Ogat island finally came into view, with the pre-pitched tepee a pale triangle amid the pines, I felt genuine relief. I also felt a complete idiot when the lighter I'd assured Erik I had with me turned out to be empty. Fortunately, he caught us up later, doused a load of logs in ethanol, and struck a match. Whoosh.
He'd brought a fishing line for my son, who later pulled the world's smallest fish from a lake reputedly stuffed with monster pike. He also brought supper to be cooked over the open fire. After he left we walked the length of our island, which took three minutes, then whittled sticks, read, and poked the fire.
Having paddled back the following day, we still had the horses, Freja and Vargavinter, to ride at Erik's homestead. Again, Vanessa involved the kids sorting out the tack.
And once we'd horsed around we petted the chickens, chased the rabbit, marvelled at Tiger the St Bernard dog, and prepared ourselves for a 28-mile cycle ride (on proper bikes this time) back along the Klarälvsbanan to Uddeholm.
That's a long way for my seven-year-old. But there was something about having been taken seriously the whole week that pushed her to complete the ride.
This was a unique trip. Värmland means "warm heart land" and the name fits. Erik manifestly wants his guests to make the most of their time in Sweden. In the winter, he runs husky-sledding trips and, noting the kids' interest in this, he surprised us on our last afternoon by taking us to visit the Mooneye Sleddogs. Erik Smit, who with his wife Linda runs the dogs, showed us around. He wore a sheath knife on his hip and dog-bite scars up his forearm. His 28 Siberian huskies also looked (and howled) the part. When he unleashed seven of them into the exercise pen, with the kids in the middle, I sensed danger, but the feeling swiftly evaporated. The worst that these wolfish dogs had in mind was licking us to death.
The kids were exhausted, but there was still time for us to learn how to skillet-cook lumberjacks' pancakes on an open fire. And Erik also took the opportunity to show us the Frisbee golf course that he's building through the forest. We played, but why stop there? He had my son map the course, too.
A killer sunset bled out over the forest. We finally slotted the kids into their bunks. I stood at the window marvelling at how much we'd crammed into so short a time. Midnight approached, but it still wasn't properly dark.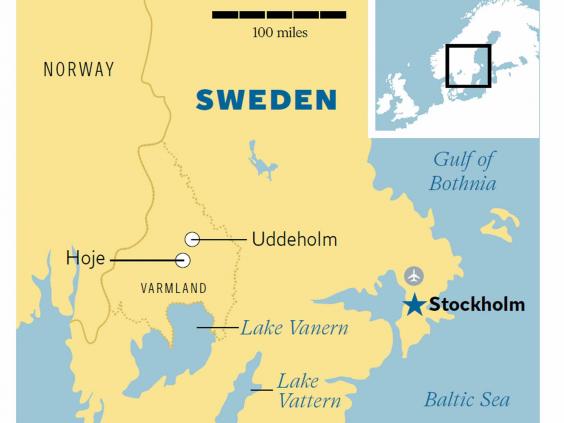 Getting there
Christopher Wakling and his family travelled as guests of Discover the World (01737 214 291; www.discover-the-world.co.uk) which offers summer wilderness adventure holidays in Värmland, Sweden, between June and September from £956 per adult and from £797 per child (recommended for children aged eight and above).
Prices include return flights from Gatwick to Stockholm, seven nights' activity package (including all meals) and return transfers between Karlstad and Uddeholms Hotel. Excludes train transfers between Stockholm airport and Karlstad – tickets can be purchased locally.
More information
Reuse content