On Friday, it will be 70 years since the largest invasion force in history landed on the shores of Normandy and altered the course of the Second World War. The Allied D-Day landings (known as Jour-J in France) took place on 6 June, 1944. They swept across a 50km stretch of Normandy coast from the base of the Cotentin peninsula, code-named Utah Beach, in the west, to Sword Beach at Ouistreham, in the east. Along the shore are more than 30 memorials, cemeteries and museums, ranging from small gun batteries to the enormous American cemetery at Omaha Beach.
Sword Beach was one of the two beaches used by British troops, and on Friday the world's heads of state will meet for the official commemoration ceremony. A quiet residential street near the beach is the incongruous setting for Le Grand Bunker-Musée du Mur de l'Atlantique (00 33 2 31 97 28 69; www.musee-grand-bunker.com; €7). This former German headquarters has been restored to help re-create stories not only of the defenders of the Atlantic Wall but also the British soldiers determined to breach the fortifications.
Head west and you reach Courseulles-sur- Mer, where Canadian troops met heavy resistance when they landed at Juno Beach. Canada's entire war effort is shown in captivating detail at Juno Beach Centre (00 33 2 31 37 32 17; junobeach.org; from €7). Simple blue towers etched with the names of the dead stand outside the museum, poignant in their starkness.
The busy seaside town of Arromanches forms part of Gold Beach, where you can see, marooned in the sands, the remains of one of the prefabricated ports known as Mulberry harbours. Nicknamed Port Winston, it was crucial in off-loading British cargo and troops even months after D-Day. Overlooking the beach is the Musée du Débarquement (00 33 2 31 22 34 31; musee-arromanches.fr; €7.90), which gives a comprehensive account of the landings and the role played by this ingenious harbour that had been towed all the way from Britain.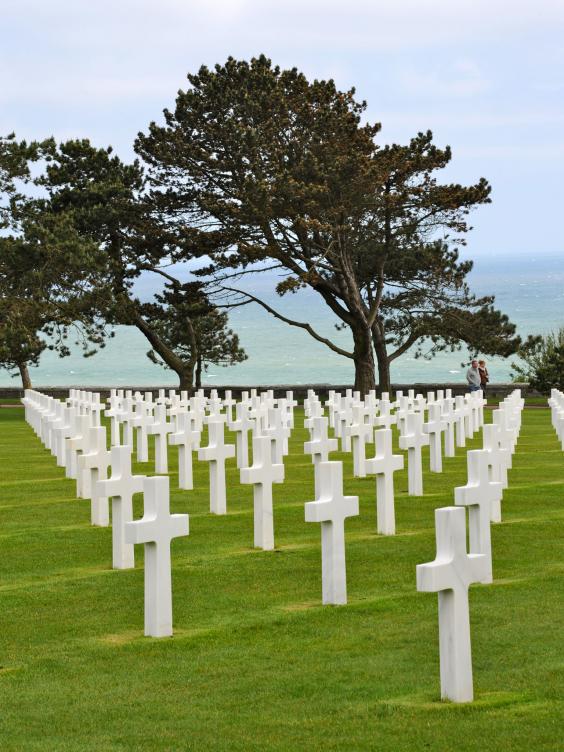 An unmissable sight along the coast is the American Cemetery (00 33 2 31 51 62 00; abmc.gov; free) at Colleville-sur-Mer, where US troops had a disastrous landing at Omaha Beach. On a peaceful cliff top, nearly 10,000 white crosses in neat rows stretch towards the sea. Just as moving are the exhibits in the visitors' centre, so leave enough time to take in some of the absorbing stories of courage.
Last summer, the new Overlord Museum (00 33 2 31 22 00 55; overlordmuseum.com; €7.10) opened less than a kilometre inland from the American Cemetery. This vast private collection of army equipment and paraphernalia had been built up by the late Michel Leloup, who, as a teenager, had watched the battle of Normandy unfold.
About 4km west of Omaha is Pointe du Hoc, where American Rangers scaled the rocky cliffs to wrest it from the Germans. The scars of war are everywhere among the gun emplacements and barbed wire, the eerie, lunar landscape pockmarked with giant craters where shells had fallen. At the westernmost end of the invasion area is Utah Beach, where American troops also came ashore. On the beach at Sainte-Marie-du-Mont where they landed is Musée du Débarquement (00 33 2 33 71 53 35; utah-beach.com; €8), which contains one of only six original B-26 bombers still in existence.
Leger Holidays (0844 504 6251; leger.co.uk) runs tours of the D-Day beaches and museums over four or five days, starting at £249pp including B&B accommodation and coach travel in the region. If you plan to visit more than a handful of D-Day sights, look out for the Normandie Pass (normandiememoire.com). Pay an extra €1 on top of the admission to the first attraction and you get discounts at other participating museums.
City slickers
Bayeux, 10km south-west of Arromanches, was the first city to be liberated by the Allies. Its attractive medieval heart remains more or less intact.
Among its cobbled streets of half-timbered houses is a reminder of another decisive battle, the Norman Conquest, which is recounted on the Bayeux Tapestry (00 33 2 31 51 25 50; bayeuxmuseum.com; €9) in intricate and sometimes gory detail.
Caen was less lucky in 1944 and had to be rebuilt substantially, but its twin abbeys founded by William the Conqueror and his wife escaped destruction. A large student population adds a vibrant air, especially in the pedestrianised centre and the ramparts circling the former site of the 11th-century Château de Caen.
Just north of the city is the Caen Memorial (00 33 2 31 06 06 44; www.memorial-caen.fr; €19), an engrossing museum of 20th-century warfare.
Normandy's largest city and historic capital, Rouen, also had to be rebuilt and have its medieval centre restored. The Gothic splendour of its cathedral so captivated Claude Monet that he painted and sketched it more than 30 times.
Utracks (0845 241 7599; utracks.com) offers eight days' self-guided cycling from Bayeux to Rouen from £790pp, with B&B accommodation and luggage transfers, but not transport to the region.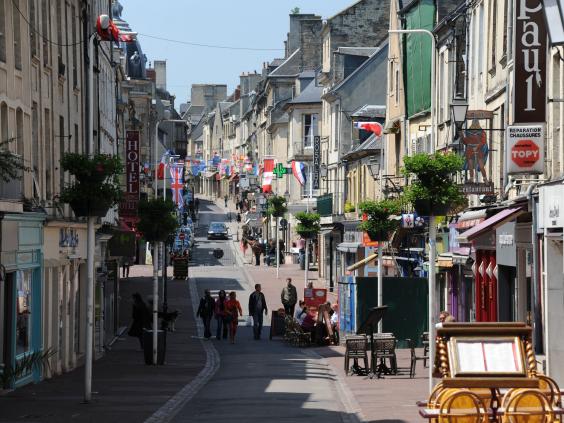 First impressions
Artists have been drawn to the bewitching port of Honfleur for centuries, including a teenage Monet who was taken under the wing of native son Eugène Boudin. Art students still sit by the Vieux Bassin to capture the reflection of the towering 18th-century townhouses on the water.
Monet spent the last 43 years of his life in exquisite gardens further up the Seine at Giverny (00 33 2 32 51 28 21; fondation-monet.com; €9). You can explore his house and vast gardens that featured so often in his later paintings.
Planet Rail (01347 811810; planetrail.co.uk) offers a week's cruise on the Seine from Paris to Normandy, with visits to Honfleur and Giverny, for £1,799pp with Eurostar from London to Paris, all meals, shore excursions and transfers.
Apples galore
What Normandy lacks in vineyards it makes up for in calvados and cider-producing orchards. In the rolling hills of the Pays d'Auge east of Caen is the Route du Cidre (larouteducidre.fr). Follow your nose along this trail of producers of apple brandy, cider and pommeau (apple juice mixed with calvados) through villages such as Cambremer and Beuvron-en-Auge. Here you'll also find the cream of Norman produce, namely its pungent cheeses from Camembert, Pont l'Evêque and Livarot.
Belle France (01580 214010; bellefrance.co.uk) offers a three-night "Taste of Normandy" gourmet holiday based at the Château les Bruyères near Cambremer, featuring a cookery class.
The price of £699pp includes half-board accommodation and ferry crossings.
Sandy shores
Neighbouring resorts Deauville and Trouville complement each other perfectly – the former an elegant town with designer boutiques; the latter with its family-friendly beach and superb fish market. Further west is Cabourg, immortalised by Marcel Proust in A la Recherche du Temps Perdu. It also hosts an annual film festival on the beach (11-15 June; festival-cabourg.com), which is a world away from the glitz of Cannes. Looming on the other side of the Cotentin peninsula is the unmistakable sight of the medieval Mont St-Michel, one of France's busiest attractions. The island will be easier to visit this summer with a new approach and vehicles banished to a car park.
Kirker Holidays (020 7593 1899; kirkerholidays.com) has a three-night break at the five-star Royal Barrière in Deauville from £556pp, with flights or ferry, car hire and breakfast.
Where to stay
Take in the nostalgic atmosphere of Spirit of 1944 (00 33 2 31 51 07 52; spiritof1944.fr), a farmhouse near Utah Beach whose two guestrooms are filled with Second World War memorabilia. Doubles cost €95 and €105, with breakfast.Chateau Vouilly (00 33 2 31 22 08 59; chateau-vouilly.com), about 30km east of Bayeux, was the headquarters for the US press corps – including Ernest Hemingway and Robert Capa – in the summer of 1944. Its four double rooms cost from €110, including breakfast. Ferme de la Rançonnière (00 33 2 31 22 21 73; ranconniere.fr), a romantic manor house dating from between the 13th and 15th centuries, is a cosy base near Arromanches. Doubles start at €70, room only.
There are also many self-catering options offered by French Connections (frenchconnections.co.uk), Cottages4You (cottages4you.co.uk), Homeaway (homeaway.co.uk) and Holiday Lettings (holidaylettings.co.uk).
Travel essentials
Normandy has two international airports. Deauville is served by CityJet (0871 663 3777; cityjet.com) from London City. Flights from Southend to Caen with Flybe (0871 700 2000; flybe.com) start on 3 July.
By ferry, Brittany Ferries (0871 244 0744; brittanyferries.co.uk) sails from Portsmouth to Le Havre, Caen and Cherbourg; and from Poole to Cherbourg. It also sails Portsmouth to St-Malo, the Breton port serving western Normandy. DFDS Seaways (0871 574 7235; dfdsseaways.co.uk) sails Portsmouth to Le Havre and Newhaven to Dieppe, handy for Rouen.
Rail journeys from London St Pancras are tricky. Eurostar (08432 186 186; eurostar.com) serves Paris Nord, but trains to Normandy from the French capital leave from St-Lazare or Montparnasse stations. It may be easier to change at Lille, which has direct trains to Rouen.
Bus Verts (busverts.fr) has an extensive network in the region, connecting Caen, Bayeux and Rouen with the D-Day beaches and coastal resorts including Deauville and Honfleur. Rouen and Caen also have public bike-sharing schemes.
Reuse content