Windsurfing? A piece of cake. There I was, scudding across the waves just off Turkey's Cesme peninsula with the words "Alacati Surf Paradise" etched into the hillside in front of me. This wasn't so hard after all, I thought. "Good Laura, now turn!" I heard my instructor, Omer, yell from the shore.
Friends back home had warned me about this: it's not surfing itself that's the tricky part, they'd said, it's the turning. But I wasn't fazed, because I had Omer watching over me – a pro-windsurfer who has competed for the Turkish national team and in international freestyle competitions. He now works for  Bu Bi Surf School, one of a string of places that line the bay nicknamed Alacati Surf Paradise.
Of course, I'd been paying close attention as he tutored me on the beach, only momentarily distracted by the twinkling Aegean waters, the rolling hills and the surf school's adopted dog. Now, upright on my board and moving across the water, surely I could turn. Move my feet; adjust my hands; swing the sail; something, something, something and then ... splash!
It was my first lesson in the elegant art of windsurfing, a sport for which this windswept peninsula on Turkey's western limit, is known, along with kite-surfing and stand-up paddleboarding. Indeed, this week sees the PWA World Cup, run by the Professional Windsurfers Association, roll into town, welcoming thousands of professionals to Alacati's waters from 26 to 31 August.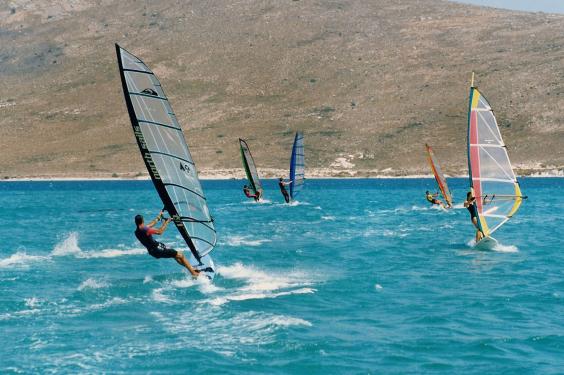 Back on the shore, Omer showed me pictures of him performing impressive displays of acrobatics off the coast of Jericoacoara in northern Brazil. Slightly intimidating, I thought, as I studied his bone-dry hair and blacked-out Oakleys, still perfectly in place mid-way through our half day lesson. I, however, could not have been wetter.
Still, at least I didn't feel as silly as the surfer who had travelled all the way from Australia to Turkey, in search of the ultimate barrel, having heard about a mythical place called: Alacati Surf Paradise. "I had to tell him," Omer explained, "this is for  windsurfers. There are no big waves here. I felt really bad."
It's these gentle yet consistent currents that make Alacati a dream for novices, who can test out the sport in safe, shallow waters, propelled by the steady pull and push of placid waves. Then, when the wind picks up, pros can take their turn at chasing white horses to the horizon.
Mercifully, the town of Alacati itself also has plenty of diversions to bolster the spirits of slightly-sore, would-be windsurfers. The town sprang to life in the 1850s as the Greek settlement of Agrila, before the Turks claimed it in the 1920s.
They uprooted the tried-and-tested vineyards which had proved so successful for their predecessors, in order to plant tobacco crops instead, which ultimately failed because the local climate was not suited to them. The town and its economy slumped, until windsurfers discovered its secrets in the 1990s.
Gradually, artists started to follow, in search of the quieter life, and restaurateurs came to set up pretty courtyard eateries. It then became the go-to destination for wealthy weekenders from Istanbul, but it's only recently that foreign tourists have discovered the town's tree-shaded streets, vine-clad houses, buzzy cafés and boutique hotels. I was staying at one of the town's smartest new addresses, a 25-room retreat set up last summer by a Turkish husband-and-wife team, called Alavya.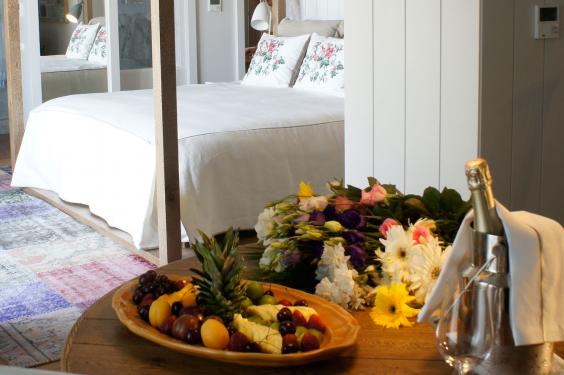 It was from here that I embarked on a cycling tour of the area, with Uli, a septuagenarian guide who has twice completed the formidable Iron Man competition and the local Cesme triathlon too, having moved to Alacati from his native Nuremberg a decade ago.
Thankfully, our pace was a touch more sedate, as we cycled past  VW campervans, along roads lined with wildflowers, prickly artichokes and goats grazing on the long grass. There were five hills on the 10-mile loop to the town of Cesme and back, increasing in intensity as the ride progressed.
"Some days, I have to change the route," explained Uli in his thick German accent. "The wind is so strong, it can take you clean off your bike. Whoosh!" Sure enough, as we cycled back along the promenade of Ilica Beach, a perfect stretch of white sand and Aegean waters, the wind howled.
The wind was there again, as I sailed across to the nearby Greek Island of Chios, on a passage that nearly had me bidding farewell to my breakfast. But the journey was worth it, as I discovered the idyllic fishing town of Lagada and spent the day watching swifts skim the surface of a perfectly still bay, where just five miles west of Cesme, the wind was almost entirely absent.
At night, the action in Alacati moves from the waves to the town, as streams of people parade along its narrow streets and congregate in the main square. Here, cats and dogs loll about beside lively cafés, such as Kose Kahve – one of the first to open in the town, with a prime roost overlooking the hubbub.
I was tipped off about Agrila, a restaurant set in a charming courtyard garden, named after the old Greek settlement, that serves excellent steaks. But there's also atmospheric, Asma Yapragi, where guests are led into the family home of landlady, Ayse Nur Mihci, to pick starters from a long table of fresh mezze platters.
Before I left Alacati, there was time for one more windsurfing lesson. My arms had just about recovered from the first attempt so, wetsuit on, I heaved myself up on to the board and set off towards the horizon, coasting on the waves.
From the shore I heard Omer shout once more: "Right Laura, now turn!" This time I've got it, I thought, as I repositioned my feet, adjusted my arms, swung the sail and then ... wobble and ... turn! I was gone with the wind.
Getting there
Laura Holt travelled with Exclusive Escapes (020 8605 3500; exclusiveescapes.co.uk) which offers three nights' B&B at Alavya with easyJet flights from Gatwick to Izmir from £700pp.
Staying there
Alavya (00 90 232 716 66 32; alavya.com.tr) has B&B doubles from €190. Half-day cycling tours depart on Wednesdays for €15pp.
Windsurfing there
Bu Bi Surf School (00 90 232 716 68 76; bubisurf.com) offers a package of five windsurfing lessons from 530 Turkish lira (£150).
Eating there
Kose Kahve (00 90 232 716 04 13; kosekahve.com).
Agrila (00 90 232 716 8594; agriliarestaurant.com).
Asma Yapragi (00 90 232 716 01 78; asmayapragi.com.tr).
Red tape
British travellers to Turkey require a visa, which costs US$20 (£12.50), when purchased in advance through the website  evisa.gov.tr
More information
goturkey.com
Reuse content