Sitting in Zaldiaran, a Michelin-starred restaurant in Vitoria-Gasteiz, the owner Gonzalo Antón is talking about a "crisis" in the Spanish restaurant scene. "Everything has changed. These days it's trendy to go out and have five different pintxos with two types of wine, so people don't come to this type of restaurant as much," he says. "Look at [chef] Martin Berasategui – he has seven Michelin stars, but if you go to his restaurants, you'll still find a seat."
Antón may be right – and certainly the days of booking a year in advance for restaurants like El Bulli are gone – but it looks like the city of Vitoria-Gasteiz will roll with the punches. The capital of the southern Basque region of Alava has long been in the shadows of showier San Sebastian and Bilbao, but it's quietly been building up its credentials as a destination in its own right. Food has played a major part in that. This year it steps into the limelight as Spain's Gastronomy Capital (a national award judged by culinary leaders), and it's a role it wears rather well.
Vitoria (as it is usually abbreviated) spirals out from its old quarters – known as the Medieval Almond – which sit prettily on a hill. Encircling this is the elegant 19th-century "new" town, which itself gives way to more modern developments among the city's green belt and wetlands, then to lush mountains beyond. And within this compact city are more than 300 restaurants and over 1,200 bars and cafés to get stuck into.
Drinking and dining out is, of course, in the Basque blood, but Vitoria has formalised this with the birth of "pintxo-poté"– a way for everyone to celebrate the small snacks, or "haute cuisine in miniature" that have become an art form here.
Every Thursday night the city's bars offer a pintxo and drink – usually a local Rioja – for between €1 and €2. There are now more than 20 pintxo-poté routes around Vitoria's streets and plazas, and the idea has been so successful that it's spread into the gastronomic hubs of San Sebastian, Bilbao, and Pamplona.
The Medieval Almond is an appropriately atmospheric place to sample this pintxo revolution. In Toloño, a friendly, lively bar near the large Plaza de la Virgen Blanca, they serve up an incongrous "Irish" pintxo – a soft boiled egg in mushroom sauce. Nearby Hor Dago! is an achingly cool establishment set in a medieval palace, with a mix of innovative and traditional pintxos, like local favourite "Gilda" – chilli, anchovy and olive speared on a cocktail stick.
As you wander the winding streets to the next bar, you come across shops that wouldn't look too out of place in medieval times, such as the horsemeat butchers. There are more appealing foodie shops too – Corre 34 is a must for cheese and truffles, or try locally celebrated Victofer. Behind the counter, Estibaliz Fernandez, whose grandmother opened the delicatessen in 1922, tells me about the provenance of her wares – plus tips on how to cook them. There are local wines, mountains of beans, oils, anchovies from the bay of Biscay, and jars of thick white asparagus from Navarra. "Sliced and served with olive oil and sherry vinegar, these are a real Spanish delicacy," she says. Needless to say, purchases are made.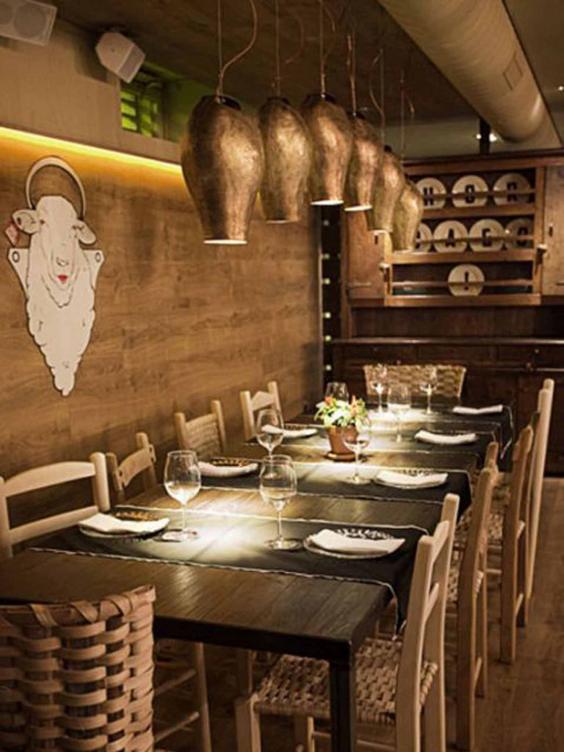 Vitoria's food vendors and chefs have enthusiastically embraced its status as gastronomy capital. Each bar and restaurant has created a signature pintxo, many of which are worth seeking out. At PerretxiCo, chef Josean Merino has created the memorable "Azzulito". It's served up to look like a cappuccino, but the cup is full of frothing blue cheese soup flecked with carrots, hazelnuts and dried beef. It's a taste sensation, and wonderful washed down with a crisp glass of txakoli – a local wine made from green grapes.
Another diamond in Vitoria's gastronomic crown is a 30-minute bus ride south-west of the city. Salinas de Añana is a tiny town set in a valley where mineral springs flow from the surrounding hills, down to a strangely beautiful landscape of man-made salt pans and canals. Incredibly, humans have farmed salt here for more than 6,000 years, stopping only in the 1930s. Five years ago it started producing artisanal salt again, and the results are highly prized by many of Spain's top chefs, who source their restaurants' salt here.
Back in Zaldiaran, Anaña valley salt also features strongly on the menu. And it's a tasting menu that delivers. Coming in at a surprisingly affordable €55 including wine and coffee, it includes dishes like ox taco with salt flakes and local Idiazabel cheese; and the Basque staple tuna, but with black rice and sesame miso. It's all beautifully presented and melt-in-the-mouth delicious. The large dining room is full and the staff busy yet attentive. Seems that Vitoria-Gasteiz is riding Gonzalo Antón's "restaurant crisis" admirably.
Travel essentials
Getting there
The nearest functioning airport is Bilbao, which is served from Manchester and Stansted by easyJet and from Heathrow by Vueling. Vitoria-Gasteiz is a one-hour bus journey south.
Visiting there
Zaldiaran, Avenida de Gasteiz 21 (00 34 945 134 822; restaurantezaldiaran.com).
Toloño, Cuesta San Francisco 3 (00 34 945 233 336; tolonobar.com).
Hor Dago!, Calle de Fray Zacarías Martínez 2 (00 34 619 18 13 12; hor-dago.com).
PerretxiCo, Calle San Antonio 3 (00 34 945 137 221; marmitaco.es).
Fundación Valle Salado de Añana (00 34 945 351 111; reservas@vallesalado.com).
Corre 34, Correria 34 (00 34 945 251 084, corre34.com)
Victofer, Cuchilleria 14 (00 34 945 255 305, victofer.com).
More information