In perfect juxtaposition with the ornate, candy pink façade of the 19th-century Teatro da Trindade that it faces, the Teatro B&B is a classical essay in black and white
It has the corner spot, curving softly and seductively from one street into the other, with tall windows running along the side, allowing passers-by full view of its large, sparkling, chandeliers. One door further along the street takes you up the stairs into the narrow, four-storey house – short on space and long on theatrical decor, with tiny, jewel-like rooms radiating off each floor. Offering serious value for money, its location is superb, perched right in the cobbled heart of Bairro Alto, with its historical squares and churches, new restaurants and traditional tascas.
The bed
Twenty rooms in varying sizes represent a selection of figures from the commedia dell'arte. With period-inspired interiors serving as a backdrop, talented set designer José Costa Reis – well known in the world of Portuguese theatre and a friend of the B&B's owners – has placed a character centre stage in every room. Pasquariello to Columbina grace the white walls in stencilled silver silhouette, or are etched into the mirror of your bathroom, while the bed is surrounded by dramatic swags of stage curtain, columns or classical statues being serenaded by trumpet-bearing angels.
Minuscule bathrooms (suites have baths; rooms have only showers) are all smoke and mirrors, with bright red shiny walls or deep black ones reflecting off mirrored surfaces, artfully hiding showers or enhancing bright, white designer basins. There is still room for flowers though, a make-up mirror and a thick towelling dressing gown. 
A good map of the area is offered, with suggestions of what to see divided between hip and classic. Should you need to enhance the possibilities, there's also free Wi-Fi. Views from the bedrooms give on to streets, dipped in a pink hue on a Friday or Saturday night when the theatre is floodlit. The neighbouring building, with its 19th-century tiled façade featuring allegorical figures of science, agriculture, industry and commerce against a vivid yellow background, is so typical of Lisbon.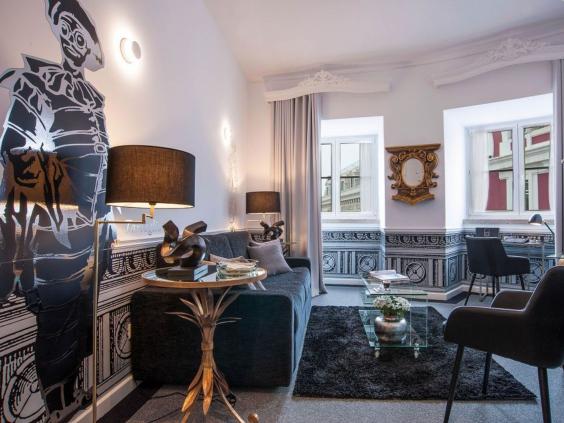 The breakfast
In the split-level café, breakfast is served from 7.30am until 11.30am every day, reopening from 3pm until midnight to serve drinks to guests and locals alike.
Breakfast is designed to be a good brunch for late risers with such Portuguese specialities as chicken empanadas (rather similar to a rissole) or bread layered with chorizo as well as a good selection of cereals, croissants and pastries. A huge Delta coffee machine provides anything from the typical bica – a short, black espresso – to cappuccino. The theatrical theme continues here with the same commedia dell'arte figures, masked and bejewelled, decorating the walls. Philippe Starck's Louis Ghost chairs surround the mirrored tables, glittering under the heavy chandeliers.
The hosts
Business partners and friends, Henrique Gonçalves and Aristides Rocha Vieira own a series of coffee shops in the uninspiring commuter land across the Tagus river. They had long been on the lookout for a central point in Lisbon to develop as a B&B. Walking up Rua da Trindade one day and seeing the site for sale, the pair wasted no time in buying it. Getting their set designer friend to do the interiors was an inspired idea, as was the appointment of manager, Claudia, who gives excellent local tips.
The weekend
For an overview, hop on the famous No 28 yellow tram which stops just near the B&B, in beautiful Praca Luis de Camoes, named after the 16th-century poet. It rattles its way up and, alarmingly fast, down Lisbon's hills but will give you a glimpse of many of the city's best monuments, including the cathedral and Castelo de Sao Jorge. In the evening, stop for Fado, the mournful but melodious national music which still echoes in the cobbled streets of Alfama. The Clube de Fado is considered the best (00 351 218 852 704; clube-de-fado.com).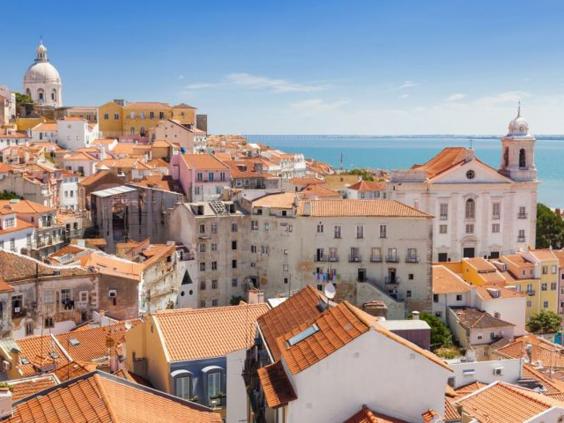 The pit-stop 
For a culinary and visual introduction to all things Portuguese, try the oldest brewery in the country, Cervejaria Trindade (00 351 213 423 506; cervejariatrindade.pt) at Rua Nova da Trindade 20. Surrounded by walls covered in ancient azulejo tiles dating from the 19th century and under vaulted ceilings you can dine on the national dish of bacalhau (dried and salted cod) with a range of beers (no longer made on the premises) for €12.50 (£10).
The essentials
Teatro B&B, Rua da Trindade 36,  Lisbon, Portugal (00 351 213 472 024; teatrobb.com). Double rooms start at €79 (£65) including breakfast.
Reuse content