If you need an excuse to revisit Provence, this newly reinvented farmhouse in the mountains outside Avignon might just be it. Banish all thoughts of agricultural rusticity: this "country palace hotel" has grown from the foundations of a former cereal farm, to become a place where a certain class of Parisian beats a retreat.
There's not a trace of the former farm – golf buggies have replaced tractors, an "eco-responsible" 18-hole course stands where once was grain and the old sheepfolds provide the footprint for nine very grand timeshare villas. Surrounded by the Alpilles National Park, it's taken local couple, Patrick and Edith Saut, almost a decade of careful wrangling with conservation bodies to realise their dream. First came the golf course, with angular greens designed and planted to resemble Provençal fields then, this summer, a 30-room hotel set across three buildings, including a complete makeover of the original farmhouse.
It's well pitched for those shy of fairways and plus-fours. Hotel buildings are a judicious distance from the course, arranged around a village square-style courtyard, with a lovely stone swimming pool where you might otherwise imagine a municipal fountain; all shaded by centuries-old plane trees. Meanwhile, the air rings with cigales. The courtyard is also where you'll most likely find, roaming among the tables, chef Steve Deconinck, a spiky-haired young talent who comes from nearby Michelin-starred Chez Bru, and stints with Ferran Adrià and Marc Veyrat.
A determinedly free-range chef – Deconinck is in his element wandering among the guests, presenting dishes tableside with a flourish – as he is in the kitchen creating refined Mediterranean cuisine. As with hotel décor, dishes are luxurious but low key. Local crab, truffle and veal are complemented by light, fresh Provençal produce, from tapenade of plump black olives to sunny tomatoes and the Domaine's own honey.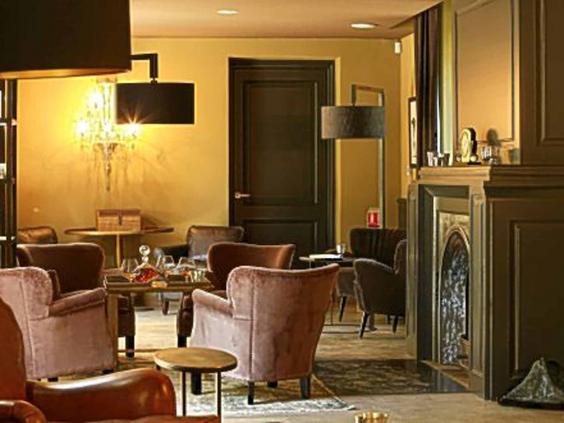 The spa sings of Provence too, with products blending pine, olive oil, verbena, jasmine and estate honey to seductive effect, making massages stupendously soporific. The indoor pool, hamman and atrium – all picture windows, natural light and cool glass tiles – are tranquil, if somewhat claustrophobic, at least when the sun is over the pool and the wind plays in the treetops outside.
A decidedly Zen space is the winter garden, the indoor breakfast spot with steeply vaulted glass ceilings that wouldn't look out of place in Kew. Or – and there's no shame in this when the wine is so good – the bar. Order a glass of rosé (from Edith's sister's vineyard) and pull up to two catwalk-length bar counters, backed by exposed brick walls, surrounded by deep leather couches and plenty of ripe, corrida-inspired art. As farms go, this is pretty fancy stock.
Location
It may be less than hour from the briny Camargue coast but the setting, tucked into the craggy white limestone folds of the Alpilles National Park, could not feel more like pastoral Provence. Olive groves roll out in silvery carpets across the valley – landmark press, Moulin Jean-Marie Cornille (moulin-cornille.com) is just 10 minutes on the hotel's electric bikes – and, high above the Domaine's towering plane trees, rises the fortified town of Les Baux-de-Provences.
In the shadow of this vertiginous museum-piece pile, is Les Carrières de Lumières (carrieres-lumieres.com) where stone has been quarried for millennia, and much of it is found in key structures in Baux, Avignon and Arles. Today, this is one of Provence's least known (outside France) but arguably most unique arts venues. Part cave, part Roman amphitheatre in atmosphere, it's the backdrop for vast and ambitious exhibitions that have included everyone from Cocteau, to impressively high-tech son et lumiere-style shows dedicated to one artist annually. This year, it's Gustav Klimt and the Vienna secession (until 4 January).
Avignon (airport and Eurostar terminal), is around 30-minutes' drive, the Roman ruins of Arles are en route.
Comfort
All five room categories – classic, deluxe, lofts, junior suites and suites – are capacious. Even the lead-in classic room is larger than your average city flat and the duplex lofts/suites are spacious enough to house a family of four or more – something the hotel encourages.
Unusually for a retreat of this elegance, your children may be both seen and heard; there is even a kid's club, hosted in two old gipsy caravans. The original farmhouse building has been enhanced by two new additions, one in striking dark wood, a contemporary nod to the original barn, and the other in rough, exposed limestone.
Inside, the rooms come in muted palates of greys, charcoals and rich blues, some of them with grand chandeliers and dark lacquered wood, others, as in the stand-out loft rooms, blend cool cream, on cream furnishings, with light, limed oak floors. There's also free Wi-Fi available, in-room espresso/tea machine, and a generous range of bathroom products, from the hotel spa.
Travel essentials
Domaine de Manville, Les Baux de Provence, France (00 33 4 90 54 40 20; domainedemanville.fr).
Rooms ****
Value ****
Service *****
Doubles start at €235, room only.
Reuse content