The thing about the "glamping" concept, as opposed to conventional camping, is that it's supposed to be luxurious. So if you're going to splash out in a muddy field, make sure it's worth it. Happily, the tents laid on by Lanterns and Larks at Sweffling in deepest Suffolk are so good they make your real home look a bit tatty.
This does create a dilemma. Tell your friends you're going camping and they think you're roughing it – all the more courageous with an 18-month-old child in tow. But there's no excuse for making such a claim at Sweffling Hall Farm. There's a very comfortable double bed, a wood-burning stove and hot running water.
The camp is on a chicken farm and there are 15,000 hens roaming around free range in every nook. There's also Milly the goat and Crumble the Shetland pony. As it's a working farm, dogs must be kept on leads. But your children can run riot.
On the wild side, the nights are full of screeches – pheasants, owls, even peacocks – and at dawn or dusk there are hares frolicking around. In these parts there are plenty of muntjac deer too, with their funny little legs. Guess the beastie makes for an intriguing campfire game.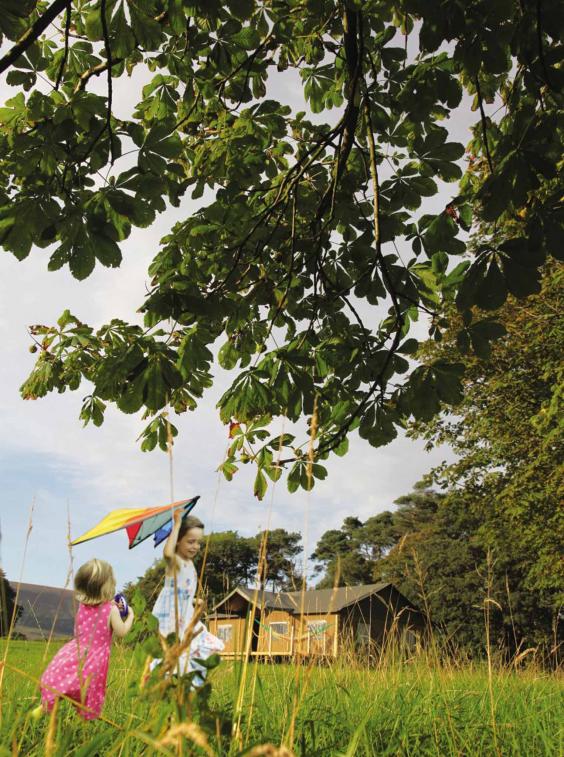 The rooms
This is a brand new camp. There are four safari-style tents spread at decent intervals around a large field. Each structure is erected on raised decking with a large veranda with seating and a fire pit that can be used as a barbecue or camp fire – a shed a few yards away has all the timber you need.
The tent itself can sleep six in great comfort. As well as the double bed there are twin beds and a bunk bed (travel cots are also available). There is a spacious sitting area, with L-shaped sofa and large dining table, and there are oil lanterns, battery powered lamps and candles galore.
The wood burner is the focus of this main section. It is very efficient at heating the tent and can be used to make Aga-style toast on a large hot plate, which will also keep a stew bubbling away nicely. But if you fancy creating something more demanding, there is a double gas ring in the fully-equipped kitchen area.
The only thing missing is a fridge, but you have to draw the line somewhere. Instead ,you are supplied with a cool box and there are "hot" water bottles filled with iced water to keep food and drink cold, free of charge. This system works well and the defrosted bottles can be exchanged for freshly frozen ones in the camp's honesty shop, which provides plenty more useful items such as matches, torches and batteries.
Out the back is a shower, two basins and the toilet in a separate wooden shed built on to the decking. A word of warning: our shower was set at quite a hot temperature which could not be adjusted and might be a bit much for young children.
Out and about
You can stroll around the picturesque lanes of Southwold and marvel at the price of beach huts – if it all gets a little too twee, there's the Adnams brewery (01502 727200; adnams.co.uk) for an honest pint and perhaps the strangest seaside attraction in the world, the Under the Pier Show – "a mad arcade of home-made machines and simulator rides" (underthepier.com). Or you can scoff gorgeous fish and chips in Aldeburgh (aldeburghfishandchips.co.uk) and go crabbing in little Walberswick (thesuffolkcoast.co.uk).
Nearby is the 1,400-year-old Anglo-Saxon burial site of Sutton Hoo (01394 389700; nationaltrust.org.uk/sutton -hoo) with replicas of its stunning hoard, while the stately home at Glemham Hall hosts a folk music festival (15-17 August; folkeast.co.uk) and Snape Maltings lays on a world- famous season of classical music in August (aldeburgh.co.uk).
The food and drink
Guests can buy a £40 breakfast box which includes excellent locally sourced bacon and sausages – as well as eggs, of course. There was a brace of birds in a little run by our tent, but by the second night they had escaped and gone back to the main party – leaving a couple of gifts for us.
Ipswich is half an hour down the road, while 10 minutes away, Saxmundham has all you need for provisions. Closer to camp is the village pub, the White Horse (01728 664178; swefflingwhitehorse.co.uk), which lays on pies. But you need to get your timing right because it is open only from Friday to Monday. We never got to find out what was under the crust.
The essentials
Lanterns and Larks, Sweffling Hall Farm, Framlingham Road, Sweffling, near Saxmundham, Suffolk IP17 2BT (01638 563478; lanternandlarks.co.uk). Three-night weekend breaks in high summer cost £525 per tent; seven nights £998.
Reuse content