B&Bs don't get much more coastal than The Anchor Inn, in Seatown: any closer to the waves and you could brave a quick paddle without taking your elbow off the bar.
Tucked at the saltier end of one of those winding, hedge-hidden roads that Dorset seems to specialise in, the pub has been in situ here for at least 170 years, looking out across a handsomely rough-hewn beach on the Jurassic Coast.
Seatown itself is barely more than a hamlet, so it feels more like a hideaway than a holiday resort. And much like the scenery, the inn wears its age well: a recent major refurbishment has given it three swish and spacious guest rooms, all with sea views.
The bed
The rooms have been sensitively designed, striking a line between on-trend and traditional: there's a maritime theme (complete with hanging ropework, bronze spring-balances and "porthole" mirrors), but it steers clear of being overdone.
We stayed in Langdon, a classy blue-grey-hued room split across two levels. It has more than ample space – all three doubles can accommodate either one or two children's beds, at a surcharge – and ticks all the necessary flatscreen/wi-fi/fluffy towel boxes. The large bathroom, complete with deep roll-top bath and White Company toiletries, is a highlight.
Downstairs, the pub has character, with wooden floors, exposed beams and plenty of outdoor tables. All draught beers are from Palmers, a local independent brewery (try the fruity IPA). The inn takes its name from the whopping rusty anchor that still occupies the front garden, part of a gun vessel that came a cropper offshore in the 18th century.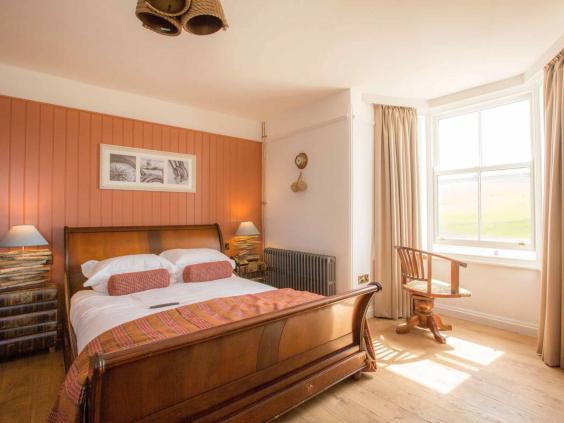 The breakfast
Waking up to the sound of waves on shingle might ordinarily be a cue for a few hours of indolent pillow-time, but you'd regret missing breakfast. Served in the bar between 8.30 and 9.30, it offers a choice of six main options – everything from smoked salmon and scrambled eggs on toasted chilli bread, to a generously meaty "Full Dorset". Leaker's bread and Balson's best sausages, both quality Bridport products, are well represented on the menu. You'll also find local jams on each table, and the morning mood is laid-back. There's music, although it's not obtrusive.
The hosts
We were met in sunny fashion by bar manager Lisa, but the man running the show is the landlord, Paul Wiscombe, resident with his young family in the thatched cottage next door. He's lived a life doused in Dorset pubs, having grown up in The Ilchester Arms at nearby Symondsbury, where his father was landlord. Paul has now been at the helm here for a dozen years, while Mr Wiscombe Snr runs The Pilot Boat in Lyme Regis. These roots explain the commitment to using local produce. "Provenance is everything," Paul explains.
The weekend
Lyme Regis, Bridport and West Bay (of Broadchurch fame) are all close by. The pub is walker friendly – a fortunate thing, given its location slap-bang on the South West Coast Path. The swollen green hills and plunging cliffs on the doorstep are prime hiking territory: a westward yomp up to Golden Cap, the highest spot on the entire south coast, takes only around 40 minutes, but much longer treks are possible too.
Slightly further along, the Charmouth Heritage Coast Centre (01297 560772; charmouth.org/chcc) gives a great intro to fossil-hunting – the area's full of the things – while Bridport Arts Centre (01308 424204; bridport-arts.com) has theatre, music, comedy and dance all year-round. Also in Bridport, the comprehensive antiques quarter is a snooper's haven (01308 425 111; bridportantiques.co.uk).
The pit-stops
The obvious place to eat is at the inn itself, which offers a full menu (smoked haddock and salmon gratin £10.95) as well as daily seafood specials – these often sell out, but they'll put aside dishes for room guests on request. You'll also find a good West Country cheeseboard and a range of homemade puds.
In Lyme Regis, The Town Mill Bakery (01297 444754; ourbakeries.com) is a quirky and hugely popular lunch spot with communal tables (all dishes £6) – try the soup bowls made from bread. And across in West Bay, quayside spot Rachel's (07974 314277; rachelswestbay.com) looks modest but draws deserved plaudits for its fresh seafood (Friday to Sunday lunchtimes only; fish stew £7.50).
The essentials
The Anchor Inn, Seatown, Bridport, Dorset DT6 6JU (01297 489215; theanchorinnseatown.co.uk). Dou-bles from £90, including breakfast.
Reuse content