A bird flew into the side of a plane as it landed with more than 100 passengers on board, ripping a large hole in the aircraft. 
Pictures taken by passengers show smears of blood, black feathers, and significant damage to the underbelly of the Air Namibia A319-100.
The aircraft, which was carrying 112 passengers, landed safely following the incident on Thursday.
A spokesperson for Air Namibia told the Namibian national newspaper: "Bird strikes are common during landing and taking off of an aircraft because these are the times when the aircraft is flying in the ranges when the bird is also flying.
"A big bird hit one of our four A319-100 aircraft that services our regional routes just when it was about to land. It left one of the underbody panels of the aircraft damaged."
Although bird strikes are common and do not usually impact on the safety of flights, the Birdstrike Committee USA says bird and other wildlife strikes to aircraft result in over $600 million in damage to US civil and military aviation each year. 
Airports understand that bird strikes can be common, and employ various methods to keep them away - including bird control patrols, and using noises, lasers, and clappers on the airfields.
A Heathrow spokesperson said the airport aimed to protect passengers from birdstrikes,
"We have dedicated teams who constantly patrol 24/7 to inspect the runways and disperse any birds who pose a risk of a bird strike to aircraft landing or taking off," the spokesperson said.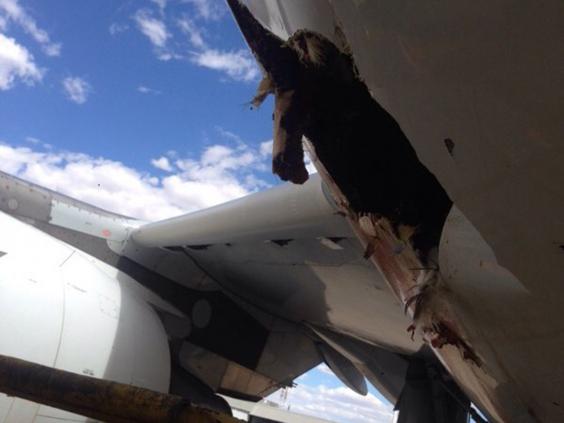 "Their duties also include maintaining an environment that deters birds or any other wildlife such as ensuring the grass on the airfield is kept at a particular length to make it inhabitable for birds to prevent them settling."
Last year, a bird hit a Turkish Airlines plane upon landing in Nevsehir, causing the plane's nose to buckle.
A spokesperson for Turkish Airlines explained to the Mailonline why the damage to the Turkish Airlines plane was so great.
Aviation posters: Selling the skies
Aviation posters: Selling the skies
1/6

1. COMFORT (1931)
The odd thing about this advert for BA's predecessor, Imperial Airways: it resembles a luxury train's restaurant car rather than an aircraft cabin. Elaborate inflight service diverted attention from the inevitable discomfort of early passenger aviation - a trick later used to distract Concorde passengers from the supersonic jet's narrow fuselage.

British Airways Heritage Centre/Tom Purvis

2/6

2. OLYMPICS (1948)
The post-war London Games won a gold for austerity, but British European Airways (one component of today's BA) made an inspired (if amusing) choice of designer: Abram Games. He placed echoes of Greek symbolism on a running circuit formed of an aeroplane's nose to create an image of power and speed. Faster, higher, stronger - and a real contrast to BA's 2012 'Don't Fly' campaign.

Estate of Abram Games.

3/6

3. INDIA (1935)
Today, a dozen or more planes fly nonstop between the UK and India every day, in eight or nine hours. When Theyre Lee-Elliott's poster was commissioned, the trip took six days via Cairo and Baghdad – compared with six weeks by sea. Even so, only 75 passengers a year flew from Croydon aerodrome to India. Britain was well-connected to the rest of the world long before commercial aviation began, aboard some excellent ocean-going liners.

British Airways Heritage Centre/Theyre Lee-Elliott

4/6

4. CORONATION (1953)
In the Fifties, as in 2012, the monarchy was a big attraction for overseas visitors, and the Queen's coronation year was the basis for an advertising campaign to lure tourists. During Coronation year, visitors could fly to Britain on Comet. The world's first passenger jet airliner had taken to the skies the previous May with the British Overseas Airways Corporation (BOAC), later to merge with BEA to form BA. But a series of crashes grounded the jet and saw Britain lose its edge to the Americans.

British Airways Heritage Centre/

5/6

5. VC10 (1966)
This slick ad was a British response to the Mad Men advertising revolution on Madison Avenue in New York. To the list 'swift, silent, serene' could be added 'commercial flop'. The Vickers VC10 was Britain's answer to the Boeing 707. It had some neat features such as rear-mounted engines and the ability to land at hot-and-high Commonwealth airports such as Nairobi and Salisbury (now Harare). While a few 707s are still flying, the VC10 became a museum piece - indeed, a new exhibition celebrating the jet has just opened at the Brooklands Museum in Surrey. But at least we won the World Cup that year.

British Airways Heritage Centre/Frank Wootton

6/6

6. 747 (1971)
The Boeing 747 transformed aviation and opened up long-haul travel for normal people. When BOAC started flying the Jumbo, the airline suddenly found itself with twice as many seats. To fill them, the poster designers abandoned artistic ambition in favour of a prosaic picture of the interior of the wide-bodied jet, featuring ordinary families - and some dodgy Seventies haircuts.

British Airways Heritage Centre
"The damage of the nose area (radome) by bird hit is a common incident on civil aeronautical operations," they said.
"The radome area of a plane is constructed by soft materials (composit) to minimise the impact of such hits."
Reuse content