Long-haul flights, like spells in hospital or prison, are experiences that a rational person wishes to end as quickly as possible. And Qantas flies the world's longest non-stop air route, connecting Sydney with Dallas.
The secret to enduring 8,577 non-stop air miles? Some say "dress comfortably", others insist "drink". But from this month, the Australian airline's most frequent flyers are warned that dressing down will exclude them from the pre-flight oasis of indulgence known as the business lounge.
"In response to customer feedback," says the airline, deftly shifting the blame to other passengers, "our minimum smart casual dress guidelines will be more closely applied". The lounge manager will act as gatekeeper, inspecting prospective guests for "singlets, bare feet, rubber thongs and clothing with offensive images or slogans".
Most passengers choose not to pay the formidable fares for Qantas' highly rated business class - £4,200 one way from New South Wales to Texas -  and will therefore be unaffected. But the airline's move reverses the principle that if you are paying five times the fare of the cheapskates in the back of the Airbus, you can wear what you damn well like.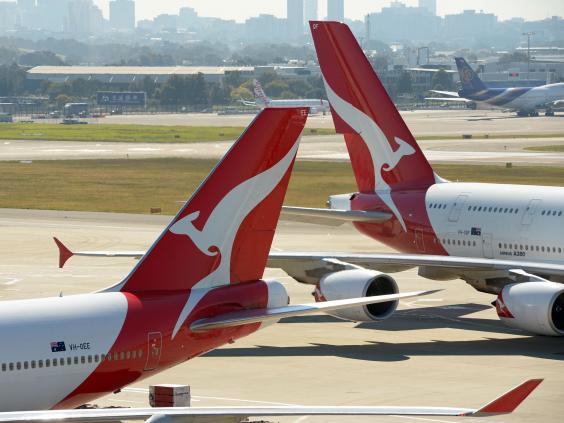 In the olden days, before undignified security searches and bans on excess toothpaste, aviation possessed a certain glamour. Glad rags and boarding tags were natural partners. On a British European Airways flight to Biarritz or Trans World Airlines to New York, dressing up was de rigueur, because only the rich and glamorous could afford to fly.
Once the Jumbo age took off in 1970, and the great unironed were grudgingly allowed on board, the aisle ceased to be a fashion runway. Today the chap looking uncomfortable in business class with a jacket and tie is likely to be an imposter from economy class, who dresses to impress the ground staff that he is SFU - "suitable for upgrade" - should it become necessary to bump someone up from the overbooked cheap seats.
It is tempting to mock these unusually straightlaced Australians for the flip-flop flap. But they can riposte that we have been imposing the same rules. At Newcastle airport's Aspire lounge, anyone wearing a football shirt, a baseball cap or a onesie will fall foul of the Tyneside fashion police. The same applies, presumably, to someone in a "two-piece charcoal grey coloured sleeper suit" - as provided free to first-class passengers on Qantas.
Reuse content