Protesters demonstrating against airport expansion at Heathrow have caused hundreds of flights to be delayed after chaining themselves together on a runway.
Many departures were running behind by more than an hour this morning and the disruption looked set to continue as police struggled to remove the activists.
It was unclear whether 13 cancellations, including flights to Dublin, Frankfurt, Geneva, Amsterdam and Rome, were linked to the demonstrations. No planes had been diverted.
Heathrow's departure board for the next hour. Red- delayed. White- cancelled. #heathrow https://t.co/A7lEIjDtNt

— Joe Tidy (@joetidy) July 13, 2015
Heathrow Airport said both of its runways remain open but advised travellers to check the status of their flight before starting their journey.
British Airways apologised after at least seven of its domestic and short-haul flights from Terminal Five were cancelled.
A spokesperson said: "We are doing everything we can to minimise disruption to our flights at Heathrow following a protest on one of the airport's runways.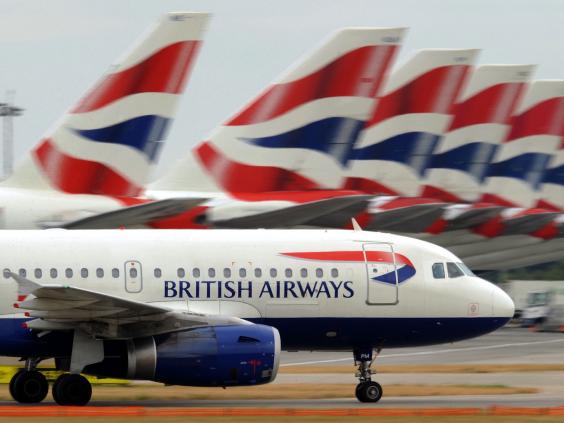 "We are sorry for the disruption to our customers' travel plans and are advising them to check their flight on ba.com."
Travellers took to Twitter to vent their frustration after the demonstration caused delays around the world, leaving people stuck on runways at airports including Tel Aviv and Newcastle.
Two women on their way home to Dublin after watching the tennis at Wimbledon were angry after their flight was delayed.
Louise Rogers, 35, said: "It's affecting an awful lot of people's lives. I'm not one bit impressed.
"They should be shot with rubber bullets."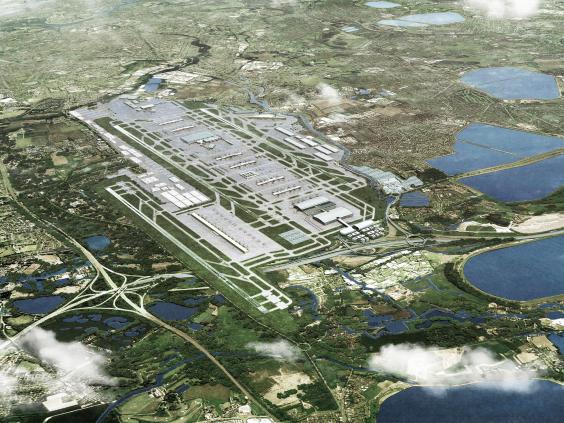 Her friend, Ciara Lalor, said: "They've disrupted so many people. They shouldn't be allowed.
"Get the fire engine out and hose them down."
Other flyers were more sympathetic, with Eamonn Maguire writing on Twitter: "As someone sitting waiting at Glasgow Airport about to board a flight to Heathrow: fair doos."
Six members of the Plane Stupid group were arrested by police after cutting a hole in a perimeter fence and lying on the tarmac shortly before 4am.
A spokesperson for the Metropolitan Police said they were still "working to remove" the remainder of the 13-strong group, who had used arm locks to secure themselves in place.
First activist being cut off the runway now #keepitontheground #NoThirdRunway pic.twitter.com/udjT2It8Cf

— Plane Stupid (@planestupid) July 13, 2015
A supporter of the group said the protesters were campaigning against Heathrow's proposed third runway and would stay there for as long as possible.
Ella Gilbert, one of the activists on the runway, said: "Building more runways goes against everything we're being told by scientists and experts on climate change.
"This would massively increase carbon emissions exactly when we need to massively reduce them, that's why we're here.
"We want to say sorry to anyone whose day we've ruined, and we're not saying that everybody who wants to fly is a bad person.
"It's those who fly frequently and unnecessarily who are driving the need for expansion, and we cannot keep ignoring the terrifying consequences of flying like there's no tomorrow.
"No ifs, no buts, no third runway. And we mean it."
No ifs, no buts, no third runway. And we *actually* mean it. @DavidCameron_MP pic.twitter.com/blIRB7puMl

— Plane Stupid (@planestupid) July 13, 2015
Footage posted online showed several activists chained together and being spoken to by a police officer, who told them they were "causing severe disruption" costing millions of pounds and could be sued by the airport.
A spokesperson for Heathrow Airport said: "A group of people is currently staging a protest on the northern runway.
"We are working closely with the police who are dealing with the incident. Both runways are open, although there will still be delays and a few cancellations – we are sorry for the disruption to passengers. Our priority remains to ensure the safe running of the airport."
Earlier this month a long-awaited report recommended that a new runway should be built at Heathrow rather than its biggest rival, Gatwick.
After three years of investigation, the Airports Commission said Heathrow was best placed to provide "urgently required" capacity but environmentalists warned that building a new runway there will make it harder to reduce air pollution and emissions contributing to climate change.
Additional reporting by PA
Reuse content