Thousands of irate commuters were delayed and diverted this morning in a new wave of chaos for train passengers travelling through London Bridge station.
Three years of upgrade work has already severely limited services to Kent and Sussex, pushing travellers paying up to £6,000 a year on to ever more crowded trains.
This morning, seven separate signal failures on lines through south-east London caused additional delays of up to 90 minutes as services were diverted and cancelled.
Passengers eventually arriving in London were greeted by more misery as the Circle Line was closed and District Line part suspended due to another signal fault, causing congestion around the network.
More London Bridge related chaos. Now the underground at Victoria is closed. pic.twitter.com/uGKdqjJUmT

— Joe Middleton (@joejsmiddleton) April 13, 2015
Operators Southeastern, Southern and Thameslink, who run trains from Brighton, Hastings, Ashford, Dover and Dartford, apologised to passengers but blamed Network Rail for the misery.
The agency, which manages Britain's 20,000 miles of railway tracks, said "a series of unrelated signal problems" during the morning rush hour caused the congestion.
Alasdair Coates, route managing director for the South East, said: "I apologise for what has been a very difficult journey to work for people this morning.
"We are investigating what on initial inspection appear to be several unrelated faults on the lines between Deptford, New Cross and  London Bridge.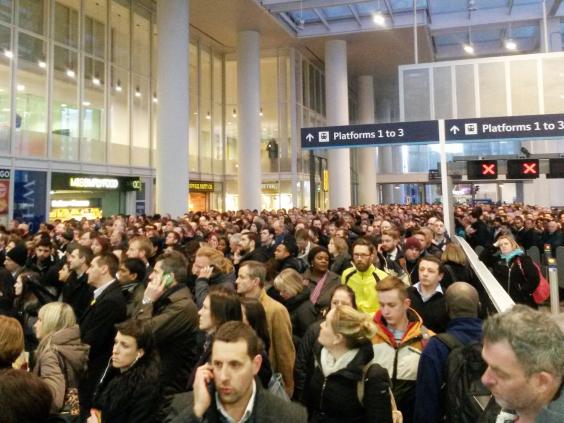 "Many of those faults were repaired before 8am but by that point the damage was done and trains were severely delayed as a result.
"We recognise the importance of this station to London and we will do everything we can to find out what went wrong."
Overnight engineering works had also overrun until shortly before 5am. Network Rail said the subsequent faults were caused by a mixture of cable damage, component and "asset" failures.
It comes after delays at London Bridge last month caused a dangerous crush of passengers, forcing people to vault ticket barriers and crawl under to escape.
As delays continued on Monday morning, tickets were accepted on alternative lines, the London Underground and buses.
Anyone delayed by more than 30 minutes is entitled to a refund from train networks under the "delay repay" scheme.
But that was not enough to satisfy these angry passengers.
@Se_Railway your appalling service never fails to amaze me! Glad to see the fair increases have been put to good use

— Naomi Woodford (@NaomiSWoodford) April 13, 2015
Things you can do faster than #southeastern - bake a loaf from scratch fly to Amsterdam, travel to Paris, run a half marathon (for some).

— Kieran Cornwall (@kcorn1982) April 13, 2015
Dear #southeastern please explain how a 20 minute train journey can take an hour...Canada can run a train in snow we can't even run on time!

— Ellen Forde (@Elle_bell29) April 13, 2015
Future generations will wonder why so much of our lives were spent crammed into hot metal boxes stuck outside London Bridge. @Se_Railway

— BlueDragonLandlady (@MsLupin) April 13, 2015
Thameslink is the worst service, "delayed, canceled or crowded" should be their slogan

— Kieran Fanner (@KieranFanner_) April 13, 2015
Conductor: "welcome to the southeast magical mystery tour, we are now diverted back to Waterloo East....." #LondonBridge @Se_Railway farce

— Dan Berry (@danbezza) April 13, 2015
Hell is a packed and delayed Southeastern train that smells like vomit. Happy Monday

— Damian Lynch (@DamianLynch1) April 13, 2015
Could whatever power is responsible please reserve a special place in hell for whoever was responsible with the train chaos this morning. Ta

— Joe Chapman (@joeontour) April 13, 2015
Disruption was expected until midday.
Reuse content