Edinburgh is great but it's hard for me to relax there.
I associate it too much with the Fringe. I've visited and liked New York, Montreal, Sofia, Dubrovnik, Sydney, Tokyo, Amsterdam and Paris. But London is home, it's my favourite place in the UK. Although I think I probably mean just west London – not the grubby bits. The country is only nice for a weekend.
In my experience the Irish are about 20 per cent friendlier than other nations.
My mum was from Belfast and my dad from Swansea; for the first few years of my life I just thought they were both doing funny voices. But this meant my first holidays were in Ireland and Wales.
Our VW camper is called Mother Teresa.
She's old, and blue and white. When the kids were younger we put in some miles around the UK and France and we still take it to festivals. When we set off it feels like we're in Scooby Doo – off in a van to solve a mystery, with wine gums and Simon & Garfunkel.
We still go on holiday as a family.
Melbourne last March is freshest in the memory; I was going to a comedy festival there: good food, good weather, the coast road, and a trip round the set of Neighbours. Last year, my wife, daughter and I went to northern Uganda to see the work of a charity called Chance for Childhood, which helps former child soldiers. Afterwards we all vowed never to complain about anything again.
I surprised my kids at Heathrow once.
We told them we were going to Disneyland. We were. But after that every time we went to the airport they expected too much.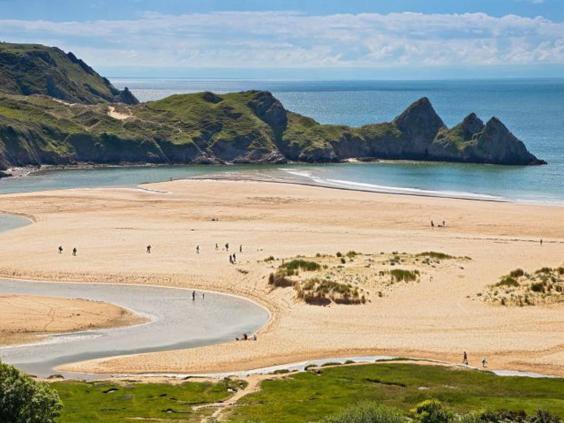 The seaside is over-rated.
You can't really swim or walk properly, it's often too windy and eating is inconvenient. But Three Cliffs Bay in the Gower in South Wales is fantastic in the sun. Unfortunately, that's only about three times a year.
Jersey is more English than England.
I'm just back from a tour date there. It seemed like Toytown in the 1980s. It was very green and pleasant though. I tried paddle-boarding for the first time in the sea. I fell off mostly.
I've stayed in some awful establishments.
When I'm on tour in the UK now, I stick to Hotel Du Vin or Malmaison where possible. I like to think I appreciate these places because at the beginning of my career I stayed in places that had nylon sheets and smelt of cabbage. The nicest hotel I've stayed in was the Galle Face in Colombo, Sri Lanka; it had a fantastic, colonial feel.
Don't eat lots of cream cakes and then get on a ferry.
I did that once in Normandy then got the ferry from Cherbourg to Portsmouth in a storm. This was after coming home early because the field we had been camping in was filled with mice. That was one of my worst travel experiences. Once I stayed the night on Basingstoke railway station. My car had broken down after a terrible show in Bournemouth. It was my birthday, too.
My best meal was in Phuket after a power failure.
We were on a beach restaurant and it was just lit by candles and sunset. Food-wise, Dubai has to be up there in terms of quality. And what you get in the backstreets of Shanghai and Hong Kong doesn't taste much like English takeaways. Fish and chips from a van is always good. In years to come I think we will look back on the fast food available now and think it's pretty weird.
My fantasy travelling companion? Mr Scott from Star Trek.
That transporter would come in handy.
Comedian Milton Jones will be performing his show, "The Temple of Daft", at the Edinburgh Fringe from 7-21 August (assemblyfestival.com).
Reuse content