One year after a power failure at Gatwick wrecked the Christmas plans of thousands, some passengers still feel they have been treated shabbily.
In the early hours of Christmas Eve 2013, the basement of the North Terminal flooded. The main electrical system failed, leading to around 100 flights being cancelled and stranding 11,000 passengers.
One of them was Dr Michalis Sialaros, a mathematician at the University of London. His flight to Larnaca was one of 83 cancelled by easyJet. 
"You cannot even imagine what the luggage situation was like. You wouldn't expect it in a third-world country. It was all dumped in a huge, half-lit room, anybody could have taken anything," he told The Independent. He was told that easyJet had no alternative flight for three days, so he booked with a different airline: "I ended up spending over €1,000 extra on my flight as I had to make it back for a wedding."
The airline said: "We did everything possible under challenging operating conditions to help passengers travel home for Christmas, including operating flights on Christmas Day from the UK for the first time."
"Our legal obligation is to either offer a free alternative flight or to provide a reimbursement of the unused easyJet flight. Having offered Dr Sialaros a free alternative flight which was rejected, Dr Sialaros in effect chose reimbursement. As a result we reimbursed Dr Sialaros for the cancelled easyJet flight as well as for expenses including food."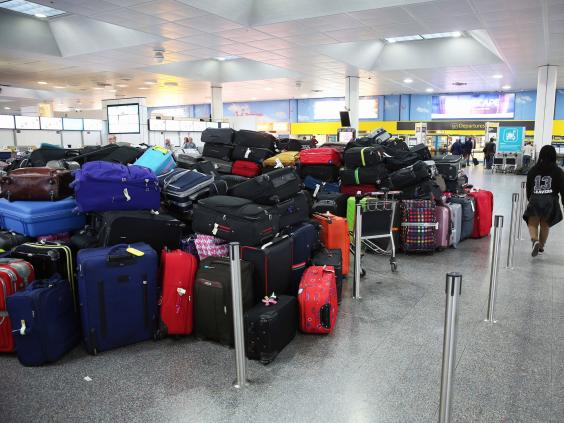 Gatwick airport gave £100 in shopping vouchers to passengers whose flights had been cancelled. Claire Rozette, an NHS manager from London whose flight to Grenoble was cancelled at midnight, said: "I received £100 compensation after three or four months and a lot of paper work, not even near the amount the delay cost me overall."
A spokesperson for Gatwick said: "We are confident the airport is better equipped than ever before to deal with extreme weather and help avoid a repeat of last year's issues. We look forward to welcoming passengers over the festive period and providing the passenger experience that we are better known for."
French cabin crew working for easyJet are striking on Christmas Day and Boxing Day. The industrial action on 25 December is purely symbolic, because easyJet has no flights, but some departures on 26 December have been pro-actively cancelled. The airline says this is "to allow passengers to re-organise their travel plans for the Christmas holidays".