Since my first package holiday, I've never looked back. Call me lazy or unadventurous, but what's not to love? They're stress-free, secure and, with the current exchange rate, a darn sight cheaper than a lot of independently organised breaks.
Sure, many would scoff at the lack of adventure, crowing that there's not much control over the itinerary or that it's hardly getting off the beaten track – but I don't care. Because let's face it: holidays are a form of stress-relief, yet arranging them on your own can tip you over the edge in the first place. That's why I'm such a strong advocate for package holidays – they're like a pair of helping hands, ready to guide you every step of the way through the process. 
It's not that I'm not keen to see the world. As far back as I can remember, I've always had the travel bug. Before the days of Pinterest and Instagram, I kept cuttings of amazing destinations in my Snoopy notebook, safe in the knowledge that, as soon as I was earning, I'd be visiting these faraway places. Little did I know that when I finally got the chance I would feel overwhelmed by the number of things to consider and organise. Where should I go? When should I go there? Where do I find the best deals on flights and accommodation? And many, many more questions besides…
I found myself doing endless research before I felt able to book – this holiday malarkey felt more like a part-time job than something "fun". Even now, with the rise of websites that allow you to do extensive comparisons or let you use virtual reality to explore a destination, it's still a mammoth task to tailor the perfect holiday.
Before my friend introduced me to the wonderful concept of package holidays, every time I went away there was something not quite right. Some of my anticlimactic holiday moments included an afternoon-long hotel mix-up fiasco in Sorrento; a villa in the middle of the Mallorcan countryside, only accessible by car; and a locker-sized seventh-floor hotel room in Paris with no lift access that haunts me to this day.
The 13 cheapest destinations for a beach holiday in Europe
The 13 cheapest destinations for a beach holiday in Europe
1/13 13. Menorca, Spain

£74.40

2/13 12. Corfu, Greece

£72.26

3/13 11. Marmaris, Turkey

£70.81

4/13 10. Kefalonia, Greece

£68.49

Shutterstock

5/13 9. Porec, Croatia

£65.19

6/13 8. Zante, Greece

£64.65

7/13 7. Crete, Greece

£63.16

8/13 6. Costa Blanca, Spain

£62.29

9/13 5. Gijon, Spain

£61.01

10/13

Costa de Sol, Spain

11/13 3. Limassol, Cyprus

£51.82

12/13 2. Algarve, Portugal

£47.04

13/13 1. Sunny Beach (Slanchev Bryag), Bulgaria

£41.55
Don't get me wrong – they were still good holidays. But some of the mini disasters could have been avoided had there been an expert on hand both when I was booking and during the holiday. Someone to advise and to problem solve when things went wrong. Someone to remind me about visa requirements, travel insurance and extra niggly details like early check-ins and late check-outs.
When I discovered the joy of the package holiday, it was like a weight had been lifted. As well as the extra support, I found that packages were often cheaper, too, as travel agents are able to negotiate bigger discounts on last-minute bookings. Plus, with the recently weakened pound, booking through a travel agent or tour operator can often work out less expensive than booking direct with a hotel – particularly when opting for all-inclusive, which eliminates the impact of the poor exchange rate on food and drink.
I also love the sense of security that comes with package holidays. They're generally ATOL and ABTA protected, which means if something goes wrong with the flight or accommodation, or the holiday company goes bust, you're entitled to compensation. Plus these tour operators know the safe zones and which places are at risk (although safety is never guaranteed, as demonstrated by the Tunisia attack). Whereas I know that if I planned a trip on my own, I'd probably land us somewhere that resembled the backdrop to Tropic Thunder – no thank you.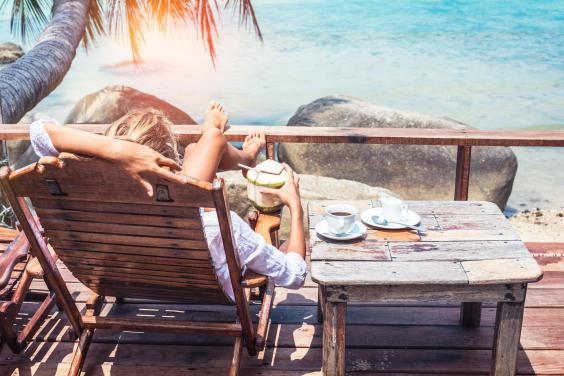 Now that I've got a toddler, package holidays are even more of a blessing. With everything organised for me, all I need to think about is packing, getting to the airport and how many episodes of Hey Duggee and Mickey Mouse Clubhouse I should download for the duration of our holiday.
I feel a little guilty about my package predilection when I see other people's travel plans – intrepid explorers setting off into the unknown, organised enough to customise their own complex itineraries. Apparently even parents are increasingly keen to take their little ones off the beaten track, with one in five saying they'd like to take their children "travelling" as opposed to just going on holiday, according to research from international payments company Caxton. Well, good for them.
But when I contemplate the effort involved, the research, the planning, the unforeseen disasters, my FOMO magically disappears. I just sit back, relax, and book my next holiday in a few quick clicks.
Reuse content