Continuing its new charm offensive, Ryanair has decided to treat us all in celebration of its 30th birthday.
The budget airline is planning to give away 1 million flights at the bargain price of £14.19 or €19.85 to destinations across Europe, marking 30 years since it first flew from Waterford to Gatwick (it now flies over 1,600 routes). Those wanting to take advantage of the generous offer simply have to know how to work the website in order to bag their tickets.
As with most things that come with Ryanair, there are a few catches.
For example, London Stansted is one of the airline's busiest departure airports and has a panoply of European destinations. Because there are a limited number of flights, you may have to compromise when it comes to a) where you go and b) where you fly from.
The flights are only valid for departures between September and the end of January 2016, so before you get any ideas of a last minute Summer holiday, you will be disappointed. Bookings close at midnight on Sunday 12 July.
Also remember to keep your wits about you when using the site, taking care not to click products that you don't wish to buy (for example checked-in luggage, insurance, car hire and so on). Also, the bargain deals mean that site usage is at an all-time high and may be prone to crashing.
Still want to bag yourself a cheap getway?
Here's what you need to do:
1) Go to the Ryanair website and click on the big picture on the front of the site and click on SALE.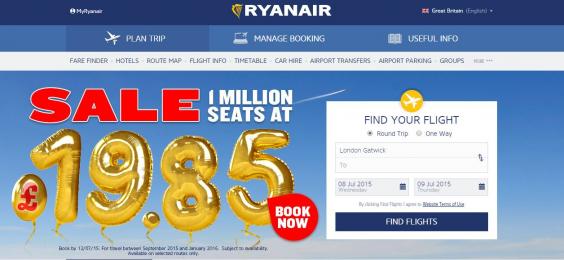 2) Go to the custom sliders at the side and slide on down to the £20 marker

3) Choose your ideal departure airport (consider travelling from a different one than usual)

4) Bask in the glory of cheap flights and the promise of adventure

Reuse content