Waking up in a place I didn't recognise was always so exciting.
When I was a child, we used to drive up to Scotland. We'd set off really early in the morning, trying to beat the traffic. It was really exciting, packing the night before, and in that blur of sleepiness I'd be put in the back of the car and probably fall asleep. My mum and dad used to make a little nest for me and my sister, and we'd wake up and see the profiles of the hills changing through the windows and watch the light come up.
We wouldn't have a destination in mind.
Nothing was booked. I think it was my dad's desire to head north; we'd go to places like Mull and Inveraray, always on the west coast of Scotland. In those days there was no real organised leisure. You'd just climb a hill.
The quality of the light in St Ives is absolutely beautiful.
We go there about three times a year now. The first time we went, in 1999, my wife was pregnant with our daughter and there was the eclipse. It was like Bethlehem at census time. You just couldn't get in anywhere, it was absolutely heaving. But we fell in love with the place. It's sort of an artistic colony. I wouldn't move there though. I like it as an escape place but I think if I moved I'd feel disconnected.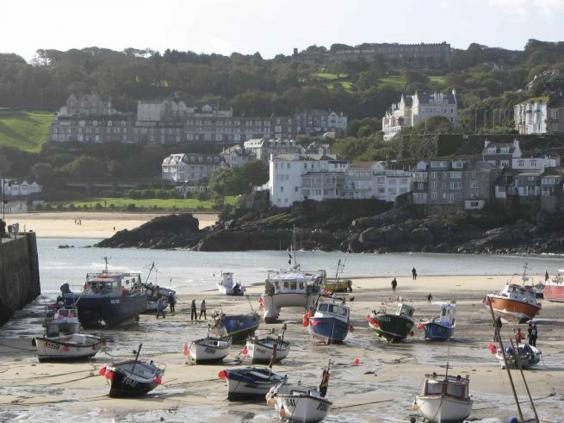 Reading newspapers is something I get to do on holiday.
I don't do it very much when I'm at home but when I'm on holiday I love it if there's a little shop where I can buy a newspaper and sit with a coffee. I read magazines as well when I'm on holiday – I love The New Yorker. I tend not to be someone who reads novels on holiday. I was a judge on the Booker Prize about 10 years ago and it's slightly put me off novels.
Where I grew up, London was the enemy.
You were told that you couldn't like London if you were from Yorkshire. But I do love it. And we can commute down from Wakefield in a day now.
Crete surprised me … because it rained all the time.
We went on holiday with two other families in October half-term. We'd been drenched for the past two years running because we used to go to Devon, so we decided to go somewhere where there would be sunshine. I was looking forward to this dusty, dry, crumbling landscape and it just pissed it down. And not just rain, it was apocalyptic.
The last time I was in New York it struck me as being quite old.
I suppose having been to such places as Dubai, which are brand new and very futuristic, all glass and steel, I wasn't as excited about New York as I used to be.
I was interrogated by police in the US.
We were in Canada about 12 years ago. My daughter was about three years old. We were in Toronto and we hired a car and drove out to Niagara and went over the bridge without realising that we were entering the United States without having our passports with us. Suddenly we were being pulled in by the police, fingerprinted, and interrogated. They took the car to pieces. It was really terrifying. Eventually they realised we weren't people traffickers or drug smugglers, and they got fed up with us, and let us go.
Fresh watermelon is the best thing I've eaten abroad.
I was in a tributary of the Amazon on a boat. I had gone out to make some radio programmes – about 20 years ago now. It was baking hot and the guy we were with had a watermelon. I don't know where he got it from but it still retained its coolness. Biting into that – the water, and the juice, and this cold temperature on your tongue – it was like it had been delivered by the gods.
Simon Armitage's new book, Walking Away, is published by Faber. He will appear at the Port Eliot Festival, 30 July to 2 August (porteliotfestival.com).
Reuse content