For decades, the surfing dream has been of crystal seas, boardshorts, bikinis and palm-fringed beaches. It's paddling into the line-up as dawn's light cracks the mountain tops, the air still, the morning's offshore wind yet to kick in, arms clad only in factor 50, machine-like barrels tapering down the coral fringe. Nowhere delivers this reality, year round, better than Indonesia. Waveriders have been drawn to this idyll since the 1970s, lured by the promise of adventure, escape and perfect surf. Stories of empty line-ups and sun-kissed barrels around every headland ignited a wanderlust in surfing's collective consciousness.
Over time, the spotlight drifted to new destinations as surfing's insatiable search rumbled ever onwards. However, the region is undergoing a renaissance, having starred in some high-profile surf films, including the award-wining The Salt Trail. While the Bali bubble may have burst – its fabled reef breaks becoming overrun – the vast Indonesian archipelago still offers plenty of room for exploration.
Search further afield and the islands off North Sumatra and Indonesia's southern reaches can still deliver uncrowded perfection – and the spirit that drew the original surf pioneers. With rugged terrain and sparse infrastructure, large tracts of coastline require time to explore, so boat charters can be perfect for those looking to maximise their water time. Tradewinds Adventures (tradewindsadventures.com) runs 11-day charters from February to November to Sumatra and nearby islands aboard the Jiwa – a 23m, double mast, traditional wooden phinisi; the price of £1,550pp includes 10 nights' accommodation in an air-conditioned cabin, transport to the best breaks, meals and transfers, but not international flights. Keep up-to-date with local travel advice for Indonesia with the Foreign Office (fco.gov.uk).
Where to go surfing
Where to go surfing
1/6 Close to home

Pembrokeshire: East Trewent Farm at Freshwater East is an ideal base

2/6 Surf in the city

San Sebastian, in northern Spain

3/6 Watch and learn

The best professional surfers on the planet battle it out on the beaches of southwest France

4/6 Get your first break

Lamiroy Surf Academy

5/6 Surf adventure

The cliff-top Soul n Surf in Kerala overlooks the Arabian Sea

6/6 Full board

Parts of Sumatra in Indonesia retain the original spirit that drew surf pilgrims to Bali in the first place
However, perfection cannot be judged by warm-water barrels alone – cold zones are quickly becoming surfing's new hotspots. Britain is a nation of year-round, wetsuit-clad waveriders, so the concept of cold-water surfing is nothing new to us, but some places that are opening up might raise an eyebrow. While surfing in the Baltic is best left to the hardy locals, regions such as British Columbia, Nova Scotia, northern Japan and even Alaska are popping up on the surf map. A couple of extra millimetres of neoprene is a small price to pay for grand vistas and thumping surf.
Closer to home, Norway's boulder points and vast beaches around Stavanger regularly serve up classic conditions in autumn and spring. For those seeking a spectacular backdrop, Iceland's jagged, volcanic Reykjanes Peninsula delivers an experience unique in the surfing world. Straddling tectonic plates, this active landscape is bombarded by swell, producing an exciting proposition for intermediate and experienced surfers. The sea temperature hovers around 6-9C in the spring but what it lacks in degrees centigrade, it compensates with degrees of separation from the rest of the surfing world – there are only around 20 local surfers here. Conditions can change rapidly and local knowledge pays dividends. Ingo Olsen of Arctic Surfers (00 354 562 7000; arcticsurfers.is) will take you to the best breaks; Isk49,000 (£250) includes six to eight hours of guiding, lunch and equipment.
Get your first break
Lamiroy Surf Academy (07926 581500; lamiroysurf.com) in Perranporth, Cornwall, offers a "club house" approach to coaching novices through to elite wave-riders. A £120 annual membership buys three, three-hour coaching sessions with British champions, plus unlimited access to the on-site test centre featuring a wide selection of boards from the UK's best shapers.
Surf Sistas (07779 099770; surfsistas.com) specialises in trips for female surfers, from complete novices to improvers. Courses are offered in Cornwall, France, Morocco, Bali and Costa Rica. In the latter, the beaches of Santa Teresa are perfect for catching your first ride, or improving your technique and confidence in warm waves. A week costs £749pp, including transfers, breakfast, daily tuition, equipment, yoga and a gift bag, plus photos of your exploits.
Splash out in style
While there's no shortage of accommodation aimed at surfers on a budget, many want more than a back-to-basics experience. As the wave-riding demographic has changed, resorts have risen to the challenge.
The private-island resort Tavarua in Fiji (00 679 776 6513; tavarua.com) is fringed by the world-class reef breaks of Restaurants and Cloudbreak. When it opened in the Eighties, the island was one of the first luxury surf camps and while it no longer has exclusive access to the breaks, it is still one of surfing's elite spots. Prices from $2,300pp (£1,533) per week include a stay in one of 16 private burres, meals and boats to and from the breaks.
Set in pristine cedar forest overlooking Cox Bay, the Long Beach Lodge Resort on Canada's Vancouver Island (001 250 725 2442; longbeachlodgeresort.com) delivers the cold-water dream – door front surfing, miles of breaks, grand scenery, a wet room for equipment, an open fire and sauna for when the surfing is done. Private cottages with Jacuzzis cost from C$329 (£180) room only.
Surf in the city
City breaks can deliver a weekend hit of classic waves, culture and cool cafés. San Sebastián, in northern Spain, offers an irresistible mix of promenade-front peelers close to the heart of the old town with glorious architecture and busy pintxos bars. Urban House Lolo (00 34 943 42 81 54; urbanhousesansebastian.com) is five minutes from Zurriola beach's breaks and offers board rental. Dorm beds from €12, doubles from €40, B&B.
A late night in the bar-filled lanes of Lisbon's Bairro Alto can be easily remedied by a quick trip to the pumping sandbars of nearby Costa da Caparica, Guincho and Cascais. The Independente (00 351 21 346 13 81; theindependente.pt) is near the Bairro Alto and within walking distance of Cais do Sodre train station. Dorm beds from €12; doubles from €79.
New York has a thriving surf scene that encompasses the hip Saturday's surf shop (001 212 966 7873; saturdaysnyc.com), independent surf filmmakers and artists. The barrels that break at Brooklyn's Boardwalk are legendary, while Long Island can offer surprisingly quiet waves.
Virgin Atlantic (0844 209 7777; virgin-atlantic.com) carries surfboards free of charge on all its flights, including between Heathrow and JFK. The Surf Lodge Montauk (001 631 483 5037; thesurflodge.com), on Long Island, has doubles from $218 (£145), room only.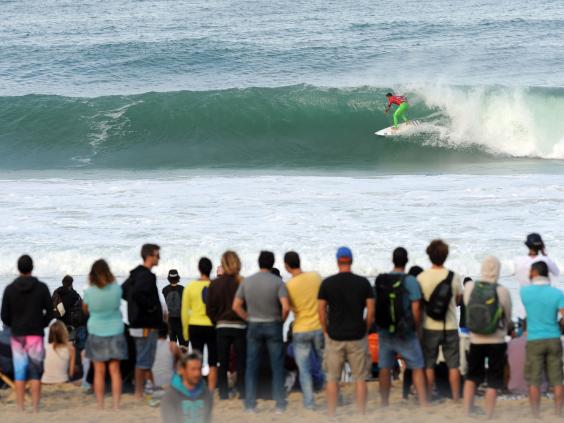 Watch and learn
If charging huge, gaping two-storey barrels is a little outside your comfort zone, the next best thing is getting up close to the action, feeling the spray on your face with sand still between your toes.
The annual Quiksilver Pro France in Hossegor (aspworldtour.com; 25 September-5 October; free) is the premier European leg on the WCT world tour and sees the best professional surfers on the planet battle it out on the beaches of south-west France (left).
The London Surf /Film Festival (londonsurffilmfestival.com; October/November) brings the best in the world of surf movies to the big screen in London, with talks and Q&A sessions, from legends of surf and film. Tickets from £7.50.
Close to home
Saunton in North Devon is firmly established within longboard circles. Neighbouring Croyde is famed for its challenging low tide barrels and The Thatch (01271 890349; thethatchcroyde.com; doubles from £60) – a pub, B&B and social hub. Nearby Braunton hosts the Museum of British Surfing (01271 815155 museumofbritishsurfing.org.uk; admission £4).
The Pembrokeshire coast sucks up the most swell in Wales. Quality beaches such as Freshwater West offer room to spread out. East Trewent Farm (01646 672127; easttrewentfarm.co.uk) at Freshwater East is an ideal base (left) and offers B&B doubles from £60.
With three large sandy bays, Scarborough is home to the East Coast's largest surf community. Secret Spot Surf Shop (01723 500467; secretspot.co.uk) is the font of all knowledge. One-to-one lessons cost £70, beginner group lessons are £45, with equipment.
Surf adventure
As the world seems to get smaller, and remote locations seem more accessible, it's refreshing to know that there is still scope for exciting surf adventures in relatively unexplored regions. Moroccan Surf Adventures (00 212 666 283 172; morocsurf.com) offers Saharan expeditions away from the bustling waves of Taghazout. The price of £600pp includes a week of surf exploration and full board (but not flights). Pushing south along the desert coastline in a 4x4, cresting a sand dune to see miles of empty coastline is certainly something to set the pulse racing.
India is opening up as a wave-riding destination with warm waters and a rich cultural experience. The cliff-top Soul&Surf (soulandsurf.com) in Kerala overlooks the Arabian Sea and offers week-long escapes from £189pp in a double room, with breakfast and daily surf guiding to the region's best spots. Flights are not included.