It's a big wide world out there and 70 per cent of it is covered by water. Yet no matter how far we travel, the chances are that few of us will ever explore the ocean's depths. They are dramatic, mysterious, endlessly fascinating and utterly beautiful. However, it's easy to see at least a fraction of what these frontiers hold, a concept most people couldn't even have imagined a century ago.
As a sport, scuba diving holds a certain mystique and, for a long time, it was regarded as a niche market. The need for specific training and cumbersome equipment – let alone the fear of the unknown – were off-putting for many. Times have changed: equipment is streamlined, courses are easily accessible and learning to dive is definitely less difficult than learning to drive. In fact, these days, children as young as eight can join a "bubble-maker" course, while many older participants are getting qualified since there is no need to be more than generally healthy.
The chances are that you will fall in love with the sensation of weightlessness and the intense feeling of peace – emotions that are often balanced by the up-tempo drama of exploring a realm that is both novel and exhilarating.
Divers also become trailblazers, adventurers who head to parts of the world you probably wouldn't consider for any other reason. Few people have heard of Palau, for example. This tiny republic is located east of the Philippines and has neither incredibly famous ancient ruins nor a culture that has spawned great arts or sciences. What it does have is the planet's most successful shark sanctuary, and the opportunity to spend time with this endangered creature.
The Siren Fleet (020 8099 2230; sirenfleet.com) is based on the Thai island of Phuket. It runs seven- and 11-day dive cruises on beautiful wooden schooners, both in Palau and neighbouring Truk Lagoon in Micronesia, location of one of the Second World War's most devastating naval battles, which left the sea floor littered with sunken ships and plane wrecks that are now sumptuous artificial reefs. Dive cruises start at €2,600 per person for a week including accommodation, transfers, all meals and diving. Specialist tour operators that can get you to these destinations, and many more, include Dive Worldwide (01962 302 087; diveworldwide.com) and Regal Diving (01353 659 999; regal-diving.co.uk).
Getting started
There are three main training bodies: the British Sub-Aqua Club (0151 350 6200; bsac.com), the international SSI (020 3287 3988; divessi.com) and Padi (0117 300 7234; padi.com). Depending on where you live, training involves a series of classroom sessions followed by exercises in a swimming pool. To complete any course, you then undertake a minimum number of open-water dives, which are often held in the cool waters of the UK in quarries, lakes or coastal waters.
An overseas learn-to-dive holiday is far more relaxed and focused on achieving the end result in the shortest time. Closest to home is the Red Sea, which is home to the world's most northern coral reefs. While visiting many of Egypt's Red Sea resorts is currently not advisable, SeaStar Watersports in Jordan (00 962 3201 8335; aqabadivingseastar.com) is a good alternative. Here, on the Gulf of Aqaba, you can get your course completed in a nice sunny destination while exploring the superlative underwater scenery. Courses start at JD45 (£38) for children and JD70 (£60) for adults.
Rich waters
There's a reason why many divers fly to the tropics. The band between the Tropic of Cancer and the Tropic of Capricorn is where the majority of accessible marine life lives. The closer you get to the equator, the richer the diversity.
The Galápagos Islands in Ecuador are right up there: M/V Galapagos Sky (001 305 262 3483; galapagossky.com) offers the chance to explore this unique environment. From this live-aboard, you should see Galápagos penguins, Galápagos sharks, the Galápagos seahorse and all the species of Galápagos fish. At up to US$7,775 (£5,183) for 10 days, trips are at the upper end of the scale.
What the Galápagos islands lack are colourful reefs. For those, head to West Papua in Indonesia. The Bird's Head Peninsula has more than 75 per cent of the world's reef building corals and 1,500 species of fish. AquaMarine Diving – Bali (00 62 361 4738 020; aquamarinediving.com) organises land-based or live-aboard tours. Bali diving is pretty special too, with day trips starting at US$100 (£67).
Big stuff, small stuff
There is nothing so breathtaking as coming face-to-face with an oceanic giant. Nautilus Explorer (001 604 241 1918; nautilusexplorer.com) departs from Cabo San Lucas in Mexico and, 24 hours later, arrives in the Islas Revillagigedo, where giant Pacific manta rays  nudge shoulders with sharks. There are whales and whale sharks, turtles and dolphins. No sighting is guaranteed, but this is one region where they seem as curious about divers as the reverse. Cruises start at US$2,935 (£1,957) per week.
The Philippines is one of the world's best "muck" diving destinations, a term for marine environments with small reef building creatures that hide in man-made detritus. Atlantis Philippines operates resorts in Dumaguete and Puerto Galera (00 63 43 287 3066; atlantishotel.com). There are seahorses, frogfish and critters such as the mimic octopus, which can display as a lionfish or sea snake. Full-board packages including transfers and unlimited diving start at US$1,698 (£1,132) a week.
Family friendly
If not every family member is equally keen to be underwater, Oman is a good bet for combining diving with other activities. Diverse Travel (0800 915 4436; diversetravel.co.uk) can get you to the Musandam Peninsula via Dubai. Once there, children can learn to dive in protected bays or everyone can sail on a traditional dhow. You might see a whale shark before heading back to Dubai for some fun at the water and theme parks, beach resorts or some retail therapy. A nine-night trip, including flights from London, starts at £895pp, with time split between Dubai and Oman.
The most famous barrier reef is, of course, the great one in Australia. Spirit of Freedom (00 617 4047 9150; spiritoffreedom.com.au) sails from Cairns to the Ribbon Reefs and into the Coral Sea. Three-day trips cost from A$1,500 (£882), or A$4,725 (£2,779) for a week, including all meals and diving. More distant routes may not be appropriate for young divers, so check with the operator.
This enormous expanse is also a working reef, and more serious divers often find it less exciting than its publicity. Yet combine a dive trip with a rainforest trek, a tour of the outback or a number of other activities, and you will have a holiday to remember. Audley Travel (01993 838 000; audleytravel.com) designs adventure tours from £2,825pp for 16 days, including flights from London.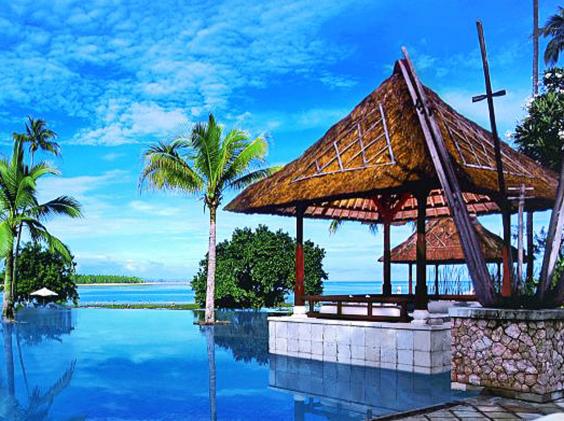 Diving in style
Medjumbe Private Island off Mozambique (00 27 11 658 0633; medjumbe.com) is the place to splash out on a decadent diving trip. This all-inclusive island is lapped by the Indian Ocean where the sunlight seems to make the reefs glow and fish laze over dense areas of hard corals. The atmosphere on land is equally laid-back, and one of simplistic perfection. Doubles start at US$590 (£393) per night.
Indonesia is a vast archipelago with more than 18,000 islands. Straddling the equator, it is also a diving hotspot with destinations from budget to the very best. Just a short hop from Bali, on the island of Lombok, the Oberoi (0207 222 0606; oberoihotels.com/oberoi_lombok) is a luxurious tropical hideaway with gorgeous private pool villas and views over the coral-ringed Gili Islands. Once the haunt of backpackers, the Gilis are also a diver's dream, with easy options for novices as well as more challenging sites. Five-night packages, including room, breakfast and five dives, start at US$625 (£417)pp.
Underwater romance
The perfect diving honeymoon requires a daydream island with palm trees swaying above turquoise water. Dutch Saba in the Caribbean is less well known than other islands and consequently more romantic – plus the diving is some of the best in the region. Dive Worldwide has packages including accommodation, 10 dives and flights from London from £1,799pp per week.
Serious divers can even tie the knot underwater, although ceremonies usually require registration in the UK. The ultimate destination is the Maldives where most islands have the classic Robinson Crusoe-type features. Take a few steps from your luxury villa to the beach to become part of the underwater realm. The north and west atolls are the least busy and you can spend time with the ocean's gentle giants – mantas and whale sharks. The Angsana Velavaru resort will conduct an underwater ceremony before cooking a private beach barbecue for US$2,000 (£1,333) in addition to room rates, which start at US$400/ £267 (00 960 676 0028; angsana.com).
Reuse content