Travellers wearily accustomed to the UK shutting down almost completely on Christmas Day and Boxing Day woke to find that the public-transport nightmares continue. Tens of thousands of people hoping to travel today are being scuppered by either the weather or some seriously overrunning engineering works.
On the railways, the planned closure of the West Coast Main Line between the north-west and London meant that passengers had been urged to travel via the East Coast line instead. But the last few miles of that line to London King's Cross are unexpectedly out of action today, with possible problems on Sunday as well.
East Coast Trains is running an emergency timetable, terminating some trains at Finsbury Park in north London. But this suburban station is not big enough to cope with the number of trains or passengers - it has four platforms, compared with a dozen at King's Cross.
Other trains are being turned around at Peterborough. Some are simply being cancelled - so those that do run are likely to be extremely crowded, and will be stopping at additional points to carry the people whose trains have been cancelled.
Problems will to reverberate through the network. The alternative of a CrossCountry train to Derby or Birmingham and onward travel to London on East Midlands or Chiltern is likely to prove popular, leading to overcrowding. East Coast Trains is urging people who can postpone journeys to do so - with tickets for today automatically valid for tomorrow or Monday.
At Britain's airport, the morning began messily as a result of the closure of several airports because of heavy snowfalls last night. Passengers from Liverpool to Geneva and from Manchester to Hamburg and Belfast spent the night at the airport after their flights were cancelled.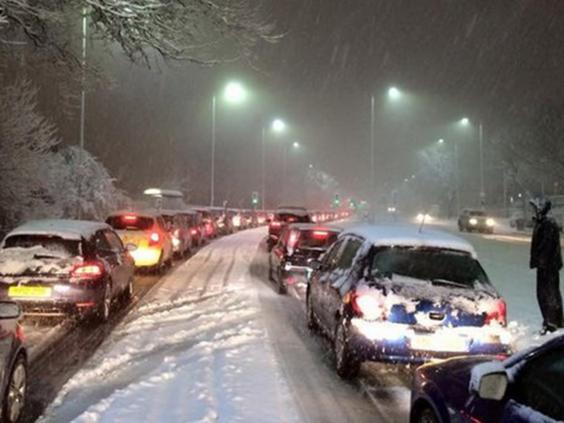 There are delays on ski flights to Lyon, Geneva, Grenoble and Chambery. But the main problems are at Amsterdam.
Snow is forecast for Schiphol airport, and the Dutch national airline KLM has already cancelled dozens of flights - including many to and from UK cities. The idea is to create a firebreak, hoping that pro-active advance cancellations of flights will mean that there's enough slack in the system to cope with weather-related problems. So far two morning flights from Manchester and Leeds/Bradford have been grounded, as well as single Aberdeen, Birmingham, Bristol, Cardiff, Edinburgh, Glasgow, Heathrow, Newcastle and Norwich flights - more than a dozen round trips.
The KLM cancellations are serious for many passengers who are going to long-haul destinations, because typically the morning flight connects with a single daily departure to Africa, Asia or the Americas.
Passengers are not entitled to financial compensation, because poor weather is not the airline's responsibility. The carrier does have to get passengers to their destinations by the quickest reasonable route, which could mean switching them to another flight via Paris. Delayed passengers are entitled to refreshments, meals and - if necessary - hotel accommodation until they fly.