Porto had a reputation for being a closed city with a lot of mystery. Even today, isolation defines it. Porto is not even near the vineyards whose dark and sumptuous "Red Portugal" wines, once inflamed by brandy, made it famous. Those vineyards, the great quintas, are a three-hour drive away and in a very different hot and dry climate. Certainly, the sun shines in Porto, but it rains as well. To this I can testify.
Instead, Porto is a storied commercial centre. Here, English merchants began trading wool 500 years ago. They moved on to wine and the Porto economy was based on coopering, piping, maturing, bottling and shipping it. Nowadays, that economy has expanded to include every imaginable opportunity for drinking it too.
The culture is unique Anglo- Lusitanian. In 1785 the English began to build the Feitoria Inglesa – the English Factory – a Palladian granite swagger of a thing, designed to entertain and to impress. You can arrange a private visit and meet the ghosts of generations of Symingtons, Warres and Sandemans. Their decorous dance cards and menus are on display. "Though forming but a small portion of society, they are tolerably conspicuous," W H G Kingston, a mystery writer, said of these English in 1844. They existed in a state of adventurous prosperity, untouched by the cosmopolitanism of a capital city. Accents and manners and tastes which evolved at home, remained stationary in Porto.
Modern Porto is still a very old city. It is architecturally spectacular, with six vertiginous bridges (two of them from 1877 and 1887 by Gustave Eiffel and his partner, Theophile Seyrig) spanning the elegantly winding Douro. The grey iron tracery of the Luis I Bridge locates Porto in the Gothic north, but the dominant red pantiled roofs draping the river's steep banks speak of the south.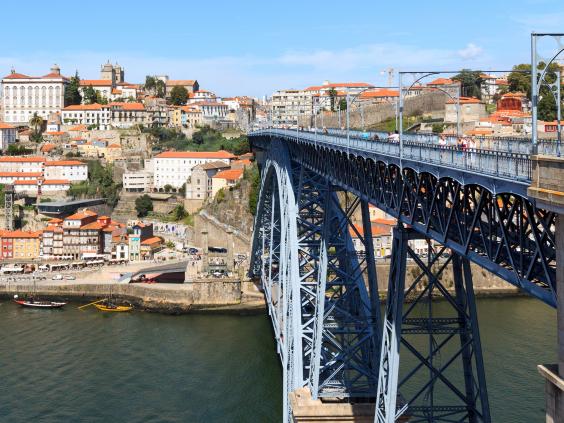 Prosperous Porto began to decline in the Sixties: those who could afford to left the town centre and moved out to Foz or Matosinhos on the Atlantic coast. Stupid rent control laws deterred property maintenance and in 2005 Porto Vivo, a revival initiative, found that only four per cent of the centre's old properties were in an acceptable state and fully half in serious disrepair.
But in less than 10 years, nearly 70 per cent of the centre's properties had been improved. The densely built historic centre (now protected by Unesco) tumbles down to the water, on occasions precipitously. The revival is real, but old Porto still seems dark, strange and almost African. It's a place I have always wanted to visit.
On final descent you pass over large areas of more modern factories, a reminder that, after a long malaise, the local economy is getting better. Pharmaceuticals, clothes, furniture, and building materials are produced here. The last is specially significant. A population of a mere 10 million has produced an outstanding number of world-class architects, including Siza Vieira, Eduardo Souto de Moura and Adalberto Dias. The Portuguese are rightly proud of this.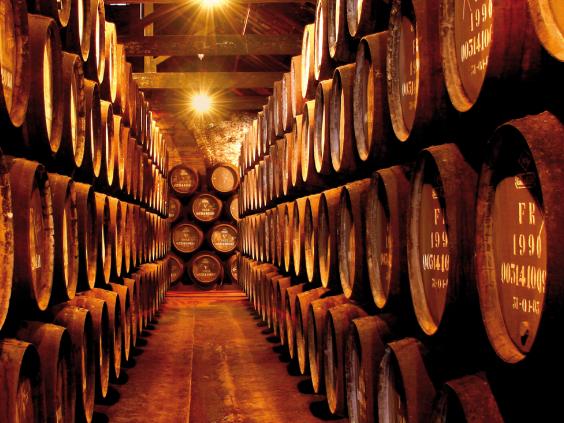 Thus, Porto's new airport is a cheerful place with lots of brightness, skylights and metal tension rods designed by ICQ, a large local practice: it advertises a new sense of collective urban identity. Downtown, on the Rua do Almada, a shop called cbc sells knobs and knockers by winners of the Pritzker Prize, including Souto de Moura and Siza themselves. This in a once impoverished city whose retail offer was characterised by strange hybrid shops selling steam irons and canaries.
The geography of Porto is simple, but decisive. It is where the Douro meets the Atlantic: the name refers to the Latin for "port". The historic centre is north of the river and Vila Nova de Gaia is on the south. Vila Nova is where the grand old port lodges have their premises and the skyline is emphatically punctuated by signs which read like the last pages of a wine list: Offley, Graham's, Fonseca and Taylor's. These are packed tight and separated by high-walled masonry defiles that are a harrowing pleasure to navigate. It is here you find The Yeatman hotel, spread over five floors that hug a steep hill, like a vineyard's terraces. It is low-rise, but from the other side of the Douro, it dominates Gaia.
The Yeatman integrates old and new Porto in an ambitious development intended to revive the better sort of tourism. The name is that of Richard Yeatman, author of the genial 1930 classic 1066 And All That. He was a member of the Taylor port family and, by all accounts, an attractive man. Indeed, Yeatman popularised white port as an aperitif.
True, no great Portuguese modern architect was troubled by the brief for The Yeatman. Instead, I would guess this vast 82-room hotel was the work of a local builder with no Pritzker ambitions. In a bad light, The Yeatman may appear like a grand Arizona funeral home. And the main entrance by road is from an urban motorway, although, admittedly, a very quiet one. (Far better to approach on foot from the river). Internal spaces are vast and finished in unforgiving hard surfaces and a harrowing yellow, but this may be an accurate reflection of local preferences.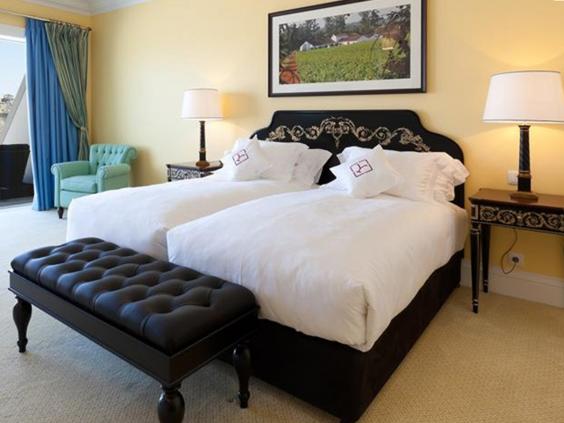 But these are precious criticisms, because the central truth of The Yeatman is that, with its extraordinary site, superlative, gravely courteous service, extravagant commitment to wine and, psychologically sensitive style-pointers aside, very high-level of physical comfort, it provides an exceptional experience. 
From your room's terrace, you have one of the best urban views I know: a gloriously eclectic architectural spectacle. You can hear the bells of Sao Francisco and the Se, Porto's dark and forbidding granite cathedral. You can see the new Austrian cable-car which, when you leave the hotel, takes you to the upper-deck of the Dom Luis I bridge.
The historic centre of Porto is compact and easily manageable on foot in a day. Sao Francisco has an interior of bewildering, dripping gold, simultaneously sick-making and breath-taking, deeply satisfying, but bewildering too. What psychological state is revealed here? Whatever could the brief have been? Sao Bento is the railway station with its fabulous azulejos tiles. Lello is the Gothic-Art Nouveau bookshop whose dark wood and crazy staircase are said to have inspired J K Rowling when she taught English here. It is opposite the Universidade where students swarm in Hogwarts gowns, so this might even be true.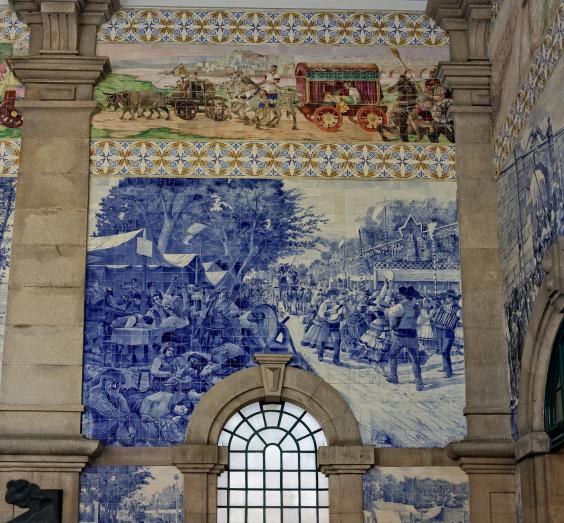 Nearby, the Clerigos tower and the careworn Armazens Cunhas, a department store that is one of Porto's many Art Deco landmarks. Alas, it proves that 20th-century building materials wear less well than the astonishing azulejos of the neighbouring Igrejia Carmelitos. And then you need to visit the Majestic Café. Were it not for the bloggers, you could sit here and eventually write a novel in the style of Jose Maria de Eca de Queiros, or, I suppose, in the style of Rowling herself.
Out of town, take the ancient, but patiently restored, tram from Ribeira to Passeio Alegre in Foz. Or if you take a taxi, go via Rem Koolhaas's astonishing, fractalised 2005 Casa de Musica. This area is Boa Vista, a little like Havana's Miramar with its glorious villas, both glamorous and decrepit. Here you find the Casa Serralves, the most spectacular villa of all in its Art Deco gardens. Within the garden is Alvaro Siza's austere Contemporary Art Museum.
The people of Porto were once called tripeiros to indicate their preference for, or tolerance of, tripe  and lesser orders of meat. To say that cocina is now an excellent reason for visiting Porto is proof of real change. Portuguese food was a betrayal of nature with its burnt fish, wet cabbage and thin, bitter vinho verde. 
To get a sense of the old order, visit the Bolhao market. Here you can buy tiras de chocos (cuttlefish strips), tripas quentes (helpfully translated as hot guts) and miolo de buzio (breadcrumbed conch). Perhaps a big octopus. Or the thoroughly repellent percebe, a third-world barnacle whose reputation as a powerful aphrodisiac is not sufficient to recommend it. 
Porto restaurant culture is now very lively indeed. The Taberna dos Mercadores is a tiny restaurant in a comedically steep and narrow street. We ate bacalhau and polvo con arroz. These were not delicate dishes, but we were hungry. Its sister restaurante is Terreiro, on a fine site overlooking the river next to a tiny chapel. It is cramped, but cheerfully modern: the feijoada de polvo (octopus and bean stew) is served in massive, sizzling black iron pans. 
Best of all was Cantinho do Avillez. I do not care much for the effortful sophistication of the Michelin star system and Jose Avillez has two in Lisbon, but in simpler Porto his food achieves a thrilling clarity through refined simplicity: gaspacho de  cerejas (cherry gazpacho), vieras marinadas (a ceviche of scallop with avocado puree), peixinhos da horta (deep-fried French beans with  lemon salt and tartare sauce),  nuggets de bacalhau comprised one of my best ever lunches. A glass of port – vinho generoso – makes real sense afterwards.
The Yeatman's Ricardo Costa has a Michelin star of his own and is capable of all the system expects, but the small restaurants of the riverside Ribeira are too tempting to ignore. Instead, I spent time in the hotel's bar drinking-in the wine list with 1,300 entries and drinking the white port and tonic cocktail and enjoying the barman smacking the mint that goes in it. I also tirelessly drank in the fabulous views from The Yeatman's terraces and adored watching the changing light over the townscape as smoke from braziers of seasonal chestnuts made the sunset blink while mournful bells clanked. 
Porto is big enough to be interesting and small enough to be intimate. I have only one test of any city or hotel or restaurant : "Will I go back?" Yes I will.
Travel Essentials
Getting there:
TAP Portugal (0345 601 0932; flytap.com) flies from Gatwick to Porto twice daily with return fares starting at £120.
Staying there:
The Yeatman, Rua do Choupelo 88, Vila Nova de Gaia (00 351 220 133 100; theyeatman.com). Doubles start at €335, room only.
Eating & drinking there:
Majestic Cafe, Rua de Santa Catarina 112 (00 351 222 003 887; cafemajestic.com).
Taberna dos Marcadores, Rua dos Mercadores 36 (00 351 2220 10510).
Terreiro, Largo do Terreiro 11-12 (00 351 222 011 955).
Cantinho do Avillez, Rua de Mouzinho da Silveira 166 (00 351 223 227 879; cantinhodoavillez.pt).
More information:
Reuse content