Creating an Alpine village from scratch in the 21st century is typically French. By the time the new millennium dawned, Les Arcs had assembled the components that make up a modern, purpose-built resort, with Arc 1600 – dating back to the Sixties – paving the way for the much larger apartment blocks of Arc 1800 and the moonscape isolation of 2000 in the years that followed. At a lower level, Plan Peisey and Vallandry specialised in family apartments, while the crumbling barns and cow byres in Peisey Nancroix and Villaroger were reinvented as chalets, cafés and rental shops. 
What was missing? Maybe a faux Savoyarde village built by a Canadian mega-developer? If Intrawest could bring a level of intimacy to factory resorts such as Whistler and Tremblant, what might it achieve on a virgin snowscape in the shadow of the Aiguille Rouge? Arc 1950 set light to its 10th anniversary fireworks last year, and I'm surprised to be able to say it works brilliantly.
The master plan was to adapt traditional structures to contemporary purpose, high but not too high, colourful and decorative, but above all small. Arc 1950 is the ultimate in niche ski-in, ski-out: eight residences with parking directly underneath giving snow users free run of the streets.
Much of the accommodation is privately owned, but it is available through rental pools so that  guests have a wide choice of apartments. Fully equipped kitchens allow for self catering – there is a small convenience store and a bakery – but guests can also eat at on-site restaurants or call up room service.
By comparison with its neighbours, notably the Trois Vallées and Val d'Isère/Tignes, the skiing in Les Arcs is under-exposed, which means minimal queues and maximum off-piste. Sliding smoothly out of 1950 on to the lifts leading to the top of the Transarc, the main link up from 1600, opens up miles of friendly groomers, but no self-respecting snow user would take such an easy option on a day the blizzard stopped.
Arc 1950, France
Arc 1950, France
1/6

The ice grotto (Andy Parant)

Andy Parant

2/6 Aiguille Rouge Cable Car

Aiguille Rouge Cable Car, Les Arcs, France (Andy Parant)

Andy Parant

3/6 Arc 1950 during the day

View of Les Arcs France

4/6 Arc 1950 nightshot

Les Arcs at night

Pascal Scalp Gombert

5/6 Panorama-Telepherique Aiguille Rouge

Panorama-Telepherique, Aiguille Rouge

6/6 Arc 1950

Arc 1950 on the map
Better to hang a left to access the Varet gondola and the Aiguille Rouge cable car to 3,226m. Standing on top of that particular Alp, albeit in a chilly wind, opens up two tantalising perspectives. Both start with a swoop down the exposed shoulder to the point where trails divide. Skiers' left funnels under rocks into glorious snow fields, with black descents to test technique and fitness to the limit. If it's a test you'd fail, make a wider sweep into the blue-rated Vallée de l'arc, a learning ground of infinite possibility for any L-plate powder hound.
Taking skiers' right will draw you into the Aiguille Rouge run to Villaroger, one of the longest in the Alps. It starts black and turns red, sweeping majestically down the mountain until it reaches the treeline near the bottom. Because it attracts few skiers, the challenge is to do it without stopping, a real thigh burner if you keep your foot on the gas, but possible with a bit of judicious pacing. Either way, there are few more welcome sights than La Ferme, the rustic bar-restaurant on the final path. For more sophisticated mountain fare, there's l'Ancolie, a family-run classic in Nancroix that serves mouthwatering home-made patés; and the gastronomic Belliou La Fumée, a former bear-hunting lodge owned by King Emmanuel II of Savoy, near Arc 2000. 
Paradiski, the area that includes both Les Arcs and the vastly larger La Plagne, came into existence when the Vanoise Express opened, linking the two in 2003. The horizontal cable car between Plan Peisey and Les Coches/Montchavin travels at 400m above the valley floor, a ground-breaking engineering feat at the time. Like Les Arcs, La Plagne rewards its core patrons – families and intermediates – with an extensive red and blue network between the main population centres, Plagne Centre, Plagne Bellecôte, Plagne Aime and Belle Plagne.
The search for terrain outside the comfort zone starts on the chair to Roche de Mio and ends at the top of Bellecôte. Take your pick between Bellecôte and Roche, black descents to the bottom of the Chalet de Bellecôte chair. Miss that connection back into the main system – all too easy to do – and you'll be tackling the tough Derochoir run down to Arpette. For a real adventure, hire a guide for the Couloir du Cairn, but make sure they are carrying a rope for the ice waterfall at the bottom.
After a relaxing cruise on broad boulevards back to Arc 1950, Le Village, as it styles itself, feels like home. The firepit in the Place de l'Horloge (clocktower square) blazes cheerfully, its ring of seats grabbed by eager apéro drinkers. Strollers gather to pick their dinner spot from an unexpectedly wide choice: Italian at Chalet de Luigi; Asian at East; steaks at Hemingway; and that's before you start on Savoyarde DIY. For cheese fondue or raclette, join the crowd at La Perce-Neige, a noisy eatery favoured by everyone aged between two and 90. La Table des Lys comes closest to  fine dining.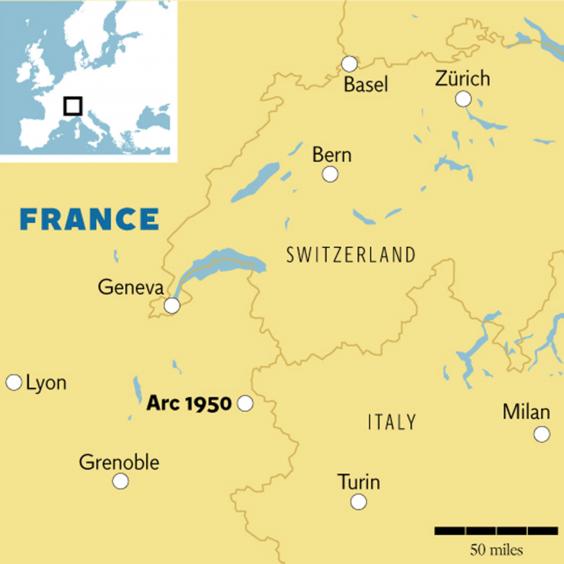 La Grotte de Glaces des Arcs is an ice maze, its web of passages decorated with sculptures of mythic men and beasts. A short ski from the Marmottes chair next to 1950, it also offers nocturnal snowshoe expeditions with igloo dinners followed by dancing on the ice floor. Back in 1950, there are livelier options.
Of the many British skiers who've bought into the Arc 1950 dream, George McInnes is the icing on the cake. In 2006, George Brown, as he then called himself, indulged his passion for skiing by buying an apartment in Arc 2000. In the evenings, he sang Sixties and Seventies classics in local bars, among them the failing Au Tours des Vins in Arc 1950. Under orders from his wife to get a proper job, he bought the business. Within five years, George Brown's Wine Bar was so successful that he was able to drop the Brown and stop singing.
Fans gather as soon as the lifts close, ordering glasses from the impressive selection of 40 wines, 80 per cent of them non-French. The wise buy a bottle and move on to dinner, but many more stay until closing time, often stepping up to the karaoke on a wave of confidence, some of it misplaced. English is the lingua franca, merriment the order of the night. For the die-hards, O'Chaud is a natural progression. The chic lounge bar does great trade with its après-ski fruit cocktails, ramping up the tempo later on with live music or DJs.
And the following morning? Clip into your skis and head for the slopes – there's no better cure.
Getting there
Minty Clinch travelled with Erna Low  (020 7584 2841; ernalow.co.uk),  which offers a week's self-catering at Le Village, Arc 1950, including return flights from London to Geneva and shared transfers from £324pp. The residence has direct access to the slopes, an indoor swimming pool, sauna, steam room and Jacuzzi.  
More information
Reuse content