'And for us," declares Marcello, "the war begins." I'm on a multi-day guided Great War Ski Tour, where trivial laments of the modern-day skier – lift queues, runny noses, sore legs – take a back seat. One hundred years ago a very real war was waged here after Italy joined the Allies in April 1915 and declared war on Austria-Hungary a month later. Austro-Hungarian and Italian troops battled in places now famous for fur shops and cappuccino stops – Cortina, Val Gardena, Alta Badia, Marmolada, Sella, Lagazuoi, Tofane, Cinque Torri. From 1915 to 1917, the ski slopes of the Dolomites were on the war's frontline.
Mountain guide Marcello Cominetti and I slide towards the gondola entrance. Equipped with skins on our skis for climbing, as well as beacons, probes and shovels, we're skiing through the First World War – tunnels, battlefields, bridges and mountain tops. In comfortable juxtaposition, we will stop at different mountain rifugios and hotels each night – soaking up the blowout scenery, remarkable cuisine and fabulous skiing that South Tyrol now shares with the world.
Our bubble rises upwards from the village of Corvara, jagged peaks filling the window frame. At the summit, Marcello aims his ski pole across the valley, directing my gaze towards a formless white nob – Col di Lana, the epicentre of battles between Austrian and Italian troops. About 10,000 soldiers were killed protecting that innocuous-looking knoll, a vital link in the supply route for munitions and food from Venice to the mountains. Next to the treeline we make out Marcello's house; nearby, bunkers and holes from explosive charges are still discernible in summer.
It's a glorious morning-long ski on sunny pistes en route to Marmolada, the Dolomite's highest glacier and premier powder stash. Impressive as the boot-top powder promises to be from the top, it's far less miraculous than what we see next.
Best snow sports holidays
Best snow sports holidays
1/7 Québec City, Canada

With Old World charm by the bucket load and an average snowfall of 400cm per year, Québec City is a magical place for snow sports fans to get their winter kicks. Whether you try your hand at Ice Climbing at Montmorency Falls or visit one of the two world-class ski resorts, Mont-Sainte-Anne and Stoneham Mountain, you'll be spoilt for choice in Québec City. Don't forget to catch a game of ice hockey whilst you're there.

2/7 Gstaad, Switzerland

A true winter wonderland, Switzerland is synonymous with all things snow related – and nowhere does it better than the ski town of Gstaad. One of the largest and most diverse winter sports regions in the country, Gstaad offers 220km of pistes at 3000m above sea level – and the slopes are even floodlit by night time, giving skiers and snowboarders the chance to experience a truly magical ride.

3/7 Gulmarg, India

When thinking of the world's top snow destinations, India might not be the first place that springs to mind – or indeed, the second or third. However, you'd be missing a trick if you left it off your list, because Gulmarg is certainly a gem that deserves to stay polished. Sitting high in the Himalayas in the north of India, Gulmarg is a small hill station that is India's leading ski resort. What's more, it also boasts the second highest cable car in the world, offering truly spectacular views over the world below.

4/7 Nuuk, Greenland

If you're looking for a snow holiday that's a little off piste from the regular favourites, Greenland's Nuuk could be just the place for you. With all the snow and slopes you could ever dream of, conditions are great for both cross-country and alpine skiing. What's more, there's a whole plethora of other activities available from dog sledding to climbing and mountaineering that will leave you wondering why you've never considered Greenland before.

5/7 Corralco, Chile

Just 50km from the exciting city of Temuco, Chile's Corralco is a small but perfectly formed snow resort with tracks catering to everyone from beginners to experts. Situated in the middle of the Malalcahuelco Natural Reserve and on the Lonquimay Volcano, Carralco provides a breathtaking backdrop to your snow holiday.

6/7 Rusutsu, Japan

Considered one of the best ski resorts in Japan, Rusutsu is heaven for fans of off piste skiing. The ski area covers three mountains, offering a great mix of options for all levels and abilities. With excellent snowboarding and natural thermal springs to warm up at the end of a long day, Rusutsu is certainly the place to head for your fix of snow sports in Japan.

7/7 Trysil, Norway

The largest ski resort in Norway, Trysil is a hugely popular choice with families and offers a great ski school for beginners to find their feet before hitting the slopes. But fear not, because with over 40 lifts and 70km of runs, you can be sure that there's something there to please every ability! If you fancy improving your winter sport skills in the heart of Scandinavia then Trysil is the place to head.
They called it Ice City. Hundreds of Austrian soldiers lived for two and half years inside Marmolada glacier – a 12km labyrinth of caves and tunnels at 3,300m. Barracks, kitchens, first-aid stations, a chapel – all dug up to 60m beneath the ice's surface. Marmolada's Ice City was one of the Great War's iconic theatres, now revealed in the Museum of the First World War located inside the top gondola station. As if this extraordinary feat of warfare and survival weren't enough, the winter of 1916-17 was remarkable – more than 10 metres of snow fell, including four metres in one 48-hour period after which, on what became known as White Friday, an estimated 10,000 soldiers died in avalanches on the Dolomite front.
A century on, the mountains continue to release their secrets. As recently as 2012, the remains of two soldiers were found in the Presena Glacier, around 100km to the west. According to Marcello, September is a good time to find the relics that are reluctantly churned out by melting glaciers.
The next day, with the snowpack at the nine-metre mark and more falling, skiing is superb but plans are being complicated. Our next destination is historic Rifugio Lagazuoi, perched peak-top over the breath-taking Unesco World Heritage mountainscape that stretches from Cortina to Val Badia. Accessed by a rickety red cable car, Lagazuoi is the jump-off point for the scenic Armentarola, the longest piste in the Dolomites, as well as to a labyrinth of still navigable mountain tunnels, dug by the Italians. Sylvester Stallone had better luck with the weather while filming Cliffhanger here: for us, heavy snowpack has rendered the tunnels momentarily inaccessible. Consolation comes in the form of a delicious refuge dinner of venison, polenta and excellent local red wine, served on the precipice of what Italians call "il fronte verticale".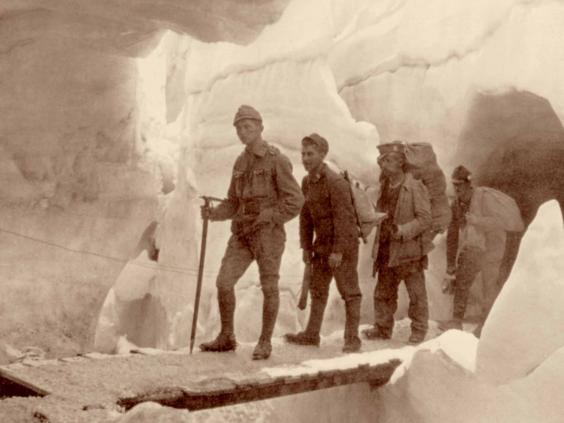 Peace dividends are found at every turn – and not only on skis. The First World War in the Dolomites saw the first widespread use of via ferrata – a system of fixed ladders and ropes built into the rock – to aid the movement of troops. Today, they are a global recreational phenomenon that allow novice alpinists to climb dizzying heights.
Down in the village of Corvara, at the atmospheric Hotel Posta Zirm, hotel patriarch Heinz Kostner guides me through the black and white photos that decorate the cozy Stube, a focal point of the village since 1908. His grandfather, Franz Kostner, personal mountain guide to Prince Arnulf of Bavaria, was present at the battle of Col di Lana as a major in the Kaiserjager.
In a war where men from the same villages and, in some cases, the same families found themselves on opposing sides, one thing shared was respect for the mountains and for what Mark Thompson, author of The White War, called "a third army". Snow.
"On one occasion, my grandfather said, 'Don't put the troops there'. The next day 36 were killed by an avalanche," Heinz recalls. "You may have your enemy in front of you in the mountains, but in an avalanche you may need his help."
After the war, South Tyrol was annexed by Italy, creating a unique blend of Italian, Ladin, and Austrian cultures that bring a punchline to life. "The food is great, the people are funny, and everything works," says Marcello. It is now one of Europe's richest regions.
After four days of superb skiing and spectacular scenery, charming rifugios and mountain restaurants, Marcello delivers me to my final stop, Hotel Ciasa Salares, a four-star den of wine and gastronomy on the outskirts of tiny San Cassiano. It's home to the youngest Michelin-starred chef in Italy, five restaurants and a dedicated chocolate Stube.
Leaving me at the door, he offers a kiss on the cheek and sage words to face the modern South Tyrol menace: "Don't get fat."
Getting there
The Great War Ski Tour is offered by Dolomite Mountains (0844 854 1882; dolomitemountains.com). Starting and finishing in Alta Badia, the four-day guided trip costs from €970 (£715)pp (€870/£641 self-guided). Skiing is lift-service, with some off-piste descents. The prices include three nights' accommodation, lift pass, breakfast, and dinners.
The closest airport with UK links is Innsbruck, served by easyJet (0843 104 5000; easyJet.com) and British Airways (0844 493 0787; ba.com) from Gatwick and Monarch (0871 940 5040; flymonarch.com) from Manchester.
Visiting there
Rifugio Lagazuio (00 39 0436 867303; rifugiolagazuoi.com).
Hotel Posta Zirm (00 39 0471 836175; postazirm.com).
Hotel Ciasa Salares (00 39 0471 84 94 45; ciasasalares.it).
More information
Reuse content