When one of your ski companions sends a reminder to pack bed sheets the night before your holiday, you can be sure the budget ski trip you arranged one particularly parsimonious week in November is going to live up to its word.
Apparently we'd forgotten to tick the "fresh linen" box when we booked our trip. Staring dismally at my already bulging suitcase it took me less than a minute to prioritise three extra thermals over a good night's sleep. I optimistically stuffed them into my case, hoping I'd be too exhausted after a day on the slopes to notice the lack of comfort.
However, budget was to be a theme of the trip. As a 23-year-old living on a graduate wage in London, one of the world's most expensive cities, I have little in the way of disposable income – meaning that skiing holidays aren't easily achievable.
Happily, that's where Breakout Ski came in. This team of post-university ski bums set up the company to provide cheap snow sports holidays in French resorts for ski-addicts like me, who don't have mountains of cash to spare.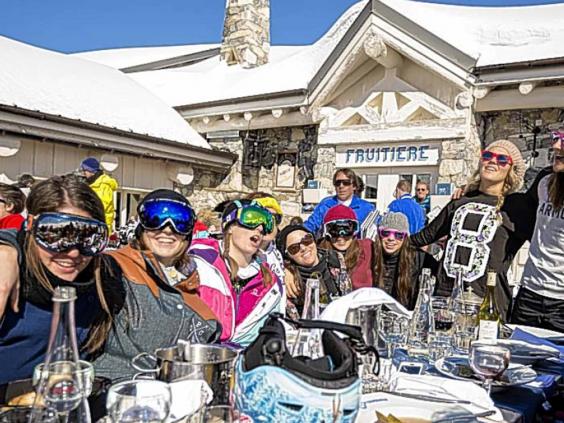 Based in Risoul, Tignes, Alpe d'Huez, Les Deux Alpes, and now Avoriaz, Breakout Ski trips cost a maximum of £419 per person including coach travel from London, a ski pass, and a week's self-catered accommodation. Once you've factored in equipment hire (£89), recommended insurance (£42.50), and spending money, the overall cost is unlikely to topple £700 (although that really depends how much vin chaud you drink while you're there). When you consider a lift pass can cost up to £300 in many Alpine resorts, it's easy to see why Breakout has been so popular since it launched five years ago. The only catch is that trips are limited to one or two departures per season for each resort – this season, Tignes was assigned the disastrously un-snowy pre-Christmas period.
Conditions were rather more favourable last January, when I set off in my party of three for blizzard-hit Tignes. Rather more daunting was the 20-hour coach journey required to get there, not least because our coach, one of two Breakout Ski buses heading to Tignes that week, had broken down at Victoria Coach Station.
A lengthy delay ensued as one of the reps tried to locate the jump leads required to kick start our holiday. In the meantime, the coach driver's strict no-alcohol ban fell on deaf ears and by the time we arrived in Calais, one guilty passenger had vomited over a friend's seat. The trips may be billed as holidays for everybody, but it's hard to imagine a young family surviving an overnight coach journey surrounded by rowdy, retching graduates. Tignes spirit, indeed.
The apartment was basic: bunk beds, a small shower, a modest kitchenette. However, it catered to our needs, which were namely eating and sleeping. And after a night on the coach from hell, even the linen-free mattresses looked appealing.
Tignes is littered with bars and clubs, making it a great choice for skiers who like to "après". Raucous bar and restaurant La Folie Douce is essential for a shimmy in your salopettes.
It's not noticeably cheaper than other resorts but, like university-run ski trips, Breakout Ski knows how to win the hearts of its young customers, and the company wooed us with drinks deals and a busy social schedule. To this end, the ski reps performed "room rounds" every two days to keep everybody informed of what was going on. In fact, the trip was so reminiscent of a university freshers' week I wouldn't have been surprised if we'd been handed timetables and library cards along with our lift passes.
By the end of the week, the noisy boys who had livened up the journey had become our bosom buddies. There were stolen kisses in cheap nightclubs, emergency breaks on too-bright slopes, and lots of bad dancing to bad music in bad discothèques – the sort only found in ski resorts. However, the skiing was still the highlight. A £40 one-day supplement to the lift pass gave us access to the wider L'Espace Killy area, which includes ritzy Val d'Isère. A day on the slopes was followed by an evening gossiping about favourite runs, the following day's weather forecast, and whether or not €15 was too much for a mediocre steak haché (a unanimous yes). No matter how wild the party the night before, everyone hit the slopes by midday – some more red-eyed than others.
Breakout Ski certainly offers a great-value ski holiday, but it's a little rough and ready. After a week of hard partying and even harder skiing, I arrived home and fell asleep the minute my head touched my freshly-laundered pillowcase.
Back at work on Monday, a colleague asked me for the name of the company and said he might take his partner. I sent him the details and suggested he took ear plugs for the journey.
Getting there
Breakout Ski is operating trips to Alpe d'Huez from 20-28 March for £375, and to Les Deux Alpes from 10-18 April for £359. Prices include return coach travel, self-catered accommodation, and a six-day lift pass (020 8246 6677; breakoutski.com).
Visiting there
La Folie Douce, one of the legendary Alpine clubs (00 33 4 79 06 07 17; lafoliedouce.com)
More information