Choosing a winter-sports holiday destination isn't easy: the options are numerous and the variables complex. But in the run-up to each season the major resorts all attempt to narrow down the choice to only one, by highlighting improvements they have made during the inter-season. In recent years, two resorts have been particularly persuasive: both Whistler in western Canada and Val Thorens in France's Les Trois Vallées ski area have, through good planning and marketing, consistently indicated that the previous season's visitors will miss a treat if they don't return immediately.
For 2014-15, however, it is clearly Val Thorens which is the must-visit destination, ahead of Whistler and all other claimants. To its basic offer – a huge, usually snow-sure ski area with what are apparently the fastest lifts in France – it has added a range of innovations. It was also named the world's best resort in last month's World Ski Awards. True, there's actually nothing innovative about that, because it won the same award last year; but this time one of its five-star hotels, the remarkable Altapura, also won the best ski hotel in France category.
That is arguably more significant, since it bears out the recent transformation of Val Thorens. Before December 2011 it had no five-star hotels; now it has three, with another due to open next season, plus two new four-star properties. Like many of the purpose-built French resorts created in the 1960s and 1970s, it has virtually no more land to develop, so it decided to forsake its strongly three-star image and increase its income by going upmarket. Other resorts would love to do that. Val Thorens already has.
If the resort felt like celebrating that, the advent – a couple of weeks ago – of Club Med's glittering new property provided a golden opportunity. With its customary enthusiasm for a party, Club Med marked the opening with a three-day celebration which included long speeches by local politicians, fireworks, and a fancy-dress event for which a lot of men let their wigs down and overdid their maquillage.
In pictures: Val Thorens
In pictures: Val Thorens
1/5 Val Thorens

Room with a view: a balcony at the new Club Med in Val Thorens

Michelle Davies

2/5 Val Thorens

The award-winning Altapura hotel

3/5 Val Thorens

The world's highest zip wire: Val Thorens, France

4/5 Val Thorens

Val Thorens map

5/5 Val Thorens

Valley high: on the slopes of Val Thorens
The new, 384-room hotel cost €14m and was almost 18 months in the making. Its construction site was the biggest that Val Thorens has ever seen. The core of the ski-in, ski-out hotel could be taken for a conference centre were it not for the playful, manifestly non-structural timbers and colourful panels inserted into the white façade.
Inside, a glass staircase spirals up a four-storey atrium, giving access to public areas that are also predominantly white, with tones of ice and neon. Beyond are most of the rooms, in a 275m-long wing that clings tenaciously to a wall of rock. The whole striking ensemble lies just above the road into Val Thorens, a very visible new jewel in the resort's burgeoning crown, joining – among others – a five-star property called the Koh-I Nor.
What else is new in the resort this season? There's a ski-cross stadium with two courses, one for professionals and another for recreational skiers who want to try the latest and most exciting form of downhill racing. In addition, a 1.3km-long zipline ride has been installed – the highest in the world, and the fast-growing Evolution 2 ski school has opened a new franchise at Val Thorens, which probably has something to do with the initiatives from the local Ecole du Ski Francais (ESF).
The long-established, two-Michelin-star Jean Sulpice restaurant now has competition from the restaurant at Koh-I Nor, which has appointed a head chef who has won two Michelin stars elsewhere. A former shepherd's hut on the slopes is serving authentic Savoie cuisine in its new dining rooms.
Both the ski-cross stadium and the zipline were the first items on my agenda when I set off for the resort earlier this month. But there was a problem: both of them require a substantial amount of snow, and the snowfall at Val Thorens was insubstantial in the first week of December.
Despite the resort's move upmarket, it still remains the poor cousin of its better-known neighbours in Les Trois Vallées, Courchevel and Méribel: it lacks the Russian-accented bling of the former and the old-money class of the latter, a British stronghold.
Where Val Thorens has the edge on them, though, is in altitude; it is the highest resort in Europe, and its slopes extend about 300m further up the mountain than the other resorts, with consequent advantages in reliable snow cover. True, in poor visibility and high winds the shelter of trees can be a draw; but if you just want snow, Val Thorens is the place to go, up above the ski line.
It's not infallible, however, which is why another skier and I found ourselves skiing up the lightly dusted slopes, on a half-day ski touring session offered by the new "Office de la Montagne" programme, launched this season by the ESF.
I first experienced resort-based ski touring last season at Tremblant, above Montreal, and was immediately taken with it. You shuffle up the snow on skis with "skins" underneath, which prevent them sliding backwards; after a couple of hours of light exercise – it's much less demanding than snowshoeing – you take off the skins, lock down your boot heels, and ski back.
The ski-touring boots and skis are light, comfortable, and rather beautiful, with neat adjustable heels that can switch from flats through to stilletos to keep your boots horizontal on different gradients.
The journey up can take you through natural terrain where other skiers and the paraphernalia of ski resorts can neither be seen nor heard; and the feeling that you have really earned your turns makes the descent particularly gratifying. It works up an appetite, too. I sated mine at the restaurant of the Koh-I Nor. It has a great room, serves Savoie food which somehow manages to be both hearty and delicate, and charges comparatively reasonable prices – there are lunch menus at €38 and €45.
Sadly, the lack of snow meant skiing down the lower slopes to the new gourmet hut, Chez Pepe Nicolas, was out of the question. But I drove down the bumpy track for a snack, and fell in love with the place. If you are in Val Thorens or the adjacent resort of Les Menuires, don't miss it.
Back at Club Med – which is aimed at grown-ups rather than families – the crowd included Edouard Loubet, who has a two-Michelin-star restaurant in Provence and is creating menus for the new property, and Daniel Gauthier, the co-founder of the Cirque du Soleil, with whom Club Med is working on a joint project.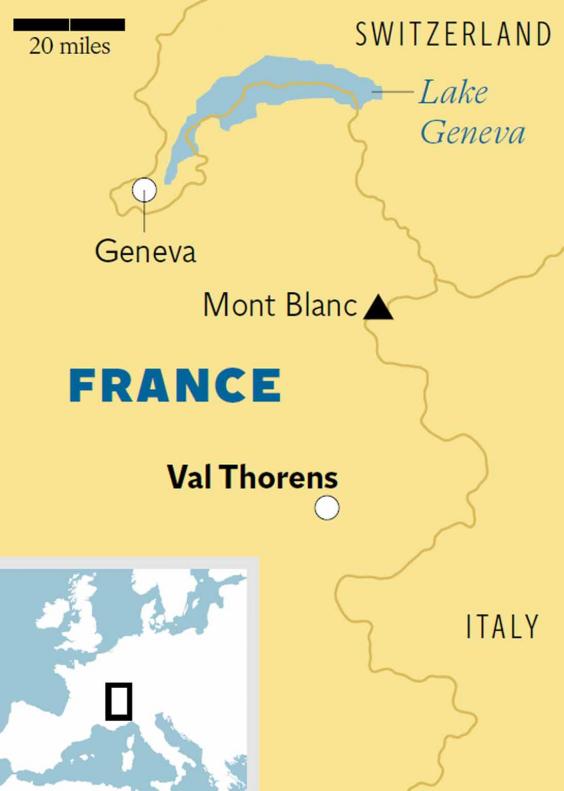 For the official launch a line of bigwigs sat up on stage and, in turn, made appropriate speeches. Alongside the politicians and the CEO of Club Med, Henri Giscard d'Estaing, was a small, avuncular man who bristled at being described as "the soul of Val Thorens". He was Pierre Josserand, who has worked at the resort since before it opened and who, as chairman of its operating company, has had the central role in its recent transformation.
After the speeches I asked Josserand if he had now completed the task he set himself a decade ago. No, he said, reminding me of the medium-sized five-star hotel still to come next season; but he admitted, with a smile, that the opening of the Club Med was "the end of the first stage". What he didn't mention was that the property was built on the last major site available for development in Val Thorens.
Getting there
The closest airport is Grenoble, served by Monarch (0871 940 5040; flymonarch.com), easyJet (0843 104 5000; easyJet.com) and British Airways (0844 493 0787; ba.com). Val Thorens can also be accessed from Geneva and Turin.
Staying there
A week at Club Med Val Thorens Sensations costs from £1,535 per adult and £1,275 for six- to 12-year-olds (under sixes stay free), including flights from Gatwick and all-inclusive accommodation (0845 367 6767; clubmed.co.uk/ski).
Altapura (00 33 4 50 90 63 20; en.altapura.fr).
Hotel Koh-I Nor (00 33 4 79 31 00 00; hotel-kohinor.com).
Eating and drinking there
Chez Pepe Nicolas (00 33 6 09 45 28 35; chezpepenicolas.com)
More information
Reuse content