Soho House: West Loop
The latest property from the Soho House group launched this month within a red-brick building which once acted as a the headquarters of the Chicago Belting Company.
Occupying a prime spot in the fashionable, former warehouse district, West Loop, it rubs shoulders with converted art galleries and loft spaces. In the rooms, four-poster beds, dusky walls and soft, velvet armchairs mix with crystal decanters and brass reading lights.
Elsewhere, there's a Cowshed Spa and two buzzy restaurants – Pizza East and the Chicken Shop. For light lunches and cocktails, head to The Allis, named after the family that built the building, or hit the House Kitchen for hearty Chicago-Italian fusion food.
Soho House, 113-125 N Green Street, West Loop (001 312 521 8000; sohohousechicago.com). Doubles from $240 (£150), room only.
Longman & Eagle: Logan Square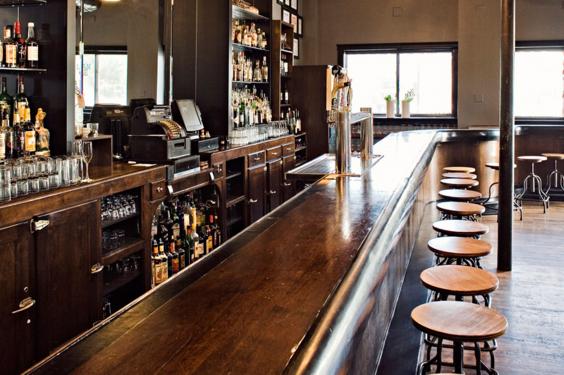 This popular farm-to-fork restaurant has six arty rooms upstairs. All feature handmade wooden furniture by Mode Carpentry, with prints and photography by a wave of contemporary American artists.
Our favourite is Room 4, which comes emblazoned with a full-wall mural by Chicago-based printer, Ryan Duggan, which triumphantly announces: "The End". Considering the long list of 300 whiskeys downstairs – many of which come in at $3 a shot – it's not hard to see why.
Longman & Eagle, 2,657 North Kedzie Avenue (001 773 276 7110; longmanandeagle .com). Doubles from $85 (£53), room only.
The Godfrey: River North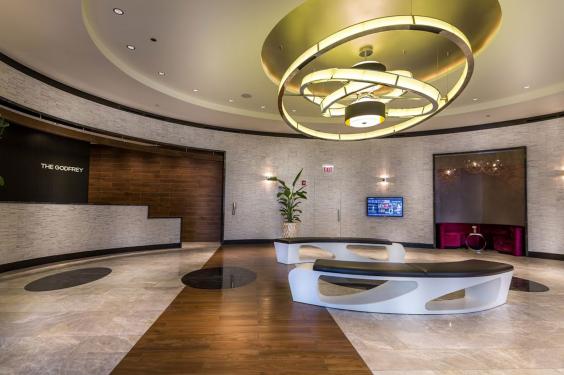 Skyscrapers grow like trees in Chicago, but this sleek glass-and-steel address certainly cuts a striking figure in the River North area. Inside, you'll find The Godfrey, a clutter-free boutique retreat full of clean lines and pared-back spaces.
That is, until you get to the Urban Roofscape, a huge venue on top, filled with Lego-inspired bar seats, industrial air ducts, neon lighting and a video wall. Head upstairs to party, then retire to one of the serene rooms, where neutral shades abound. 
The Godfrey, 127 West Huron Street, River North (001 312 649 2000;  godfreyhotelchicago.com). Doubles start at $139 (£89), room only.
Thompson: Gold Coast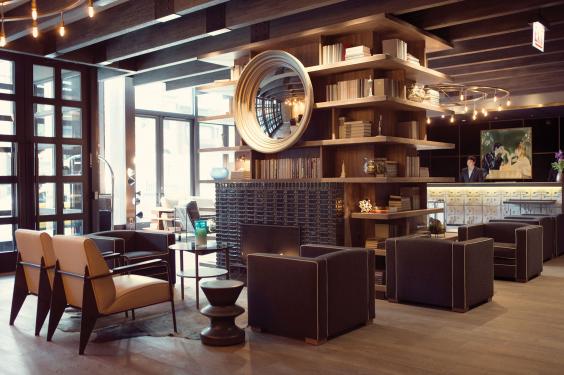 Interiors at this new Thompson outpost come courtesy of Tara Bernerd, a British designer responsible for creating treehouses for Center Parcs and ski retreats for Swissotels.
The look is bold but inviting, with modern art prints and mid-century furniture in the low-lit rooms, many of which afford views of Lake Michigan. The opulence continues downstairs in the lavish Salone Nico bar and Nico Osteria restaurant, both of which pay tribute to Chicago's Italian heritage.
Thompson, 21 East Bellevue Place,  Gold Coast (001 312 266 2100;  thompsonhotels.com). Doubles start at $259 (£162), room only.
The Kinzie: River North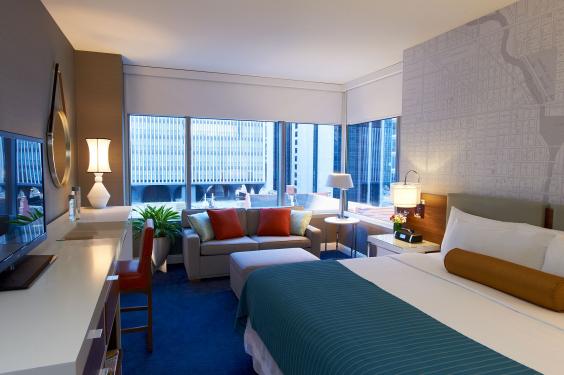 What once stood as the Amalfi Hotel, has recently remerged as The Kinzie. Named after a Chicago silversmith, John Kinzie, the new-look retreat pitches itself as a spot for hard-working business travellers, complete with free Wi-Fi, a 24-hour gym and a Double Cross Lounge for winding down after meetings.
Unfussy rooms aim for convenience over stand-out styling, though that's not to say they don't have character, thanks to full-wall murals of Chicago's gridiron streets.
The Kinzie, 20 West Kinzie Street,  River North (001 312 395 9000;  kinziehotel.com). Doubles start at  $267 (£167), including breakfast.
Public: Gold Coast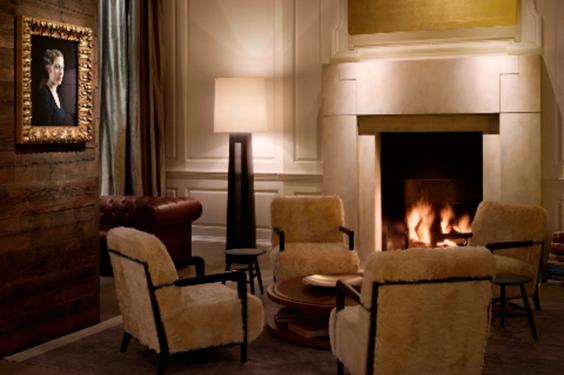 In between selling off his Morgans empire and launching the new Edition Hotels group, Ian Schrager opened Public. The name refers to the Studio 54 founder's desire to create a more-inclusive brand, where the no-frills ethos trickled all the way down to design.
Accordingly, rooms feature a "no colour" palette, with a simplified one-button phone and prices that aspire to be affordable. The plan was to expand the model, but to date, Chicago remains the only property. 
Public, 1301 North State Parkway, Gold Coast (001 312 787 3700;  publichotels.com). Doubles start at  $159 (£99), room only.
Reuse content