If it wasn't for Daphne du Maurier, Bodmin Moor would be perhaps the least visited, least populated, part of the UK. Even as it is, a fraction of those who zip through it on the A30 en route to the Cornish seaside pull over to nose around Jamaica Inn, the landmark pub on the moor. The resonance, of course, comes from the eponymous novel, published in 1936 and dramatised to mixed reviews earlier this year.
Much better, I think, to step into the landscape rather than watch it on television – in this case on a circular walk around the inner heart of the moor. The butterflies in my stomach betray a limited sense of trepidation: there's the Beast of Bodmin – which, intriguingly, even sober people I've encountered do not entirely rule out – but there is also the moor's historically grudging reputation. Before the right to roam, the public was kept firmly at arm's length. And while open access now means you can explore more freely, it can still be a demanding experience, with few footpaths and little signposting.
"A lot of footpaths tend to lead to churches, but on Bodmin there just aren't that many, so the paths tend to lead to farms rather than across the open moor," explains my companion and local guide Mark Camp.
From Jamaica Inn, we follow a lane under the A30 dual carriageway and hike along a farm road towards Codda Downs. There's high gorse in flower on either side, and we walk along an isolated, ever narrowing track, flanked by turfed banks of granite, to reach a metre-wide iron bridge. It straddles, Mark points out, the infant River Fowey. "We have Dartmoor named after the river Dart, Exmoor after the river Ex, and this was called Fowey Moor until the Ordnance Survey changed the name in the early 1800s," says Mark.
On a whim, we decide to climb Leskernick Hill. It's deceptively far, but we curl around a contour to take the sting out of its steep flanks. The views from the top are anything but the typical tourist postcard view of Cornwall. The A30 is now a distant, inaudible pencil-thin line; instead there is High Moor – proper don't-get-stuck-out-here-in-bad-weather moor, of the kind you find in the north Pennines. There are distant, fabulously isolated farmsteads, and peaks everywhere. High Moor is aptly, if dully, named, but others have resonant and resolutely Cornish names, such as Codda and Hendra.
And on the horizon is the profile of the hill that makes every schoolchild snigger: Brown Willy (the name comes from the Cornish Bronn Wennili, or "hill of the swallows", after the large number of the fork-tailed migrants that patrol the moors from spring to September). Around us, skylarks lurch vertically upwards, as if bouncing on invisible spacehoppers, while the valleys reverberate with the lowing of cattle in a way I've only heard from red deer in the Scottish Highlands. Ravens, jackdaws, buzzards, and a merlin complete this remarkable picture.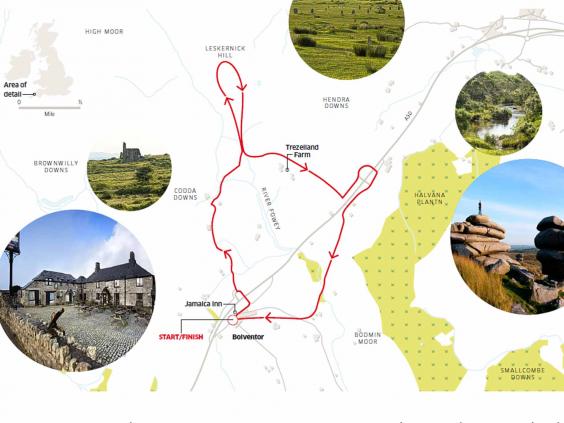 "Bodmin Moor gets overshadowed by Dartmoor. Everybody goes there," says Mark. "I would argue there's loads more interest on Bodmin. You can pass so much in just a couple of hours. Everybody heads to the coast in Cornwall, so the inland parts such as Bodmin are largely ignored by walkers."
We're not the first to be enchanted by the view. The tors of Bodmin Moor have exercised the imagination of the neo-druid and leyline communities since the first Bronze Age settlements were laid down, and we pass two stone circles as we begin our descent towards Trezelland Farm. As elsewhere, they tend to be aligned with the summer solstice.
The walking is often slow as we turn south and pick our way through peat ploughed up by the hooves of cattle; elsewhere the uneven tracks run across Bodmin's thin soil with boulders and sharp stones sticking out of the ground at angles that resemble the elbows of commuters on a busy rush-hour train. Even so, this walk is only moderately challenging when it comes to navigation, as fingerposts – some of them battered by the elements or overused as scratching posts by livestock – point you along your way.
We walk parallel to the A30 for 400m before turning west and then heading out across farmland, drinking in more poetic placenames – Lonkeymoor, Dozmary Downs – until we drop down to cross the River Fowey once again. The riverside is a gorgeous spot, the trees fully clothed in luminescent mosses and lichens. There follows a steady climb up a sunken lane, as delectable and beautiful as any we've encountered, and an utter contrast to the gritty moors we tramped just an hour earlier.
We return via a lane to Bolventor. While Jamaica Inn dates to 1750 , the village that grew up about it has more recent origins and was originally named Bold Venture, as part of a mission to create a community on the moor. I've rarely been so sad that a walk is over. I find myself thinking about the odd decision to change the moor's name to Bodmin Moor. Fowey Moor is more evocative, but the Forgotten Moor could be more appropriate.
Travel essentials
MAP: OS 109 Bodmin Moor
DISTANCE: 5 miles
TIME: 2.5-3 hours
ROUTE: Start/finish at Jamaica Inn, Bolventor.
Directions
GETTING THERE
There are no main-line rail stations within reasonable walking or biking distance of the Jamaica Inn, which is best accessed by car.
Mark Rowe stayed at The Valley (01872 862194; thevalleycornwall.co.uk), near Truro, where three-night stays (minimum) start at £380 in a two-bedroom cottage.
Walks with Mark Camp (prices on enquiry) can be booked at walkaboutwest.co.uk
MORE INFORMATION
Bodmin Moor features in the South East Cornwall Walking Festival (looeguide.co.uk), which runs until 28 September.
Reuse content