On the 12.06 from London Paddington to Penzance, the Pullman dining car is quieter than usual. It is early January, low season, and as the concrete overpasses and tall brick backs of the city's Georgian houses fall away, winter sun begins to stream through the windows.
Our table for two is set with silverware of a satisfying weight. Slanted rectangles of sunlight tremble across the tablecloth, glinting on the wine glasses. A waiter puts china plates bearing the Great Western Railway emblem in front of us. "Careful," he says, handling them with a tea-towelled hand. "They're piping hot."
Britain's dining cars have died a sad death. When they were first introduced on the East Coast line in 1879, their kitchens cooked over burning coals. From hot buttered kippers for morning commuters, to roast sirloin and salmon hollandaise on Christmas Day, the food ranged from the functional to the decadent. When British Rail wound down in 1997, there were still 250 dining cars. They were quickly deemed unprofitable and the last continual service ran on the 19.33 from London Kings Cross to Leeds in May 2011.
The top 25 best restaurants in the world
The top 25 best restaurants in the world
1/25 1. Martin Berasategui

Lasarte, Spain

TripAdvisor

2/25 2. Europea

Montreal, Canada

TripAdvisor

3/25 3. Maison Lameloise

Chagny, France

TripAdvisor

4/25 4. Adam's

Birmingham, United Kingdom

TripAdvisor

5/25 5. Restaurant Sat Bains

Nottingham, United Kingdom

TripAdvisor

6/25 6. Geranium

Copenhagen, Denmark

TripAdvisor

7/25 7. Pic

Valence, France

TripAdvisor

8/25 8. Narisawa

Minato, Japan

TripAdvisor

9/25 9. Le Manoir Aux Quat Saisons

Great Milton, United Kingdom

TripAdvisor

10/25 10. Epicure

Paris, France

TripAdvisor

11/25 11. El Celler de Can Roca

Girona, Spain

TripAdvisor

12/25 12. TRB

Beijing, China

TripAdvisor

13/25 13. Table 9

Dubai, United Arab Emirates

TripAdvisor

14/25 14. HanTing Restaurant

The Hague, Netherlands

TripAdvisor

15/25 15. Bouley

New York, USA

16/25 16. Alinea

Chicago, USA

TripAdvisor

17/25 17. Restaurant Locavore

Ubud, Indonesia

TripAdvisor

18/25 18 El Club Allard

Madrid, Spain

TripAdvisor

19/25 19. The French Cafe

Auckland, New Zealand

TripAdvisor

20/25 20. Noma

Copenhagen, Denmark

TripAdvisor

21/25 21. Funky Gourmet

Athens, Greece

TripAdvisor

22/25 22. The Test Kitchen

Woodstock, South Africa

TripAdvisor

23/25 23. La Bourgogne

Buenos Aires, Argentina

TripAdvisor

24/25 24. Vue de Monde

Melbourne, Australia

TripAdvisor

25/25 25. Borago

Santiago, Chile

TripAdvisor
"There is something magical about eating a finely cooked meal on starched tablecloths as the countryside rolls by," muses Michael Williams, author of The Trains Now Departed. Today, that magic is only found on Great Western Railway. It offers a dining car on 12 services across two routes: London to Penzance and London to Swansea. Our carriage seats 17. It is often full, our waiter Kevin tells us, especially on a Thursday or Friday evening. "We have our regulars," he says. "A few of them have my personal mobile number. They'll call to make sure we have space for them." At Christmas, customers dressed up as Santa and did their best to drink the on-board cellar dry.
This midweek trip is a more serene experience, although gin and tonics are in-hand before we leave Paddington. We share the carriage with two solo diners and two other couples. Over the thrum of the train and the hum of conversation, cutlery clinks on china and the occasional muffled clatter escapes from the kitchen. Seeing the tiny stainless steel galley in which ex-army chef Neil Barnes cooks, I am amazed that he can turn out lunch for eight, let alone 17.
Front of house, the service is impeccable. Kevin and fellow server Maggie approach their roles with gusto as they bustle up and down the aisle. Disappearing into the kitchen, Maggie lets out a loud "Whoop!", having, presumably, narrowly avoided dropping the plates she was carrying.
The seductive formula on which the service is based is escapism and luxury. Travel offers the unique freedom of being suspended in a moment of anonymity. Between A and B, you are of no fixed identity. A leaf in the wind, a bird on the wing. You can be Cary Grant on the run in North By Northwest, masquerading as an electronics salesman. Or Eva Marie Saint, emboldened to tell Grant she tipped the steward $5 to sit him at her table. Or you can just sit back and, in equally Hitchcockian mode, ruminate on the backstories of your fellow travellers.
Add to this the silver service. Being waited on in this way has a gloriously infantilising effect. You are ensconced, safe in the knowledge that, just out of sight, everything is being well taken care of. Meanwhile, you have better things to look at. The rush of the countryside past the window is prime entertainment. This is the five-star version of eating supper in front of the telly as a child.
Somewhere around Slough, you pass through a wrinkle in the cosmos. The dining car is a time machine. The carved mahogany panelling and brocade armchairs of Pullman's heyday may have been replaced by plastic tables and leather seats. But when the norm is a sandwich and a cup of tepid tea from an on-board trolley, passengers quickly find themselves back in a boldly optimistic bygone era. GWR runs the service at a loss: it is intended primarily as a mark of quality, to set it apart from its competitors.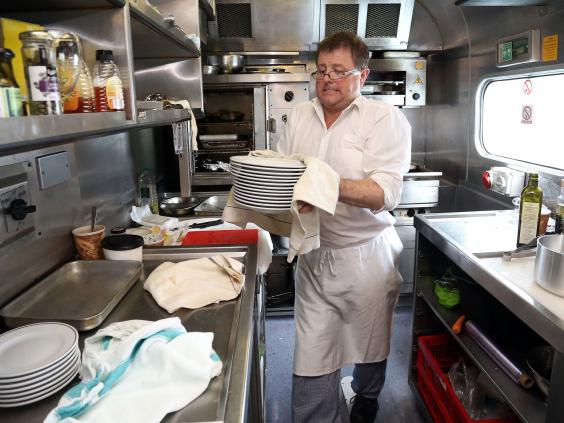 Despite the tiny kitchen, Barnes produces a faultless meal. Smoked salmon is thickly sliced and served with a dollop of crème fraîche, rye bread, and a watercress, caper and cornichon salad. Sirloin steak and monkfish are both served sizzling from a silver tray. Platters of roasted new potatoes, buttery leeks and caramelised carrots come next. A half bottle of Sancerre and another of Rioja sees everything off nicely, the final drops enjoyed with an apple crumble and West Country cheese. Open only to first class ticket holders, the experience doesn't come cheap. Our bill is £146.10.
Williams says he knows of only two other ways to get a decent on-board meal in the UK. Belmond, which runs trains to Venice and Istanbul (formerly the Orient Express), provides occasional domestic services. The food is top-notch. Heritage lines, such as the Bluebell and the Severn Valley Railway, do a good turn in catering too. They will lengthen the journey time to accommodate the meal. Recently, as he tucked into a particularly good lunch on-board the Great Central Railway from Loughborough to Leicester, Williams's train was brought to a standstill halfway across the Swithland viaduct. He finished off his meal enjoying undisturbed views of a 120-year-old reservoir.
The current crop of rail companies, believes Williams, are missing a trick. "They need to realise that rail travel is something that should be enjoyed, not endured," he says. "It can be better to travel than to arrive – and that's what eating on trains is all about."
As lunch is cleared, the winter evening begins its early descent. We start on the famously beautiful stretch of track that runs from Exminster to Newton Abbot. Here, the train runs so close to the water that it appears to float on its surface. We listen to the clack of the wheels as the low-slung amber sun dances for us on the waves of the slate grey sea. Williams is right: the five-hour journey isn't long enough by half.