Billed as "the longest defined coastal touring route in the world", Ireland's Wild Atlantic Way has just been officially inaugurated. This epic road trip skirts the rugged western extremities of the island for 1,500 miles from Malin Head on Donegal's Inishowen Peninsula – mainland Ireland's most northerly point – to the quaint, seaside town of Kinsale in the south, in Co Cork.
With the pounding swell of the Atlantic as your constant companion, you can follow the blue zig-zag signposts through seven of the Irish Republic's westernmost counties and be treated to many of Ireland's scenic showstoppers, welcoming towns and villages, heritage sites and plenty of unexpected thrills.
Many of the coastal communities suffered a battering during this winter's storms, including the promenade at Lahinch, Co Clare, but the clean-up has begun in earnest. The storms also revealed the remnants of a 7,500-year-old drowned forest along the edge of Galway Bay.
As the trail twists in a southerly direction from Malin Head, those who can handle heights should stop at Slieve League, the highest accessible vertical sea cliffs in Europe. From Donegal the route crosses into County Sligo, the resting place of W B Yeats and home of the dramatic mountain, Benbulben.
Hop across Sligo Bay to visit the original Coney Island, which sits off the northern coast of the Coolera Peninsula and now has a more famous namesake in New York.
Enjoying Ireland's Wild Atlantic Way
Enjoying Ireland's Wild Atlantic Way
1/9 Ireland's Wild Atlantic Way

Where to stay: Clare Island Lighthouse

2/9 Ireland's Wild Atlantic Way

The Burren

Failte Ireland

3/9 Ireland's Wild Atlantic Way

Ireland's West Coast is fast becoming one of the world's top destinations for surfers

4/9 Ireland's Wild Atlantic Way

Wild west: the route passing along the Dingle peninsula

5/9 Ireland's Wild Atlantic Way

Aniar Restaurant: a relaxed, Michelin starred restaurant in the heart of Galway

6/9 Ireland's Wild Atlantic Way

A patch of south-western Kerry's Iveragh Peninsula was crowned as one of only three Gold Tier Dark Sky Reserves so far declared worldwide

7/9 Ireland's Wild Atlantic Way

8/9 Ireland's Wild Atlantic Way

Getting there and getting around: City of Derry, Ireland West Knock, Shannon, Kerry and Cork are the closest airports to the Wild Atlantic Way

9/9

A breath of fresh air
In neighbouring Co Mayo, is "a landscape fossilised", which is how Irish poet Seamus Heaney described the Ceide Fields (00 353 96 433 25; heritageireland.ie) in his poem "Belderg". One of the world's most extensive Stone Age monuments, it was unearthed after the remnants of 6,000-year-old stonewalls were identified in bogland just outside Ballycastle. From there, the route presses on to take in the ravishing beauty of the island-scattered Clew Bay and the barren yet majestic landscape of Connemara.
For a lesson in early 20th-century communications, take a detour at Clifden to visit Derrygimlagh Bog. Here, you'll find the remains of the first permanent transatlantic radio station, built by Marconi. Also, not far away, there's the spot where aviation pioneers Alcock and Brown crash landed after the first non-stop flight across the Atlantic in 1919.
From the rugged Connemara Coast, the route swings east to Galway, one of the country's liveliest cities. It's at its most vibrant during July, when it hosts the annual Galway Film Fleadh (00 353 91 562 200; galwayfilmfleadh.com; 8-13 July) and the Galway Arts Festival (00 353 91 509 700; galwayartsfestival.com; 14-17 July).
Over the border in Co Clare is the lunar-like exposed limestone of The Burren (burrengeopark.ie) with its rare flora and fauna. Then it's onwards to the jaw-dropping views from atop the Cliffs of Moher.
Roughly halfway along the Wild Atlantic Way is The Loop Head Peninsula (loophead.ie), a slim finger of land that stretches out into the Atlantic. Recently voted the best place to holiday in Ireland by readers of The Irish Times, its fans, including actor Cillian Murphy, are drawn to its primordial cliffs, quiet beaches, rare wildlife and peaceful villages.
This year, Limerick is Ireland's National City of Culture (limerickcityofculture.com), with a 12-month-long programme of arts events, performances and workshops across the city.
From Limerick, the Wild Atlantic Way moves south into Kerry and skirts around the epic scenery of the Dingle Peninsula. One of Ireland's staunchly Gaelic-speaking regions, known as The Gaeltacht, its principal town is the charming Dingle with its traditional pub-cum-grocery stores.
Tour the Slea Head Drive and sink your toes into the golden sands of Coumeenole Street, where scenes from David Lean's 1970 classic film Ryan's Daughter were filmed. In the tiny village of Annascaul, fans of exploration should visit The South Pole Inn (00 353 66 915 7388). Local adventurer Tom Crean retired here following his explorations of the Antarctic with Scott and Shackleton – its walls are lined with memorabilia.
On the neighbouring Iveragh Peninsula, the Wild Atlantic Way traces the course of the Ring of Kerry where a view of mountains and sea collide to spectacular effect. The south-west coast offers a haunting glimpse of the Unesco World Heritage Site at Skellig Islands.
Further east, the road weaves around Beara and Sheeps Head peninsulas through sub-tropical vegetation, quiet coves and pretty towns such as Bantry, Skibbereen and Baltimore. Mizen Head (mizenhead.net) and its historic lighthouse are dramatic landmarks, then there's the picturesque, island-scattered Roaring Water Bay. The start or end of this dramatic journey comes by way of Kinsale, a charming town in west Cork with gourmet credentials.
Wilderness Ireland (00 353 91 457 898; wildernessireland.com) has several new self-guided Wild Atlantic Way itineraries exploring sections of the route from €675pp. The price includes six nights' B&B and activities such as a guided one-day hike and a private tour with a marine archaeologist.
For further details see ireland.com/wild-atlantic-way. A Wild Atlantic Way route-planning app will be launched this summer.
Where to eat
Seafood features prominently on any tour of the Ireland's western seaboard. Aniar Restaurant (00 353 91 535 947; aniarrestaurant.ie) is a relaxed, Michelin-starred restaurant in the heart of Galway serving innovative food using locally sourced and foraged ingredients – the name translates as "from the west".
The Wild Honey Inn (00 353 65 707 4300; wildhoneyinn.com) in Lisdoonvarna, is a detour-worthy gastro-highlight in Co Clare – and one of several on the Burren Food Trail (burreneco tourism.com). In Kerry, The Global Village (00 353 66 915 2325; globalvillagedingle.com) is another exponent of the use of local ingredients, while QCs (00 353 66 947 2244; qcbar.com) is a favourite with residents.
Fishy Fishy (00 353 21 470 0415; fishyfishy.ie) is a Kinsale institution; it has grown from a delicatessen and café and now includes a restaurant and fish-and-chip shop.
If you would rather get stuck in, take a boat to the tiny Heir Island in Skibbereen, Co Cork, for a one-day breadmaking course at The Firehouse (00 353 85 156 1984; thefirehouse.ie). The price of €110pp includes lunch and instruction ... and you leave with an artisan baker's goodie bag.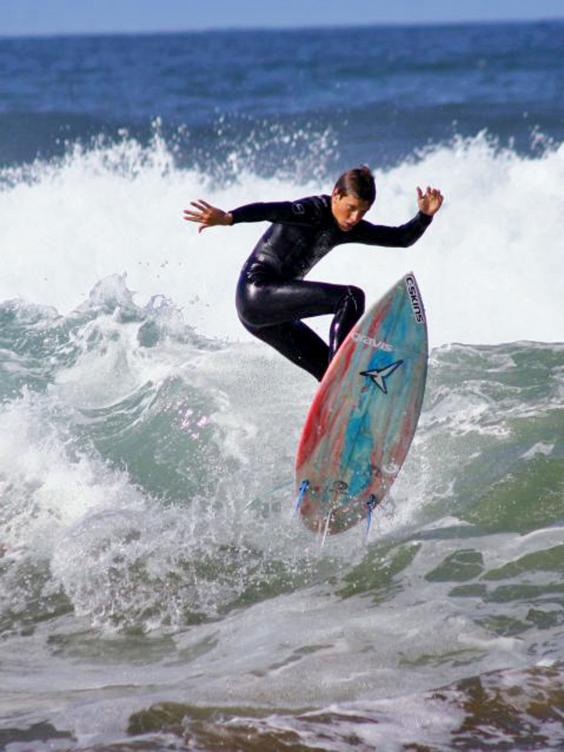 Have a swell time
Ireland's West Coast is fast becoming one of the world's top destinations for surfers. The largest ever wave, a house-dwarfing 76.9ft wall of water, was recorded several miles off Donegal in January. Earlier this month, pro-surfer Kurt Rist conquered a 55ft prowler, more than a mile off the coast near Mullaghmore Head in Co Sligo. But there is plenty for every level of thrill seeker.
Bundoran is at the heart of Donegal's surfing scene and regularly attracts international surfers to its shores. Bundoran Surf Co (00 353 71 984 1968; bundoransurf.com) offers surf and stay packages from €55pp per night, which includes B&B and one surf lesson.
Lahinch is another surf spot, further down the coast in Co Clare. West Coast Lodge (00 353 65 708 2000; lahinchaccommodation.com) is geared up for surfers, with a drying room, dorm beds, family rooms and a roof terrace with barbecue. Prices start at €25pp, B&B.
That perfect spot for a starry, starry night ...
Last month, a patch of south-western Kerry's Iveragh Peninsula was crowned as one of only three Gold Tier Dark Sky Reserves so far declared worldwide. That means it now ranks for star-gazing alongside Namibia's NamibRand Nature Reserve and the Aoraki Mackenzie Reserve in New Zealand.
The Kerry International Dark Sky Reserve (00 353 87 784 5688; kerrydarksky.com) is, according to the International Dark Sky Association, one of the best Northern Hemisphere spots to observe astronomical sights including the Milky Way, the Andromeda galaxy, as well as various star clusters and nebula – even with the naked eye. Visitors can call into the Kerry Dark Sky Reserve office in Dungaegan Village, Ballinskelligs for a tutorial and constellation map.
A breath of fresh air
Those looking for an adrenalin rush can join one of Unique Ascent's (00 353 87 758 4810; uniqueascent.ie) unforgettable days spent climbing Donegal's sea stacks. A full day in the company of an experienced guide costs from €100pp. You can reach the area via City of Derry airport, with Ryanair flights from Birmingham, Glasgow, Liverpool and Stansted.
In April and August, there is a new "Seven Islands in Seven Days" walking itinerary in West Cork with Wanderlust (00 353 87 418 1001; wanderlust.ie). It costs €1,240pp which includes a week's full-board, transport, events and activities.
Outside Westport, in Co Mayo, the Great Western Greenway (greenway.ie) is a 26-mile-long car-free hiking and cycling trail along the course of the disused Westport to Achill railway. Clew Bay Bike Hire (00 353 98 376 75; clewbaybikehire.ie) has cycles from €15 per day as well as a free return shuttle bus service.
Getting there and getting around
City of Derry, Ireland West Knock, Shannon, Kerry and Cork are the closest airports to the Wild Atlantic Way. However Dublin, Belfast and Waterford are also within easy reach by car.
There are regular connections from the UK on Aer Lingus (0871 718 5000; aerlingus.com, Ryanair (0871 246 0000; ryanair.com), British Airways (0844 493 0787; ba.com), CityJet (0871 663 3777; cityjet.com), Citywing (0871 200 0440; citywing.com), easyJet (0843 104 5000; easyjet.com), Flybe (0871 700 2000; flybe.com), Jet2.com (0871 226 1737; jet2.com).
Irish Ferries (0871 730 0400; irishferries.com), P&O Ferries (0871 702 3477; poferries.com), Steam Packet Company (0872 299 2992; steam-packet.com) and Stena Line (0844 770 7070; stenaline.co.uk) connect Larne, Belfast, Dublin and Rosslare with the UK and the Isle of Man from various coastal ports.
The Wild Atlantic Way lends itself to independent touring but car hire is essential if you want to experience the area properly. Seven days' car hire, picking up at Ireland West Knock airport and dropping off at Cork airport, would start at £89 with Argus Car hire (0844 330 2581; arguscarhire.com).
Where to stay
Get that edge-of-the-world feeling at Clare Island Lighthouse (below; 00 353 87 66 897 58; clareislandlighthouse.com), which opened last year at the entrance to Clew Bay. Doubles, including a six-course evening meal and breakfast, start at €350 per night.
Doonbeg (00 353 65 905 5600; doonbeglodge.com), which was recently bought by Trump International, sits overlooking the ocean in Co Clare. A must for golfers, thanks to a Greg Norman-designed links course, and it flaunts chic interiors and a spa. Doubles from €170, B&B.
The Irish Landmark Trust (00 353 1 670 4733; irishlandmark.com) has historic self-catering properties including the Loop Head Light Keeper's House in Co Clare and Termon House in Dungloe, Co Donegal – an 18th-century land agent's house by the ocean that sleeps six (from €360 for two-night break).
Hidden Ireland and Ireland's Blue Book (00 353 1 676 9914; irelands-blue-book.ie) also list unusual places to stay.
Reuse content