Travel essentials
Why go now?
"Art is the flower – life is the green leaf," said Charles Rennie Mackintosh, the style hero of Scotland's biggest city. Its remarkable artistic and architectural heritage is rewarded this week when the four nominations for the 2015 Turner Prize go on show at the Tramway arts centre (1), with the winner revealed on 7 December. But, art apart, Glasgow also offers a wealth of places to eat and drink and explore.
Touch down
Trains from England arrive at Glasgow Central (2) – a spectacular station whose backstory is revealed in the Glasgow Central tour (£13; book at glasgowcentraltours.co.uk). Virgin Trains and the Caledonian Sleeper run to here from London Euston, while TransPennine Express services run from Manchester. Virgin also runs from London King's Cross, York and Newcastle. Trains from south-west Scotland converge on Central; other ScotRail trains serve Queen Street Station (3) (08457 48 49 50; nationalrail.co.uk).
Glasgow airport, eight miles west, has links from across the UK on Flybe (0871 700 2000; flybe.com). The first-ever easyJet flight (0843 104 5000; easyjet.com) was from Luton to Glasgow in 1995, and the airline still serves the route, as well as its links from Gatwick and Stansted, from where it also competes with Ryanair (0871 246 0000; ryanair.com). British Airways (0844 493 0787; ba.com) flies from Heathrow, Gatwick and City.
The Glasgow Shuttle bus (No 500) runs 24 hours a day to Queen Street station (3) and Buchanan Bus Station (4) for £6.50 one way, £9 return (0141 420 7600; firstglasgow.com).
Get your bearings
The city sprawls for miles along both sides of the Clyde, but its core is roughly over a square mile on the north bank – bounded to the north and west by the M8, to the east by High Street and Castle Street and to the south by the river. Plenty more of interest lies beyond this area, in particular the thriving University and West End on the other side of the motorway.
The city's solitary underground line runs in a loop around both sides of the river, serving the western areas as well as stations at Buchanan Street (5) and Argyle Street (6) in the central area. The flat-rate fare for the Subway is £1.40 per trip.
The Visit Scotland Information Centre (7) is part of the handsome Glasgow Royal Concert Hall complex, located at 10 Sauchiehall Street where it meets Buchanan Street (0845 859 1006; visitscotland.com). It opens from 9am to 6pm daily (except Sundays, 10am to 5pm).
Check in
Bath Street has two appealing options in close proximity. The Glasgow edition of ABode Hotels is the Arthouse (8) at No 129 (0141 221 6789; abodeglasgow.co.uk). It was built as a townhouse for Sir Henry Campbell-Bannerman, the Liberal Party leader who became Prime Minister in 1905. Doubles are rated "comfortable", "desirable" and "enviable". Typical advance booking rates are £90, £104 and £131 respectively, with breakfast. Opposite, and one block to the east, there's the shiny new four-star Apex Glasgow (9) which opened this month at 110 Bath Street and has no historical context (0141 353 0800; bit.ly/ApexGlasgow). Doubles start at £110, excluding breakfast.
For a budget option, the Euro Hostel (10), at 318 Clyde Street (08455 399 956; euro-hostels.co.uk) is well located close to Central Station and offers exceptional value at £40 for a private twin or £10 for a bed in a dorm for 14.
Click here to see a bigger image of the map
Day one
Take a hike
Start at the Visit Scotland Information Centre (7). To the left, as you leave, there's a statue of Donald Dewar, Scotland's inaugural First Minister. Walk west on Sauchiehall Street ("lane of willows") which today offers a mélange of architectural form and retail opportunity. The facade of Waterstone's at number 153 hints at the style of Charles Rennie Mackintosh and the next building, No 217, is one of his most complete achievements: the tall and elegant Willow Tea Room (11), created in 1904 for Kate Cranston, a well-known restaurateur (0141 332 0521; willowtearooms.co.uk). Try to get a table in the first-floor Room de Luxe.
After elevenses, continue west but take the first right on Rose Street past the Glasgow Film Theatre (12), which opened in 1939 as the Cosmo Cinema. Turn left uphill on Renfrew Street. The 1855 MacLennan Galleries (13) stand unloved and decaying, but they are in better shape than Mackintosh's tour de force, the Glasgow School of Art (14). A fire in 2014 destroyed most of the astonishing interior, and a huge rebuilding project is under way. Opposite, the ice-cube-like Reid Building houses the School of Design, with a Window on Mackintosh (10am to 4.30pm, daily) and a range of tours (0141 353 4526; gsa.ac.uk/tours).
From the School of Art (14), walk one block north to Hill Street and go left for three blocks
Take a view
Hill Street ends abruptly at the Viewpoint (15). Look across the West End to the hills of Renfrewshire to the south and the Campsie Fells to the north. The chrome plate that points out places of interest assures viewers that the Hill of Slate to the south and the Earl's Seat to the north are both higher than Ben Nevis. (Confusion between metres and feet seems to be to blame.)
Lunch on the run
Opposite the School of Art (14), the Vic Bar & Cafe is the hub of the convivial and elegant students' union building. The public is welcome from 11am to 10pm daily, except Sunday, with Saturday specials including kedgeree with smoked mackerel (£4.50) and scrambled tofu steamed Chinese buns (£3.50).
Cultural afternoon
Go west beyond the M8 and through Kelvingrove Park to the Kelvingrove Art Gallery and Museum (16), which claims to have been "Glasgow's favourite building" ever since it was completed in 1901. The artistic highlight is Salvadore Dali's powerful Christ of St John of the Cross. Open 10am to 5pm daily (Fridays and Sundays from 11am), admission is free – in common with all of Glasgow's public museums.
An aperitif
WEST On the Corner (17) at 160 Woodlands Road (0141 332 0540; westbeer.com) is a microbrewery created by Petra Wetzel, a German entrepreneur who has brought flair and freshness to Glasgow. The exterior is distressed, but inside all is convivial. The brewer promises "Glaswegian heart, and German head" for beers such as St Mungo's, a tasty bargain at £3.50 a pint.
Dine with the locals
You could stay on at WEST for Black Steak Pie (£12) or various German dishes, or go east to Fratelli Sarti (18) at 133 Wellington Street (0141 248 2228; fratelli-sarti.co.uk). A cheerful deli-cafe by day gets serious in the evening with dishes from hake to rabbit; appreciate the black-and-white pictures flanking the dining room while you wait.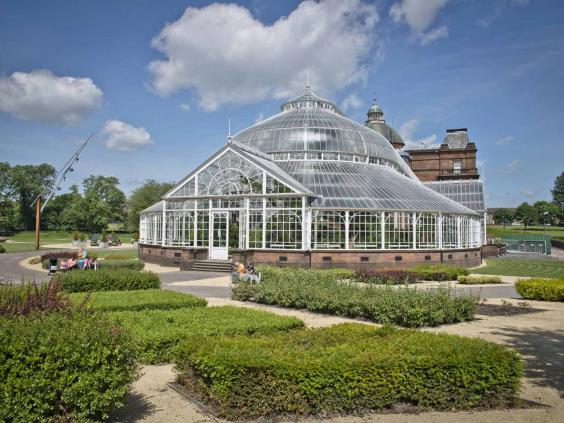 Day two
Sunday morning: go to church
There's a trinity of spiritual sites on the city's eastern edge. First, there's the Gothic bulk of Glasgow Cathedral (19) with the tomb of St Mungo, who founded a monastery here in the fifth century. Sunday service is at 11am, and it's open for tourists from 1pm to 4.30pm (from 9.30am other days). St Mungo's Museum of Religious Life and Art (20) is adjacent (0141 276 1625; glasgowmuseums.com; 11am to 5pm Sundays and Fridays, 10am to 5pm other days, Thursdays to 8pm; closed Mondays) sets Christianity in a context of global faiths. Next is the theatrical Necropolis (21), where memorials to well-to-do Glaswegians spread uphill.
Window shopping
Buchanan Street (6) is the main retail artery, but The Barras (22) is a theatrical combination of street market, indoor market and independent stores such as Calton's, the city's radical bookshop, at 159 London Road.
Out to brunch
Close to the market, Guido's Coronation Cafe (23) at 55 Gallowgate (0141 552 3994) opens 9.15am to late on Sundays, for spicy fusion food such as haggis fritters. For something more refined, Riverhill, on the corner of and West Nile Street, opens 10am to 5pm on Sundays (from 7 or 8am on other days) serving an £8 vegetarian breakfast that includes halloumi, falafal and masala beans.
A walk in the park
East of the centre, beside the Clyde is a marvellous swathe of parkland known as Glasgow Green. Walk through the McLennan Arch (24) – originally the façade of the Ingram Street Assembly Rooms. The People's Palace (25), is where the city's history is told through evocative exhibits from a recreation of tenement life to Billy Connolly's banana boots; 11am to 5pm on Sundays and Fridays, from 10am other days, free. Beyond the imposing Victorian fountain stands the grandiose Templeton Building (26).
Icing on the cake
Next Wednesday (1 October), Turner Prize nominations go on show at Tramway (1), at 25 Albert Drive (0845 330 3501; tramway.org;). This year's shortlisted artists are Bonnie Camplin, Janice Kerbel, Nicole Wermers and London-based collective, Assemble (from noon to 6pm weekends, to 5pm weekdays, free).