There are two common views among people who wanted to stay in the EU that I think are mistaken. One is that David Cameron made a foolish and unforgivable mistake in promising the referendum. The other is that the result was obtained by a campaign of lies. 
My contentions are that Cameron was forced to promise a referendum by the very democratic pressure that produced the vote to Leave, and that the referendum was about as fair as the rough and tumble of democracy usually is. 
If Cameron had not promised a referendum, he could well have lost the 2015 election. I don't know if Ed Miliband would have become prime minister instead, but the outcome of the election last year would have been less favourable to the Conservatives, and Cameron secured only a small majority as it was. 
Cameron knew that if he didn't promise a referendum, his party would become even harder to manage and it would lose votes to Ukip. As it turned out, he had a choice between cutting his throat and slitting his wrist: he could lose the election in 2015 and be thrown out of office or he could lose the referendum a year later and be thrown out of office. Being a politician – that is to say, human – he chose to maximise his chance of winning in 2015 and hoped that winning in 2016 would take care of itself. 
But my point goes deeper than that. That still sounds like a version of the common criticism of Cameron that he took a risk with the country's future for the sake of furthering his narrow party interest. My argument is that even if he had refused to promise a referendum in the 2015 manifesto, a referendum would have come sooner or later – but not much later.
He said himself that his successor was likely to be an Outer. He said of the Conservative Party membership, who make the final choice of leader, "their hearts beat in that direction". Two thirds of them voted to Leave (63 per cent according to YouGov). The only reason his successor turned out to be a Remainer – a reluctant Remainer – was that the country had already voted to Leave. 
If Cameron had lost the 2015 election, his most likely replacements as leader would have been Boris Johnson or Theresa May – and in this scenario May would I think have been an Outer. She declared for Remain only because she was a member of a Government that was trying to stay in. 
The Conservative Party would have become a Eurosceptic party committed to leaving the EU. It would have reflected the views of half the population – a bit more than half of voters as it turned out. And given that Ed Miliband's minority Labour government may not have lasted very long, we might have had a referendum if not this year then perhaps next or the year after. 
So the referendum was not the accidental result of party-political machinations. It came about because the democratic pressure to leave was great enough to bend a political system led by people who believed in EU membership. 
It may be objected that polls did not find that the EU was a priority for voters, and that support for leaving became significant only after the 2008 banking crisis. But there has been a majority in the British public for leaving or for reducing the EU's powers since 1996, according to the British Election Study (page 6), and immigration has been named as one of the three most important issues facing Britain since 2001, according to Ipsos MORI (slide 4). 
The second complaint by many Remainers is that the people voted to Leave on the basis of disinformation. There is an implication that journalists failed in their duty to fact-check the post-truth politics – a criticism that must sound familiar in America. 
But I don't think the argument holds up. One of the surprising things about the referendum was that we didn't hear that much about Eurosceptic press barons dominating the debate. This may be because they didn't. The media landscape in Britain has been utterly transformed by the internet – as I know well, working for the first national newspaper to go online-only. 
If you look at the readership of British newspapers, print and online, not only does The Independent have more readers than The Sun – not many people know that – but the total readerships of newspapers advocating Leave and Remain were about the same (of the 13 weekday newspapers, the Mail, Telegraph, Express, Star and Sun advocated Leave, with 95m monthly readers; the Guardian, Mirror, Independent, Standard, Times, Daily Record and Scotsman advocated Remain, with 97m monthly readers; the Metro had no position). There are other new news sources online, Buzzfeed and other rivals of The Independent that I won't mention, but overall I think the media was fairly evenly balanced. 
What experts have said about Brexit
What experts have said about Brexit
1/11 Chancellor of the Exchequer Philip Hammond

The Chancellor claims London can still be a world financial hub despite Brexit "One of Britain's great strengths is the ability to offer and aggregate all of the services the global financial services industry needs" "This has not changed as a result of the EU referendum and I will do everything I can to ensure the City of London retains its position as the world's leading international financial centre."

Reuters

2/11 Yanis Varoufakis

Greece's former finance minister compared the UK relations with the EU bloc with a well-known song by the Eagles: "You can check out any time you like, as the Hotel California song says, but you can't really leave. The proof is Theresa May has not even dared to trigger Article 50. It's like Harrison Ford going into Indiana Jones' castle and the path behind him fragmenting. You can get in, but getting out is not at all clear"

Getty Images

3/11 Michael O'Leary

Ryanair boss says UK will be 'screwed' by EU in Brexit trade deals: "I have no faith in the politicians in London going on about how 'the world will want to trade with us'. The world will want to screw you – that's what happens in trade talks," he said. "They have no interest in giving the UK a deal on trade"

Getty

4/11 Tim Martin

JD Wetherspoon's chairman has said claims that the UK would see serious economic consequences from a Brexit vote were "lurid" and wrong: "We were told it would be Armageddon from the OECD, from the IMF, David Cameron, the chancellor and President Obama who were predicting locusts in the fields and tidal waves in the North Sea"

PA

5/11 Mark Carney

Governor of Bank of England is 'serene' about Bank of England's Brexit stance: "I am absolutely serene about the … judgments made both by the MPC and the FPC"

Reuters

6/11 Christine Lagarde

IMF chief urges quick Brexit to reduce economic uncertainty: "We want to see clarity sooner rather than later because we think that a lack of clarity feeds uncertainty, which itself undermines investment appetites and decision making"

Getty Images

7/11 Inga Beale

Lloyd's chief executive says Brexit is a major issue: "Clearly the UK's referendum on its EU membership is a major issue for us to deal with and we are now focusing our attention on having in place the plans that will ensure Lloyd's continues trading across Europe"

EPA

8/11 Colm Kelleher

President of US bank Morgan Stanley says City of London 'will suffer' as result of the EU referendum: "I do believe, and I said prior to the referendum, that the City of London will suffer as result of Brexit. The issue is how much"

9/11 Richard Branson

Virgin founder believes we've lost a THIRD of our value because of Brexit and cancelled a deal worth 3,000 jobs: We're not any worse than anybody else, but I suspect we've lost a third of our value which is dreadful for people in the workplace.' He continued: "We were about to do a very big deal, we cancelled that deal, that would have involved 3,000 jobs, and that's happening all over the country"

Getty Images

10/11 Barack Obama

US President believes Britain was wrong to vote to leave the EU: "It is absolutely true that I believed pre-Brexit vote and continue to believe post-Brexit vote that the world benefited enormously from the United Kingdom's participation in the EU. We are fully supportive of a process that is as little disruptive as possible so that people around the world can continue to benefit from economic growth"

Getty Images

11/11 Kristin Forbes

American economist and an external member of the Monetary Policy Committee of the Bank of England argues that the economy had been "less stormy than many expected" following the shock referendum result: "For now…the economy is experiencing some chop, but no tsunami. The adverse winds could quickly pick up – and merit a stronger policy response. But recently they have shifted to a more favourable direction"

Getty
All the same, there were claims made in the campaign that were – I prefer not to call them lies – not absolutely evidence-based. The most prominent was the claim by the Leave campaign that the UK sends £350m a week to the EU. We don't. It's about half that. The Leave people justified it by saying it would be £350m if we didn't have the rebate negotiated by Margaret Thatcher in 1985. Their argument is that politicians will be tempted to negotiate the rebate away in future – Tony Blair, for example, allowed it to be diluted when new countries joined the EU in 2004. 
Most journalists reported that it wasn't true. The trouble is that saying, "It's not £350m a week it's £180m a week," didn't really help the Remainers. It drove them mad because the Leavers kept on using the £350m, and the Remainers kept saying it wasn't true, drawing attention to it, and reminding voters that we send a sum of money too big to be understood to the EU every week. 
Besides, the Remain campaign was putting out leaflets claiming that for every pound we put into the EU we got £10 back. I wouldn't describe that as absolutely evidence-based either.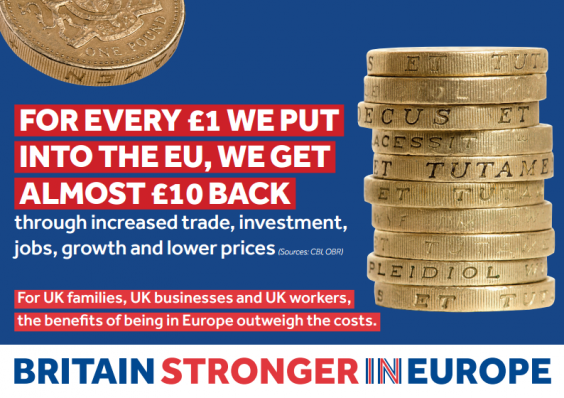 I was a Remainer myself, although a reluctant Remainer (like the Prime Minister), but I don't accept (a) that it was foolish or mistaken to have the referendum, or (b) that it was won by lies. I think the decision to hold a referendum was right, unavoidable and democratic. And I think that the campaign may have been simple-minded and unedifying – although I don't think it was as dishonest as Donald Trump's presidential campaign – but that is what democracy is like. 
This is an edited version of a talk given at a conference on "Referendums and Democratic Politics" at NYU, 3-4 November. My reports of the conference are here and here.